Are financial markets too optimistic about the impact of Donald Trump's administration? That is a big unanswered question in the aftermath of his surprise victory in the presidential election, according to US investment managers and institutional investors.
"Just after the election, Wall Street concluded that on a macro level the new Trump administration's policies would lead to higher US GDP and earnings growth," says Sam Stovall, chief investment strategist at CFRA, a research house. "This was due to a sharp increase in infrastructure spending, a resulting acceleration in the Fed's rate-tightening timetable, and a strengthening of the dollar."
"On a sector level, the new president's policies would also encourage a reduction in financial sector regulation, an easing of pressure on health care price cap proposals, a slowdown of illegal immigration and the lessening of a national mandate to raise the minimum wage," he says.
Stovall is optimistic that there is no recession on the horizon based on housing, consumer confidence and the leading indicators. "However, I question whether President-elect Trump will stimulate the economy as much as Wall Street is projecting. Congress, though Republican, is still conservative. For every new dollar of spending they want to reduce a dollar of existing expenditures in order to control the massive level of debt."
The election of Trump, although unexpected by most self-professed experts, was one of the key risk events identified by BlackRock for 2016. "The markets may be too optimistic because they seem not to worry about other parts of Trump's agenda, especially his trade and immigration policy," says Isabelle Mateos y Lago, chief multi-asset strategist at BlackRock.
She says it is too early to comment about a possible reform of the Dodd-Frank Act on financial regulation as specific proposals are not yet public. The law was the consequence of a big push after the 2008-09 financial crisis and nobody wants to risk another one. But in her view the regulation may have gone too far. Efforts to assess what changes are necessary should be welcomed.
The BlackRock strategist points out that looser US fiscal policy will mean increased government borrowing and higher interest rates. "A steeping yield curve is beneficial to all financial institutions, including pension funds. However, if higher yields reflect expectations of higher inflation, and if inflation is indeed higher, it wouldn't change real returns."
Investors are, in contrast, too pessimistic about emerging markets according to Mateos y Lago. "They are the victims of Trump's election because of the fear that the new president will trigger a trade war and global protectionism," she says. "We very much hope there will not be a global trade war. We are pretty confident the US and Chinese economies are doing well. Importantly emerging markets are in a much sounder position to deal with a higher dollar and higher interest rates than they were in previous cycles. So in our opinion emerging markets are in a much better position than investors think and they offer good opportunities."
The California Public Employees' Retirement System (CalPERS), the largest US pension fund with about $301bn (€280bn) of assets, is preparing for "greater uncertainty and volatility" until president-elect Trump and Congress implement their policy plans. "On one hand, Trump's agenda looks positive for economic growth and corporate earnings," said Ted Eliopoulos, CalPERS' chief investment officer, during a meeting of the fund's investment board after the election. "But the devil will be in the detail and we don't know the details. The biggest potential risks are unintended inflation and global trade destabilisation."
Eliopoulos said CalPERS will not change its asset allocation (see figure). "However, it is wise to incorporate expectations for higher potential volatility of capital markets," he continued. "We do need to be prepared to address a much different policy environment, new economic and investment challenges and opportunities and be ready to adjust, act, and govern ourselves accordingly."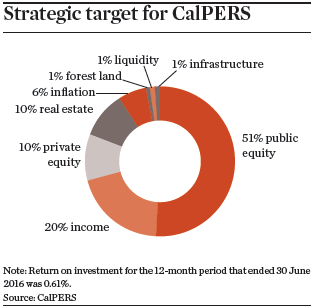 What the markets are overestimating is the impact of Trump's infrastructure spending, according to Margie Patel, senior portfolio manager at Wells Fargo Asset Management. "Any infrastructure programme will take many years to be implemented and to have an impact on the economy," she says
"On one hand, Trump's agenda looks positive for economic growth and corporate earnings. But the devil will be in the detail and we don't know the details. The biggest potential risks are unintended inflation and global trade destabilisation"
Ted Eliopoulos
Patel is also more optimistic about Trump's ideas on financial regulation. "Scaling back the Dodd-Frank law could be very positive for the whole economy," she says. "That complex regulation addresses the 2008 crisis, not the future. It has been harmful because it has restricted the activity of banks: the system is safer but rules have choked off bank lending to small businesses. The latter are considered riskier, but typically they generate more jobs. This is the main reason why the current economic recovery has been so slow. Besides, virtually zero overnight interest rates have reduced interbank lending and small banks have found it more difficult to take money."
Patel warns that even if Trump is able to keep his promise to cut taxes both for companies and individuals, "US economic growth would still be moderate, because companies don't change immediately their investment plans". In the current environment Patel particularly likes high yield bonds. "They are still attractive, they offer 480bps more than US T-bonds, which is a big cushion if rates go up. Equities may provide similar returns, between 4% and 7%."
The Wall Street rally that followed the election should not be extrapolated to the future, according to Roger Aliaga-Diaz, chief economist for the Americas at Vanguard. "We think that at certain point the market will go back to fundamentals," he says. Talking about increasing yields as an effect of the new administration's policy. "It's good for pension funds and for all investors in the long term," he says. "They mean higher nominal returns and lower liabilities for the retirement systems. But we are concerned about inflationary pressure: some policies announced by Trump, about trade and immigration, could increase costs for companies and consumers, and so push up inflation. However, we think that it's a tail risk. Some of the most polarising issues will be debated a lot and overtime they may result in something different."
Vanguard's advice to investors is to stay the course. "This regime change doesn't ask for adjusting the entire portfolio," says Aliaga-Diaz. "Shifting assets now is risky, with all the uncertainty about the new administration. If a portfolio is well diversified, globally and with a broad asset base, it will withstand any volatility." The Vanguard economist is cautious overall. His main concern is that the US economy will fall into stagnation with higher inflation.