Leveraged loans have performed well recently but regulators are expressing concerns about risks
KEY POINTS
Leveraged loans performed well in 2018
The IMF is among those expressing concerns about excesses in the market
The reduction in investor protections is a particular concern
In a rate-tightening environment it pays to be selective
Leveraged loans are private contracts between borrower and lender, rather than securities such as bonds
Borrowers carry a below-investment-grade credit rating
Leveraged loans have overtaken high-yield bonds in terms of the outstanding debt held by US institutions. There are now more than $1trn (€900bn) of outstanding loans globally.
There is good reason to be positive about the asset class: interest payments are pegged to rates. With the US Federal Reserve tightening and many central banks only having one way to go with rate direction, the attraction is obvious. Plus, they sit higher up the capital stack than corporate bonds, generally secured against corporate borrowers' assets, so if the issuer goes bust, investors have a better chance of recouping their capital. This saw the asset class fare relatively well through the global financial crisis.
"Leveraged loans have been one of the best-performing asset classes so far this year," said Tim Crawmer, global credit portfolio manager at US asset manager Payden & Rygel, towards the end of 2018. "Not least because of their floating rate exposure, which has helped create this huge demand."
Eric Verret, head of corporate loans at Netherlands-based NN Investment Partners, says: "While the US market is by far the largest, our biggest allocation is within Benelux, not least because our main customer's focus is European." European plays have their benefits. For instance, while the US market is much larger, Europe has lower exposure to areas with historically higher default rates, such as energy and retail.
Yet, despite strong returns, liquidity and breadth, disquiet is growing over the asset class, with institutions globally voicing concern about its potentially systemic risk.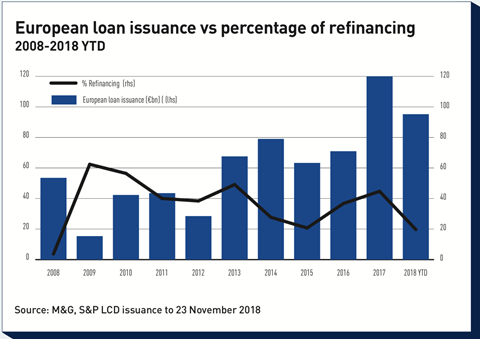 The International Monetary Fund (IMF) warned that "speculative excesses in some financial markets may be approaching a threatening level". It drew particular attention to "the $1.3trn (€1.1trn) global market for so-called leverage loans, which has some analysts and academics sounding the alarm on a dangerous deterioration in lending standards".
More than half of 2018's loan capital raising went to fund mergers and acquisitions and leveraged buyouts, or to pay dividends, and share buy-backs – "in other words, for financial risk-taking rather than plain-vanilla productive investment," according to the IMF.
The IMF is not the only body to have expressed concerns about the market. The Bank of England has compared the growth of the market to that of sub-prime mortgages before the 2008 financial crisis; the Bank for International Settlements has raised a red flag over the asset class; and there have been signs of nervousness at the Fed.
"There wasn't a regulator that didn't have something to say on leveraged loans in October," says Fiona Hagdrup, director of leveraged finance at M&G Investments. She acknowledges that "certainly, when a market gets atop $1trn, as the US loan market has done, it's worth noting, and it's no bad thing for the authorities to reiterate the credit risk within the market." But she adds that it is sensationalist to equate the leveraged loan market with the sub-prime collateralised debt obligations associated with the 2008 financial crisis.
The IMF is particularly concerned that new loans "include fewer investor protections, known as covenants, and lower loss-absorption capacity". Such covenant-lite, or 'cov lite', loans account for about 80% of new loans, compared with about 30% in 2007.
These weaker covenants can allow borrowers to inflate earnings projections, increase after-loan-borrowings, and weaken investor protections. Average recovery rates for defaulted loans have fallen to 69% from the pre-crisis average of 82%. In addition, the high issue of loans relative to bonds means that their greater share of the capital structure could further depress recoveries below their historical norm.
Is Hagdrup worried about the decline in covenance? "Yes, is the simple answer. However," she adds, "the weakening of covenants is an inevitable consequence of the market maturing: with more institutional, non-bank investors and bigger companies, issuance terms become more aligned with bonds. A trade-off with the decrease in covenance quality is the increase in the business quality of borrowing companies."
Crawmer acknowledges that "we're seeing some pretty egregious covenant packages coming through, with loopholes that allow issuers to increase leverage or sell assets without repaying debt." This means, he says, that it is necessary to look closely what is being offered. But there is little opportunity for investor push-back to demand better covenance. "As long as demand is this strong, investors have little bargaining power. Issuers can just say, 'we'll get the deal done, with or without you'."
While Crawmer says there is some credibility to the IMF's warnings, "there is also a flipside. For example, during the [global financial crisis], hard covenants would have forced many companies into bankruptcy. As it was, much of the debt that was trading at a very wide spread at the time has not only made it through, but [is] back to investment-grade levels. So there's two sides to this: as a debt investor, I want that covenance, but cov-lite also gives the company a lifeline that can be beneficial in the long term."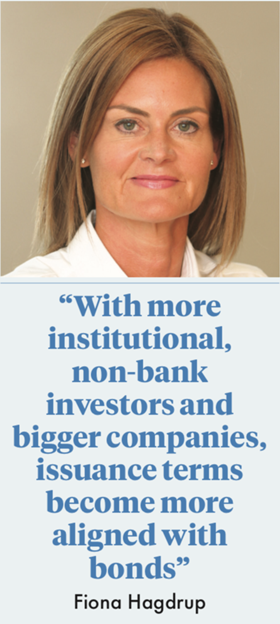 While covenants are an obvious issue they may not be the key one. Over at M&G, "it's not so much cov-lite as less-publicised structural or documentation risks that keep us awake at nights," says Hagdrup, as the true degree of leverage is not always obvious. "You have to strip back the putative earnings figures, based on what management and owner think they can get through synergies and other efficiencies to get to a more accurate figure."
Rate tightening is also something of a double-edged sword. While holding an asset linked to rates should be good for investors when rates rise, it is not good for the corporate issuers as, by definition, it increases repayment costs. So it is no surprise that periods of Fed tightening tend to correlate with slowing economic growth and rising corporate defaults.
However, Verret is optimistic that, while leverage is increasing, losses remain fairly low while economies are strong. "Another positive is that interest coverage ratios are at historic highs," he adds.
At this stage in a cycle, investors agree that it is necessary to be selective – broad exposure is asking for trouble. "You need to be selective in what you invest in," says Verret.
Crawmer agrees: "This late in the cycle, it's not going to be easy for corporations that face challenges and see their leverage increase, especially in a rising rate environment. This means you have to be careful with issuer selection, as there is an increasing number of idiosyncratic issues creeping up."
Hagdrup says: "The ultimate protection is to refuse to lend. And our decline rate remains reassuringly high." There is still plenty more upside to the market, reckons Verret: "It's an interesting asset class, but investors need conservative, selective exposure."
So is this a case of 'while the music plays, you have to keep dancing', and hope you are in the cab home before the party descends into a drunken after-midnight brawl? Or does the performance of the asset class in the last crisis bode well?
While no one wants the party to end it inevitably must. The question is when and can the hangover be dodged.
High yield: Coping with a new environment
1

2

3

Currently reading

Leveraged loans: Applying leverage