Over the medium term, the only thing market participants agree on is that interest rates will rise. For investors with long-term liabilities, the compounding effect of higher rates presents a significant risk. Even for those who have hedged their long-term interest rate risk through swap-based LDI structures, some risks remain, not least the narrowing differential between what they pay and what they receive as the yield curve flattens.
Under the receiver swaps these strategies are commonly based on, an investor agrees to receive a fixed long-term interest rate in exchange for paying a floating short-term interest rate – usually six-month LIBOR or EURIBOR.
At inception, the payments made on the swap by both parties are expected to be the same and therefore the value of the contract will be zero to both parties. For this to occur, the fixed rate has to be an average of the six-month LIBOR rates over the term of the contract. The market predicts what interest rates will average out at over the term of the contract to produce the swap rate.
Once the contract is in place, where short-term rates fall below the long-term average estimated on day one of the contract, investors receive more on the fixed leg than they pay on the floating leg. If short-term rates rise above the long-term average, the investors pay more than they receive.
"As interest rates change, the expected floating payments will change and this means the value will no longer be zero," explains Shajahan Alam, solutions strategist in AXA Investment Managers' LDI team, "it will have positive value to one party and a corresponding negative value to the other."
Spikes
If markets expect interest rates to increase, the cushion of comfort shrinks as the differential between what investors pay and receive decreases and reverses. This is particularly acute where rates rise faster than the swap market has priced in.
In April, six-month LIBOR swaps were pricing in an increase of around 1.5 percentage points over the next two years, but if rate increases are more extreme or begin more quickly, short-dated swaps will be adversely affected.
Investors who transacted swaps over the last few years have already seen some impact of rate volatility. "As rates rise, many who set contracts in recent years could find themselves locked into what now seems like a bad deal," says Rupert Brindley, managing director in the global multi-asset group at JPMorgan Asset Management. "They would instead be in a position of repaying prior gains, posting more collateral – or having to renegotiate contracts and paying the cash penalties associated with doing so."
Although short rates have remained at historical lows for some time, since 2010, both LIBOR and EURIBOR have seen significant spikes. Having started at 1% in June 2010, EURIBOR was edging up towards 2% a year later before falling to 0.29% by May 2013. LIBOR, meanwhile, has seen two spikes, the first during the summer of 2010 and another, more protracted spike between June 2011 and July 2013.
"If there is a sharp rise in the reference rate, pension funds could find themselves paying considerably more and could see substantial losses," Brindley says. "This could manifest itself, for example, if the ECB keeps rates too low in the short term and then has to increase them dramatically in a few years."
By and large, price spikes are not about assets fundamentally repricing, says Kenny Nicoll, director in the manager research team at Redington. "It is more reflecting a liquidity squeeze," he says.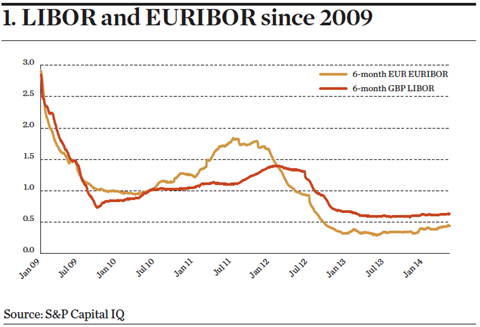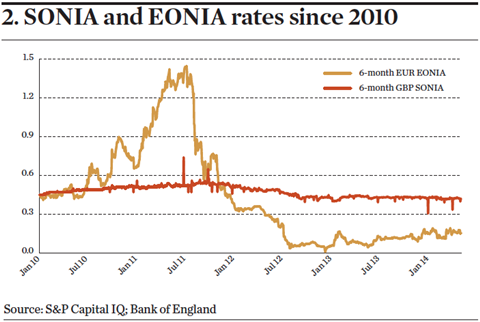 As such, reference rates could be affected as central banks begin to withdraw their massive stimulus packages over the coming years. Six-month EURIBOR, for example, increased 24% from 0.34% to 0.42% between October 2013 and March 2014, driven largely by a drop in excess liquidity as banks repaid crisis loans under the Long-Term Refinancing Operations (LTROs). Repayments were paused at the turn of the year to avoid a liquidity squeeze.
The Federal Reserve has already proven the ability of central banks to catch markets off guard. Following a speech by Janet Yellen, the new Fed chairman, on 19 March in which she said keeping rates low for a considerable time "probably means something on the order of around six months", markets rapidly priced in rate rises six months earlier than previously expected.
"Predictions of when hikes will start have come forward a lot this year," according to Alex Soulsby, head of LDI at F&C Investments. "The whole thing is wrapped in the value of the swap. The 20-year swap rate is around 0.5% higher today versus last year. Positions put on back then could already have a negative value today."
Furthermore, the historical manipulation of LIBOR as banks understated their borrowing costs would have acted to dampen volatility. The protracted LIBOR spike between July 2011 and July 2013 is believed to be due to the fixing revelations. Assuming it is no longer being manipulated, LIBOR volatility can only increase, especially as interest rates rise.
"Having been low for so long, as they increase, the volatility will also increase," says David Rae, head of LDI solutions at Russell Investments.
Spikes and rises in short-term rates could be troublesome given the bear flattening expected in the rate curve. Buying pressure at the long end – and the post-crisis push towards zero at the short-end – means markets expect short rates to go up a lot more than long rates.
"The five-year swap rate is currently 2.09%, and the market expects this rate to rise by 1.55 percentage points in five years' time, while the 30-year rate is only expected to rise by 18 basis points over the same period," says Alam.
Funding position risk
There is another implication of volatility and rises in the reference rates for the floating legs of swaps. Although LIBOR or EURIBOR are common reference rates for the fixed and floating legs of these instruments, for actuarial purposes, the swaps are valued against a more conservative, shorter-term rate such as Sonia.
"Volatility in the floating reference rate has implications for the valuation of swaps, which could impact the funding positions of those holding these swaps in terms of the mark-to-market gains or losses," Rae explains.
The spread between six-month LIBOR and Sonia, which reflects market sentiment around bank credit risk, is relatively wide, raising questions about the level of systemic risk priced into LIBOR.
"Why the rates have not converged is something of a puzzle," JPMAM's Brindley says. "You could argue Sonia is a luxury asset, or you could argue there is still a lot of systemic risk priced-into six-month LIBOR. If the latter is the case, what on earth is a pension scheme doing getting involved with the systemic risk of the banking sector?"
Experts report schemes are increasingly looking to use Sonia as the reference rate for swaps.
As short-dated interest rates rise, more schemes could find themselves locked into bad deals, especially given the environment of bear flattening and the continued accounting differential. With volatility in LIBOR and EURIBOR likely to pick up as rates rise and the continued threat of spikes as liquidity is withdrawn from the system, the risks associated with swap-based LDI warrant close attention.
"Risk could be introduced where LIBOR or EURIBOR spike and schemes don't have the assets to cover their swap obligations," Axa's Alam warns. "This risk generally goes into the general liquidity risk bucket, but pension funds will have to look more closely at this, especially as cash flows become negative."