The DB pension industry is nearing peak LDI and a new understanding of liability management is taking hold
Key points
• UK DB pension schemes are nearing full-funding status
• Commentators believe the pace of hedging is likely to slow
• For DB funds, the attention will turns towards cashflow-matching
• Liability-driven investment (LDI) is becoming 'cashflow-driven investing' (CDI)
The job of managing UK defined benefit (DB) pension funds has become much harder over the past two decades, not in small part due to the unprecedented fall in interest rates. This has driven up the value of liabilities faster than the value of assets on the balance sheets of DB pension funds. Throughout this period, most pension funds have relied on liability-driven investment (LDI) strategies to manage interest rate and inflation risk. Today, however, LDI is morphing into something quite different, as pension funds mature and focus on meeting cashflows requirements as well as managing balance sheet risks.
Asset-liability management has existed, in various iterations, since banking begun. But LDI for pension funds, probably its latest incarnation, took the stage at the turn of the century. In 2001, the DB pension scheme of Boots, the UK pharmacy chain, switched all its assets into bonds.
Three years earlier, a paper by Jon Exley, Shyam Mehta and Andrew Smith, entitled 'The financial theory of defined benefit pension schemes' had argued for the use of a mark-to-market approach to value DB scheme liabilities. It was the beginning of a not-so-small revolution that led to the creation of a roughly £900bn (€1trn) industry in the UK. That is the notional value of UK DB liabilities hedged against interest rate and inflation risk at the end of 2016, according to a well-known survey published by KMPG.
To some, LDI might seem like an abstract concept. But in reality, LDI activity by DB schemes has significantly contributed to the fall of interest rates over the past two decades, that has had very real consequences. Today, however, there are signs that the LDI industry is approaching a turning point.
Winds of change
In June this year, BlackRock suggested that UK DB schemes had reached full funding, meaning that on aggregate level the industry was in surplus, as assets exceeded liabilities. Andrew Tunningley, BlackRock's head of UK strategic clients, made the comment in relation to the June release of the PPF 7800 index. This is the main index documenting the funding position of UK DB schemes. It is published by the Pension Protection Fund (PPF), the UK's lifeboat scheme.
In reality, the aggregate deficit of the 5,588 schemes in the index was estimated be £94bn at the end of May 2018, up from a deficit of £81.7bn at the end of April 2018. The actual funding level at the end of May was 94.5%. This does not mean Tunningley was wrong. He was probably right in suggesting that mid-month the funding level might have reached 100%, although it fell subsequently. Fluctuations in the Gilts market can be such that the level changes by several percentage points each month.
The full funding target matters because, as DB pension funds approach it, their asset allocation is likely to progressively shift towards liability-matching assets. Pension funds may plan to run their balance sheet until the last pension payment is made, a strategy known as 'self-sufficiency'.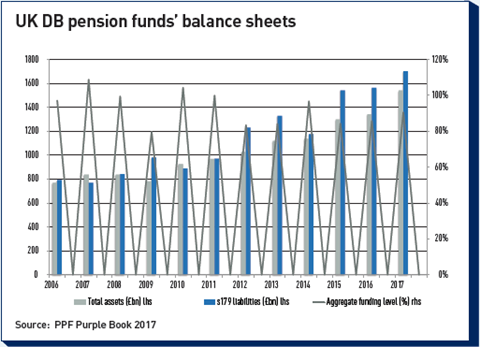 Alternatively, they may seek to pass on the liabilities to an insurer, at a cost. In both cases, pension funds must hold assets such as risk-free bonds, swaps and other interest rate-sensitive assets that track the value of their liabilities. For this reason, as the industry approaches full funding on aggregate, we might expect reduced demand for such assets, and therefore reduced activity by LDI managers.
In reality, at the end of May, there were 3,659 UK DB schemes in deficit and 1,929 schemes in surplus, according to the PPF. Last year's KPMG survey suggested the LDI sector would grow further, with schemes pouring more money into LDI strategies.
However, another authoritative voice in the industry gave credit to the idea that LDI activity is nearing its climax. Last April, UK consultancy Hymans Robertson published a paper aptly entitled 'The Age of Peak LDI', based on a large survey of UK DB schemes. The paper argues that, if UK DB schemes continue to increase their hedging levels at the current pace, demand for hedging assets will drop dramatically in three years. The authors modelled the future path of hedging activity, from the current level where UK DB schemes hedge around 75% of assets. Under certain assumptions, schemes will slow down the purchasing of new assets LDI in 2021.
The paper says: "Our work suggests that [UK DB pension schemes'] approach to investment is going to undergo a fundamental shift in the next few years. The ramifications of this shift are important to understand, given the consequences for all involved."
The consequences may be difficult to predict. But it is safe to assume that LDI managers will not simply go out of business. Rather, they will try to reinvent themselves to deal with a challenge that is different, albeit linked, to the management of interest rate and inflation risk.
From LDI to CDI
Indeed, on their journey towards full funding, many pension funds are becoming cashflow negative. That means the amount of cash they generate, either from collecting members' contributions or from their investment portfolios, is lower than the cash they have to pay out as benefits. This is either because they are not accepting new members, or because they are closed altogether, with no new accrual of contributions.
This is where the new concept of 'cashflow-driven investing' (CDI) comes into play. Having insured all or most of their balance sheets against interest rate and inflation risks, pension funds must now turn towards matching outgoing cashflows with incoming ones.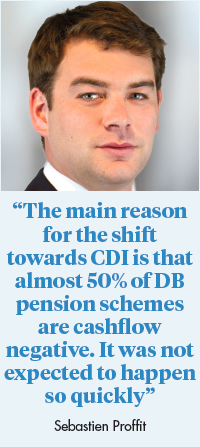 In a sense, this does not sound like anything terribly new, and no doubt some think of CDI as nothing more than a buzzword. But perhaps it is relevant because, with interest rates being so low, finding assets that deliver income to the level needed by pension funds is no easy task.
First of all, pensions funds have to look beyond risk-free fixed-income markets. They will have to buy assets that carry credit risk but generate the needed cashflows, with an appropriate duration level. Some will look even further and consider investments such as property or infrastructure to top-up the cashflows they receive from their credit assets. UK pension schemes such as those affiliated with HSBC and Centrica have pursued such strategies successfully. The majority of cashflow-negative schemes, however, will focus on credit assets, and may choose off-the-shelf CDI products on offer.
The idea is to increase the share of 'physical' assets within LDI portfolios, where physical means assets other than just risk-free bonds, swaps and other interest rate derivatives. This strategy started to gain ground after the financial crisis, as swap rates and yields fell, leading investors to look for higher-yielding assets. As a term, CDI has entered the marketing parlance only in the past few years and its purveyors now hope that it will eventually replace LDI.
But why is the shift towards CDI happening? Sebastien Proffit, head of portfolio solutions for fixed income at AXA Investment Managers, says: "The main reason is that almost 50% of DB pension schemes are cashflow negative. It was not expected to happen so quickly."
Managers get in on the act
Product launches in this space have intensified of late. BMO Global Asset Management is one of many firms launching products intended for DB pension funds with liability-management needs, but which contain credit, as well as Gilts and swaps, as a source of return.
The firm is launching two credit-linked funds to complement its offering and respond to client demand for credit-based and cash-flow generative products. One fund includes leverage, using credit-default swaps (CDS) on top of the firm's flagship dynamic strategy. For £100 invested, clients get £100 of credit exposure and £300 of liability hedging. "It's a means of having a reasonable amount of hedging with some growth, but less risk than in our equity-linked LDI funds," says Simon Bentley, director of LDI client portfolio management at BMO.
The fund uses the most liquid European and US CDS indices and as such is diversified across 250 names. "Based on current market levels, you are looking at a roughly 110bps excess return from the fund. It's a modest return kicker to keep you moving towards your full funding objective," adds Bentley.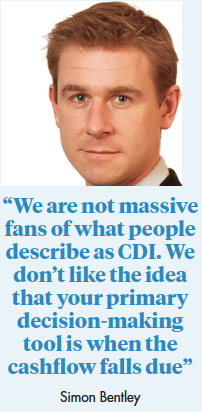 The other is an unlevered fund, where investors will get 75% of physical credit exposure, while the rest will be used to create a liability-matching overlay. This fund is intended for clients nearing or in fully funded status.
"With these funds, we are trying to do three things: hedge all liabilities; generate an excess return over Gilts and provide cashflows. But all our funds are managed to cashflow benchmark. The new funds will pay out a cashflow on a quarterly basis based on their benchmark," says Bentley.
However, Bentley adds a touch of scepticism to the discussion around CDI. He says: "We are not massive fans of what people describe as CDI. We don't like the idea that your primary decision-making tool is when the cashflow falls due. We like to tell our portfolio managers to buy the best asset available, that gives you the best risk-adjusted returns, rather than buy something based on its maturity date. From a practical perspective, it is also very difficult to find all the assets that fall due conveniently at every point you have to meet a cashflow."
Large pension funds can invest, and have done, in cashflow-generating real assets. There is a debate on the extent to which this is a suitable strategy, given the liquidity risk associated with real assets. Nevertheless, managers with real asset capabilities are readily offering this as part of the solution to the negative cashflow problem.
Aviva Investors recently announced a revamped strategy for real assets, which involves the creation of a £37bn (€42.3bn) platform for investment in real estate, infrastructure and private debt. John Dewey, head of investment solutions at Aviva Investors, says the company will offer such investments to schemes looking for liability and cashflow management.
He explains: "In basic terms, we think there are two roles real assets can play in pension schemes' portfolios. One is to generate the best return for a given level of risk, in order to correct the deficit and outperform liabilities. The other is generating cashflows. We believe specific transactions in the private debt, property and infrastructure markets, particularly in the low-carbon or social infrastructure areas, are very well suited to a CDI approach. They can provide the toolkit to alongside LDI to help meet liabilities in a more risk-controlled way."
Dewey adds: "Using credit and real assets, CDI allows schemes to be much more specific and targeted in delivering a portfolio that meets cashflow needs but also generates a higher return in the challenging environment we are in at the moment."
But real assets cannot represent the core of a CDI strategy, according to AXA's Proffit. Credit should be the building block of CDI. He says: "Of course, real estate is good for your very-long-dated cashflows. But credit is the only asset class that presents a number of key features: it has predictable cashflows, with no floating payment; it can provide an extra premium over government bonds; it has duration and remains fairly liquid." When held to maturity, adds Proffit, credit assets can truly help schemes meet their ultimate objective of paying pensions to members.
A change in mindset
Managing liabilities using credit is what insurers with annuity books do all the time, Proffit points out. So DB schemes nearing full funding are going to have to start thinking like an insurer. "But this requires a massive change in mindset which can be quite challenging for trustees. Their focus was always on finding out where to put the money. Now they need to think about where they are going to disinvest from, in order to pay pensions," he says.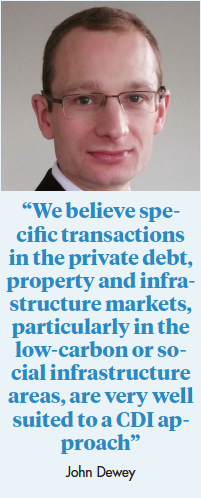 The real issue about CDI perhaps is that pension funds loading up on corporate bonds will be adding credit risk to their LDI portfolio, a situation that was not there before. This inevitably requires specialised management. Proffit explains: "Corporate bonds are very easy tools to use from a CDI perspective, as you know when you will get your money back. But to ensure the predictability of cashflows, you need to make sure you don't have any defaults. That means devoting much energy to credit research. You need a lot of people looking at the fundamentals of every company you invest in. Since you are investing for long periods, you will also need to consider non-financial criteria, including ESG."
Back to basics
However, for underfunded pension funds, which are the majority, keeping balance sheet volatility remains crucial. David Rae, head of strategic client solutions at Russell Investments, suggests trustees should not lose sight of this basic risk-management objective. Furthermore, he recommends caution with strategies involving riskier assets.
Rae says: "There needs to be reflection on how CDI portfolios are going to be managed on an ongoing basis. It might seem attractive to think that assets can just be locked away and expected to deliver the cashflows that meet the benefit payments.
"The reality is that the long-term profile of those benefit payments is changing. This can be due to a number of things. There can be transfers of assets out of schemes. Actuarial experience can be different from assumptions. The investment landscape is changing in terms of expected returns and default rates. In other words, CDI assets will need to be managed," Rae concludes.
In general, discretion with new trends in asset management is always advisable. It is also true that no portfolio will be 100% matched with liabilities and completely risk-free, so the 'old-fashioned' LDI will be around for a long time still. It is fair to assume, however, that CDI has been added to the dictionary of pension fund management.
Liability Management: The end of LDI as we know it?
1

Currently reading

Liability Management: The end of LDI as we know it?

2

3