Niki Natarajan reports on how hedge funds are using onshore vehicles to replicate the returns of the offshore market. Are these a way of making investment in hedge funds easier or simply another risky alternative?
Since 2000, hedge funds, traditionally the preserve of high-net-worth investors, have been touted to institutions for their performance, diversification and decorrelation properties. Then as the $3trn (€2.7trn) offshore hedge fund industry was gaining momentum, 2008 happened. In the wake of gating, suspensions and frauds, those investors that remained obsessed with liquidity.
Michele Gesualdi, chief investment officer at Kairos Investment Management, considered a Pioneer in the hedge fund/UCITS space (with more than $1bn of its total $2.5bn in onshore hedge funds since 2009), says that with low interest rates and volatile equity markets there is a structural phenomenon driving both institutional and retail investors to find an alternative for their target of 3% to 4% returns.
Onshore diversified growth funds have traditionally soaked up the 'diversification' assets, leaving offshore hedge funds competing at a disadvantage. "This summer, investors who bought multi-asset products as a diversifier to their bond and equity investments saw returns from both asset classes collapse at the same time, creating a perfect opportunity for truly alternative strategies," says Gesualdi.
This has seen the introduction of hedge fund strategies dressed up in onshore regulated wrappers, referred to as 'liquid alternatives'. In Europe and Asia, onshore UCITS have become the passport for selling mutual funds across international borders. With a few changes in 2011, UCITS IV gave birth to the 'newcits' market, which has started to take off, partly driven by the new Alternative Investment Fund Managers Directive (AIFMD) that is making marketing alternatives almost impossible in Europe.
Liquid alternatives could provide the hedge fund industry – which, according to HedgeFund Intelligence, is only growing at an annual rate of 5.5% – with a vehicle for rapid asset growth. By the end of 2014, UCITS had $199bn in assets in 798 products, according to Preqin, with 348 funds and $240bn in assets regulated under the Investment Company Act of 1940 for US onshore investors.
Compared with the $3trn offshore hedge fund industry, the onshore liquid alternatives could grow 10 times faster if managers tap successfully into the retail networks of the $30trn mutual fund industry. A recent report by Citi, Opportunities & Challenges for Hedge Funds in the coming Era of Optimisation, suggests that by 2018, US onshore alternative mutual funds could reach assets of $879bn, while European and Asian UCITS could amount to $624bn.
In addition to capital preservation and decorrelation in uncertain markets, there are a variety of drivers for asset growth in this onshore space including country-specific changes such as capital gains tax in Germany. A report by Barclays called The New Wave: Review of the Alternative UCITS Landscape and Outlook describes the two types of buyer more specifically.
• The 'crossover' buyer made up of large institutions, family offices and funds of funds that would prefer the offshore strategy unless UCITS is the only way to access a certain manager or strategy, or the terms are better than offshore.
• The 'migrant' investor such as wealth management platforms, private banking channels and some European institutions are the second type.
Alastair Barrie, head of global hedge fund sales at Martin Currie, explains that in many European countries investors are selling their offshore funds and buying UCITS for liquidity, transparency, tax and regulatory reasons. "Institutional investors are finding that capital adequacy is a primary driver for investing in liquid alternatives; regulatory capital charges on traditional hedge funds can be just too punitive," he says.
Donald Pepper, managing director of alternatives and institutional at Old Mutual agrees: "The liquidity, ease of dealing process, and onshore status of [alternative] UCITS makes life for a private banker much easier. We see many family offices also swapping to the 'low fat' version," he says.
The rapid growth of Old Mutual's own Global Equity Market Neutral fund is proof of the new-found momentum. Launched in July 2009, it only reached $78m by 2012 but now has $4.5bn under management. "We have seen institutional buyers for UCITS, especially from markets such as Italy and Germany," adds Pepper.
At the moment, the hedge fund industry is focused on manufacturing liquid derivative portfolios of flagship hedge fund strategies owing to the constraints of onshore regulations. One of the key concerns is that these funds, with little to no track record, will perform differently from the original hedge funds. "We still suggest that clients that don't need liquidity should go for the flagship product, because we believe that is the best expression of the manager's proposition," says Robert Howie, principal in the hedge fund boutique of Mercer Investments.
Gesualdi at Kairos, which counts the pension funds of a Japanese and an Italian institution among its UCITS clients, encourages caution. "The universe [of UCITS] is still relatively small, though growing, and investors need to be really careful to select players than can deliver, otherwise performance will be below expectation and damaging to this relatively new industry," he says.
The easiest strategies to replicate from a liquidity and low tracking error standpoint are equities and commodity trading advisors (CTAs). One of the early UCITS in the trend-following/managed-futures space, also with an ERISA-compliant '40 Act fund, was Aspect Capital. "Our programme is 80% trend-following so it was easy to adapt for the various onshore regulations. And unlike other UCITS strategies that might have to be adapted more drastically, we have found that we have relatively little tracking error between the onshore funds and the flagship Aspect Diversified fund," says Anthony Todd, co-founder and chief executive officer of Aspect.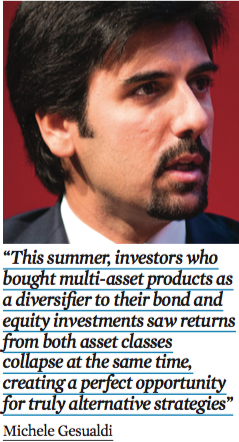 "We have had success in finding diversifying strategies that are under-represented in the UCITS universe and assisting their managers in becoming UCITS-compliant," says Daniele Spada, head of Lyxor Asset Management's Managed Account Platform, pointing to success in raising assets for the Lyxor/Tiedemann Arbitrage Strategy fund, a merger-arbitrage strategy, as an example of a manager it was able to bring over from the US. Platforms are often a way for hedge fund managers without infrastructure for global distribution to access new markets, especially in Europe with its marketing regulations.
But the real growth driver will be the retail and defined contribution buyer that has never bought hedge funds before. The entrance of these will transform the liquid alternative industry, but the question remains whether, or not, hedge fund boutiques will be the winners of these fee-sensitive flows.
"Institutional investors are finding that capital adequacy is a primary driver for investing in liquid alternatives – regulatory capital charges on traditional hedge funds can be just too punitive"
Alastair Barrie
Two years ago in the US, the defined contribution (DC) plan of Hartford Healthcare in Connecticut made headlines by selecting Neuberger Berman's daily liquidity alternative multi-manager mutual fund as an investment option for its stakeholders. Many thought this would signal a stampede by other DC plans. But, so far, the early asset raising successes of groups such as Blackstone Alternative Asset Management and Arden Asset Management (recently acquired by Aberdeen Asset Management) are due to mass affluent alliances with mutual fund giants such as Fidelity.
In the UK, the pick-up by DC plans is even further away. "Today there is not much buying of [liquid alternatives] by DC plans as most of that world appears to be in low-risk default plans, but over time I expect this to change. DC plans represent a large part of the future opportunity for liquid alts," says Luke Ellis, president of MAN Group, which offers a number of UCITS compliant products in the UK from three of its investment engines, Man AHL, Man GLG and Man Numeric.
Joseph McDonnell, managing director and head of Morgan Stanley's Alternative Investment Partners' portfolio solutions group in London, explains that one of the barriers for liquid alternatives such as UCITS becoming an option in defined contribution plans is that most funds are too expensive, especially when compared with diversified growth funds.
"The other reason is that in a defined contribution scheme the risk [of choice] lies with the individual, and they are not motivated by complexity," says McDonnell.
Mercer's Howie agrees. DC plans in the UK are constrained by the obsession with cost and the common default option that they all offer.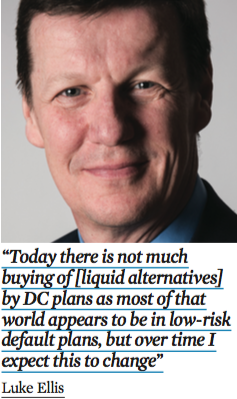 Fees have always been a contentious issue. In the US, alternative mutual funds do not charge performance fees, while UCITs are allowed to, making the total expense ratios (TERs) of UCITS more expensive. In Europe, however, long-only asset managers who have the brand recognition are typically not charging performance fees, while hedge funds entering the UCITS space are generally charging a 1% to 2% management fee and up to the traditional 20% performance fee, according to the Barclays report.
One group that has been through this process in America and Europe is K2 Advisors, which is owned by Franklin Templeton, through whose distribution network the liquid alternative funds are sold. "Our fund is a multi-strategy fund where the underlying brand name managers are paid a flat fee to run an account for us. Our fees are flat and capped by design because we wanted to offer what we see is a compelling investment offering in the liquid alternative space," says managing director David Saunders.
The onshore US K2 fund has raised more than $1bn, while the UCITS fund has nearly matched that total. Citing a McKinsey report called The Trillion Dollar Convergence, Saunders says that future flows are inevitable as investors remain concerned about rising rates or negative returns on their retirement accounts.
"Globally, the investor mindset is changing and instead of just filling stock and bond allocations, investors want to achieve investment outcomes. Liquid alternatives allow investors to diversify equity risk and allocate to something other than bonds in countries such as Italy and Germany, for example, where investors are already overweight fixed income," Saunders adds.
"In the end, investors need to ask themselves what is it that they primarily want – is it low TERs, liquidity or is it performance? Some of these elements can be delivered through risk premia or factor-based products that can be accessed more cost-efficiently than via direct hedge fund investments, but it is the good hedge funds that can deliver the alpha and attractive return profile that many investors want," says Brian Johnson, head of Hedge Fund Investment Solutions at Unigestion.
"One of the things that we are very conscious of is that investors fully understand the risks they are taking. Having a UCITS wrapper does not make the investment less risky. In fact, UCITS products, especially in the alternative space, may even require more due diligence than buying 'traditional' hedge funds that have years of demonstrable track records and can often use a much wider spectrum of instruments to not only generate returns, but also manage risk," adds Johnson.
Man Group's Ellis also cautions that a lot of what is labelled liquid alternatives today – for example, unconstrained bond funds – do not fit his criteria. With no judgement on whether, or not, liquid alternatives are an appropriate product for investors, the Alternative Investment Management Association, in association with JP Morgan and KPMG, has published a Guide to Liquid Alternative Funds to make sure that those creating funds know exactly what this path entails, so investors do not suddenly find themselves faced with surprises. In this still slightly Wild West frontier of liquid hedge fund-like strategies, it looks like the buyer needs to be more aware than ever.
Liquid Hedge Funds: Fad or the future?
1

Currently reading

Liquid Hedge Funds: Fad or the future?

2

3