Providers acknowledge low-carbon indices are imperfect, but argue they are an invaluable tool
Key points
• Low-carbon indices claim to offer a simple, low-cost way to reduce climate change risk
• Critics say the backward-looking metrics and emphasis on carbon footprint reduce their effectiveness
• European Commission to publish report to improve corporate disclosure of climate-related information in 2019
Low-carbon index strategies are taking off. The Fourth Swedish National Fund AP4 now benchmarks over 20% of its global equity investments against low-carbon indices, while the French Fonds de Réserve pour les Retraites (FRR) has adopted new equity benchmarks to halve its CO2 emissions from standard indices.
Further afield, Japan's Government Pension Investment Fund, California State Teachers' Retirement System (CalSTRS) and the New Zealand Superannuation Fund are all using low-carbon benchmarks for large chunks of their portfolios.
For investors, the advantages of investing against low-carbon indices are simplicity, and a cost that is potentially lower than for actively managed strategies.
In 2014, Amundi, in collaboration with MSCI, AP4 and FRR, launched the MSCI Global Low Carbon Leaders indices. They were the first in the industry to address two dimensions of carbon exposure – carbon emissions and fossil fuel reserves.
Frédéric Samama, co-head of institutional client coverage at Amundi, and co-founder of the Sovereign Wealth Fund Research Initiative, says low-carbon indices solve three problems: "First, you buy time on climate change. This matters because it's hard to know when the associated risks will be fully priced. Second, the transparency of the indices makes it easy for investors to see which companies are reducing their impact on the environment."
Third, Samama points out that the indices can mobilise a huge amount of money – $14trn (€12trn) in the underlying market – into minimising climate change.
They can also, he says, enhance financial returns: the Global Low Carbon Leaders indices have been backtested to 2010, and would have outperformed the corresponding non-low carbon indices by 50 basis points a year. But low carbon indices have also provoked criticism.
Emmanuel Hauptmann, senior systematic portfolio manager at RAM Active Investments, says: "It is true that firms with low levels of CO2 emissions relative to their industry peers tend to outperform. However, the main drawback of these indices is that taking a solely low-carbon approach can lead to a strong sector bias in a portfolio." This, he says, would not underweight just fossil fuel industries, but also companies with, for example, large fleets of delivery vehicles.
"This can obviously have a negative impact on index returns," he says. "So rather than use low-carbon indices in passive investing, we think an active approach to integrating environmental, social and governance (ESG) is superior." RAM's flagship ESG offering is its Global Shareholder Yield Equities fund, which leverages ESG data into the investment process to reduce volatility and increase the return profile.
Hauptmann adds: "ESG data is a fantastic source of information, but it is just one more source of data which we then optimise in combination with financial and market statistics, for example to find and underweight those companies that are sacrificing long-term growth sustainability for short-term gains."
According to Ian Simm, founder and CEO of Impax Asset Management, using a company's carbon footprint to assess financial risk has two main flaws. "First, the metrics are backward-looking, and do not necessarily reflect the company's future risk," he says. "Second, this methodology does not take account of a company's pricing power; its ability to pass on to its customers cost increases such as taxes."
How low-carbon indices work
• Low-carbon indices aim to help identify potential risks associated with the transition to a low-carbon economy for individual stocks, while representing the performance of the broad equity market
• The index is then tilted away from higher risk stocks – either by elimination or underweighting – and towards those considered less risky and more exposed to generating revenues linked to the low-carbon transition
• While methodologies for different indices vary, the two most-used parameters for determining risk are the size of a company's carbon footprint, and its business involvement with fossil fuels.
Simm points out that many governments are curtailing or planning to curtail carbon emissions by taxing the supply or use of fossil fuels: "Some companies are in markets where they can pass on increases in taxes to customers, others are not. Carbon footprinting doesn't take account of that."
And he says there is also no standard definition of a carbon footprint.
Etienne Vincent, head of quantitative management, BNP Paribas, highlights the additional problem of aggregation within the financial sector: "How do you measure the footprint for derivatives?"
He agrees that consistency as a whole is a problem. "There is no universal agreement on what type of disclosure should be used within these indices," he says. "Then there is a key issue with metrics. A framework in which everyone can work has to be created."
Impax's Smart Carbon Portfolio uses estimates of how much climate change risk is reflected in companies' current share price to inform the tilting of a passive equity portfolio. This is done by using scenario analysis to assess the impact of carbon taxes on companies' future cash flows, then optimising the expected returns.
Impax has now extended the portfolio to utilities and basic materials, but has no plans to extend the analysis, says Simm, because pricing power in other sectors is considerable.
Dealing with leaders and laggards
Charles Donovan, director of the Centre for Climate Finance and Investment (CCFI) at Imperial College Business School in London, which undertakes research on how capital markets are responding to global climate change, says the question is "how do you spot which companies within specific industries are more prepared for transition than others?"
He says one problem with most low-carbon indices is that they do not take account of what individual companies are doing to help cut their emissions. "Within the oil sector, while Total is aggressively trying to transition to zero-carbon energy, Exxon is doing practically nothing. Indices of real use to investors must go beyond a simple measure of a company's existing carbon footprint."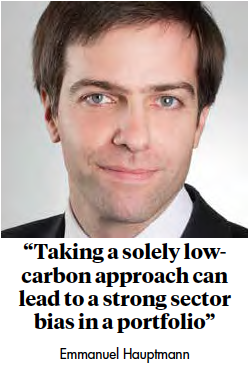 This is not helped by a lack of transparency from companies themselves. A BNP Paribas Asset Management analysis of the largest 6,300 companies globally showed that 48% do not disclose their carbon emissions.
Donovan also suspects that low-carbon indices give investors the opportunity to be complacent about combatting climate change. "As an investor, are you trying to reduce climate as a risk factor? Or are you looking to an index to produce a box-ticking exercise?"
Vincent agrees: "The CO2 risk affects other components of financial management, such as the use of value strategies. There is a risk embedded in the whole concept of value, not just indices. So investors should not buy an index and think they have finished with the subject."
Last June, the European Commission set up a technical expert group (TEG) on sustainable finance to produce guidance improving corporate disclosure of climate-related information. It aims to produce a report and recommendations during 2019. The Commission has said that an extra investment of €180bn is needed to achieve the EU's climate change targets by the 2030 deadline.
Extending the scope
The Greenhouse Gas (GHG) Protocol Corporate Standard classifies a company's GHG emissions into three scopes:
• Scope 1: Direct emissions from owned or controlled sources
• Scope 2: Indirect emissions from the generation of purchased energy
• Scope 3: Indirect emissions not included in Scope 2 which occur in the value chain of the reporting company, including both upstream and downstream emissions
According to Manuel Coeslier, equity portfolio manager at Mirova and a member of the TEG, the way low-carbon indices are currently designed is not necessarily an insurance against all potential climate-related financial risks affecting companies.
He says: "Indeed, as they only reduce the exposure to direct carbon emissions, also known as Scope 1 and 2 emissions, and sometimes to fossil fuel reserves, these methodologies can potentially create counter-intuitive situations when looking at life-cycle carbon emissions."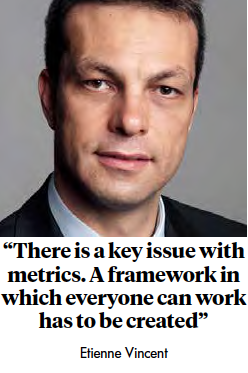 It is actually indirect emissions upstream and downstream of companies' operational boundaries – also known as Scope 3 emissions – that represent most of the emissions at portfolio or index level, says Coeslier. This means a risk reduction strategy may be less effective than intended.
Meanwhile other, more forward-looking, carbon strategies not only seek risk reduction, but an alignment with the needs of ambitious climate scenarios.
Coeslier says: "This cannot be achieved either, by using only human-induced carbon emissions, which are a measure of negative impact, even if calculated on a life-cycle basis. A measure of positive impact, like avoided emissions or emissions savings, also needs to be included to assess the contribution of investments to the needs of the energy transition."
Where will the physical impact be?
Last September, the Financial Stability Board's Task Force on Climate-related Financial Disclosures said companies are not yet prepared with frameworks, methodologies and requirements to publish this kind of data in a homogeneous way.
"Access to this kind of information, and its calculation by third parties, is key to the success and development of carbon benchmarks," Coeslier says.
Vincent says low-carbon indices should be seen in the context of the wider issue of carbon emission mitigation. He says: "These indices have the big advantage that they raise awareness of the subject. This is why we launched our own exchange-traded fund. Where the physical impact will be – that's what the debate should focus on."
Simm contends that indices are a work in progress: "Carbon footprinting is version 1.0 of measuring climate change investment risk, and we need to move beyond that."