Competition is intensifying among providers of data analysis and benchmarking solutions
Key points
Pension funds increasingly rely on external data analysis services, driven by the growing demand for transparency around costs
New and established providers offer cost-analysis services and independent oversight of consultants and fiduciary managers
Technology can help manage increasingly complex portfolios
The pressure on pension funds to be more transparent about the costs of running their portfolios has grown to unprecedented levels in recent years.
The duty to provide transparency about costs is already part of the legal framework in countries such as the Netherlands and Switzerland.
In the Nordic countries, pension funds are upfront about their costs in response to scrutiny from members, while in the UK a mixture of regulatory action and self-regulation is making the pension industry significantly more transparent.
At the centre of this transformation is a group of organisations specialising in data analysis and cost benchmarking. Given the complexity of analysing increasingly sophisticated portfolios, pension funds often find that outsourcing analysis services is the more cost-efficient choice. This sector is bound to grow rapidly as new and existing service providers respond to rising demand from pension funds.
Track-record matters
There are a few established players with a track record spanning decades. CEM Benchmarking, a Canadian company, was set up 27 years ago with the goal of producing detailed comparative analysis that focuses on the cost of running pension schemes, typically large ones.
The company was co-founded by Keith Ambachtsheer, an expert on institutional investment, who also founded the International Centre for Pension Management (ICPM) in Toronto. Over the years, CEM has grown significantly and it now works for pension funds located in 25 countries, with overall assets of $15trn (€13.5trn).
John Simmonds, responsible for CEM's Benchmarking's business in the UK and Ireland, explains: "Pension funds supply us with data about asset management and administration costs every year in a standard format. We run deep comparative analysis with other pension funds, at domestic or international level. The output helps them to understand whether their costs are reasonable and if they are cost effective." The company's business model is based on a subscription fee, which clients pay to access the analysis.
The breadth of the organisation's database, which includes several hundred pension funds and sovereign wealth funds, allows for fair comparisons, according to Simmonds. "The size of a pension fund's assets is a big determinant of costs. Thanks to our database we can build peer groups that make comparisons meaningful. Furthermore, we look at costs in the context of performance and risk, so our analysis becomes a narrative on the effectiveness of the whole fund," he says.
Simmonds stresses that the organisation does not give investment advice. "We are not interested in a downstream project to change managers or strategy. We exist simply to tell the story of how you compare and why. What a pension fund does with that information is up to it. At the same time, there is value in having an independent, external organisation run cost analysis."
The company uses standard templates to collect data. However, after the data is collected, the job of 'cleaning' the data to make it comparable to other pension funds is resource-intensive.
That is partly why CEM Benchmarking management offered a wry smile when it became clear that a set of standard asset-management cost-reporting templates would be introduced in the UK industry.
The templates, first developed by Chris Sier, the chairman of the Institutional Disclosure Working Group (IDWG), have been adopted by the Pension and Lifetime Savings Association (PLSA), the UK pension fund association. The PLSA, as part of its Cost Transparency Initiative (CTI), has recommended the use of the templates for cost reporting. These are slowly becoming the standard way to report costs within the UK pension industry.
"We have been doing exactly that for 27 years," says Simmonds. "We're happy to work with the new templates, but the UK market can learn a lot from our experience."
The key message, for Simmonds, is not to assume the data is correct just because it has been collected using a standard format.
He says: "I can't emphasise this too much. No matter how clear the definitions, experience tells us that you need to work hard after submission to make sure the data is fit to be compared. This is absolutely critical in building trust in the analysis that follows.
"We have seen lots of data using the templates now. The quality is best described as patchy. The data needs to be turned into analysis and interpreted carefully, fairly and sensitively. A strong, defendable methodology is needed to build a clear picture of what's going on. Collecting the data is the science, telling the story is an art."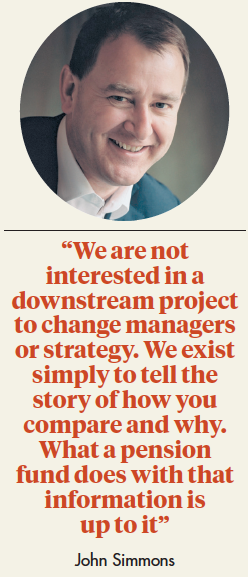 The cost disclosure agenda has moved a step further, since last summer the UK Parliament's Work and Pensions Select Committee (WPC) recommended that the government legislate on the matter. The UK's Financial Conduct Authority (FCA) has also strengthened its requirements. It is now asking asset managers to state how their funds provide value for money.
Simmonds says CEM Benchmarking welcomes the direction of travel of the industry, but challenges the perception that this is anything new. The concept of value for money in pensions has been at the heart of what CEM Benchmarking does since its foundation, he concludes.
New players emerge
In the area of cost analysis, UK business ClearGlass is making inroads. It was launched at the end of 2018 by Chris Sier, its chairman. The goal of the company is also to collect data concerning costs.
However, ClearGlass collects fee data from asset managers using the CTI templates on behalf of investors. The company, which identifies itself as a social business, charges pension funds £100 (€113) to run a cost analysis on each mandate. No fee is charged to asset managers that provide the data. The company's first client was Aon, which used ClearGlass to assess all the products used by its fiduciary platform. ClearGlass now supports Aon for all of its DB Advisory clients.
ClearGlass is working with 200 pension funds and has collected data on almost 1750 mandates from 185 different asset managers. The company is benefitting from its innovative business model and from the growing popularity of the CTI templates, which have been embraced by the industry. But its strength also lies in its association with Sier, who has been one of the most vocal supporters of cost transparency in asset management in the UK.
The company is now working with data provider McLagan, a subsidiary of Aon, to provide benchmarking analysis on fees and performance. ClearGlass has also partnered with Insticube, another emerging data-driven company that measures the quality of the services provided by asset managers.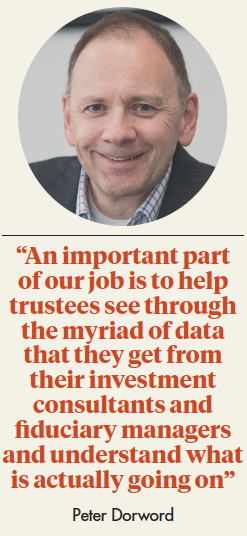 Insticube surveys asset owners, collecting data about the perceived quality of the asset-management services they employ. The company has built an extensive database, which asset owners in about 19 European countries. More than 700 asset owners have provided data on the mandates of 500 asset managers.
Insticube collects 'soft' data and ranks the asset managers in terms of how asset owners perceive the quality of their service. Pension funds can access the data free of charge and see how their asset managers rank compared with other asset managers – including how other pension funds perceive them.
One of the implications of collecting this kind of data is that pension funds might realise that their peers assign lower ratings to the service provided by their own asset managers. Those instances could warrant reflection. The emphasis on soft data follows from the understanding that service quality in asset management should be as highly regarded as investment performance.
Asset managers included in the Insticube database can access the data for a relatively small fee. Insticube does not give asset managers the details of the pension funds that provided the data. Overall, the process of collecting and distributing data from pension funds is strictly confidential, avoiding conflicts of interests and ensuring objectivity.
Insticube, based in Munich, was set up in 2013 by the publisher of this magazine as the Pension Fund Perception Programme (PFPP). In 2017, AssetMetrix, a German provider of back office services to private capital firms, became a strategic partner in Insticube. IPE is also a strategic partner of Insticube as well as remaining a significant shareholder.
UK tackles value for money
The concept of value for money in institutional investment took centre stage as the UK's Financial Conduct Authority (FCA) began its Asset Management Market Study in 2015. In its final report, released in June 2017, the FCA stated: "Investors' awareness and focus on charges is mixed and often poor" and that although this was improving, asset managers needed to demonstrate how they deliver value for money to clients.
The proposed solutions included strengthening asset-management duties to act in their clients' best interests and requiring managers to clearly state their objectives.
Having found weak competition in the investment consulting and fiduciary-management markets, the FCA prompted an investigation by the Competition and Markets Authority (CMA). The CMA also found that pension schemes were largely unable to assess the value for money they were getting from investment consultants and fiduciary managers.
In its final report, published in December, the CMA said: "Some of the ways […] firms introduce and advise on fiduciary management has the effect of steering trustees towards the firm's own service and makes it less likely that customers consider alternatives and get the best value for money."
The report also stated: "The information that trustees need to assess the value for money of these services is difficult to access."
The remedies put forward by the CMA consist of several requirements. Pension funds must tender fiduciary management mandates regularly. Investment consultancies that offer fiduciary services must separate the marketing for those services. Fiduciary managers must offer more transparency and clarity on fees, in a way that allows fair comparison between different providers.
One of the concrete outcomes of these regulatory interventions has been the introduction of standard templates for reporting asset management fees.
These were developed by the Institutional Disclosure Working Group (IDWG), an industry stakeholder group backed by the FCA and chaired by Chris Sier, and later adopted by the Pension and Lifetime Savings Association (PLSA), the UK's pension fund association.
The industry's focus on ensuring value for money for institutional investors is now stronger than ever. However, the debate on what value for money represents, or how it can be measured, is far from over.
At the end of last year, the UK arm of the CFA Society (CFA UK) published a white paper outlining a framework for assessing value for money in asset management, noting "a lack of common understanding" around the concept, which was inhibiting clarity and transparency in the investment sector.
The paper recognised the multi-layered nature of value for money, stating that an assessment of value for money of an asset-management product or service should include cost and charges, output defined as risk and return, and quality and service.
In the CFA UK's framework, long-term risk-adjusted returns take precedence over short-term returns, given the higher information value they provide. The paper also emphasised the need for regular dialogue between asset managers and their clients.
The debate continues, but legislative action could take place soon. Last summer UK politicians recommended that disclosure of asset management fees and costs should be law rather than remaining voluntary.
Fiduciary assessment mandatory
In the UK's consultancy-driven market, the concept of value for money does not only apply to asset managers. In recent regulatory initiatives, the FCA and the Competition and Markets Authority (CMA) have addressed issues around the way pension funds have historically selected investment consultancies and fiduciary managers.
Partly owing to a lack of transparency by those types of firms, pension funds were found to be unable to assess the value for money generated by them. It was also common practice to award investment consultancy and fiduciary management contracts without a tender. The regulatory framework now requires that both kinds of firms are selected via a tender process and that they are monitored.
Following the introduction of the new rules, the organisations providing oversight of investment consultants and fiduciary managers has multiplied. Businesses of all sizes have joined the ranks. This growing sector includes well-known global brands such as PriceWaterhouseCooper and Ernst & Young, and also UK-focused brands like Lane, Clarke & Peacock (LCP) and Hymans Robertson.
However, one firm which has historically focused on fiduciary-management oversight is IC Select. Founded in 2007 to support pension scheme trustees in their selection and oversight of their investment consultants, the firm continues to carry out due diligence to understand these organisations from top to bottom, including the approach they take to selecting managers.
Today, a significant share of its business is driven by pension funds that need support in selecting and overseeing investment consultant managers or fiduciary managers. To do that, IC Select analyses and assesses pension funds' governance structures as well as conducting ongoing due diligence of the firms.
Over the last four years, the firm has developed a performance standard, the IC Select Fiduciary Management Performance Standard, to assess fiduciary managers. This has now been adopted by the UK's Chartered Financial Analyst (CFA) Institute and it will become an integral part of the regulatory toolkit globally. In other words, fiduciary managers, when asked by a pension fund for performance information, will be required to calculate and present this information using this framework initially developed by IC Select.
The IC Select standard was adopted by the CFA Institute partly because it chimes with the CFA's Global Investment Performance Standard (GIPS), but it also allows the CFA Institute to include a standard tailored to fiduciary-management performance within the 2020 update of the GIPS.
Peter Dorward, managing director at IC Select, says: "An important part of our job is to help trustees see through the myriad of data that they get from their investment consultants and fiduciary managers and understand what is actually going on, and where value is being added in their advice or fiduciary management service.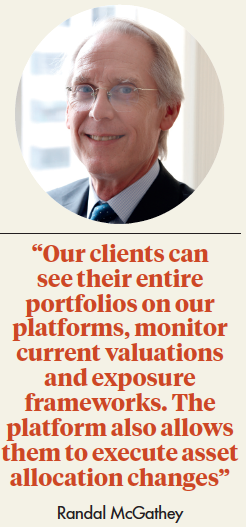 "Before the FCA and the CMA started looking at these issues, we saw a real challenge for pension fund trustees who were considering fiduciary management, in understanding how the managers were performing for their existing clients. There was a lack of consistency in the calculation of performance and how that performance was being presented. That is why the IC Select Fiduciary Management Performance Standard was created," he says.
"When we provide oversight in the fiduciary-management space, we try and help trustees to look through what they are seeing in their regular reports from fiduciary managers, and provide another level of detail in their assessment of how their fiduciary managers perform."
To do that, IC Select analyses monthly performance data from fiduciary managers to assess whether the manager is achieving the pension fund's objectives. This may be to achieve full funding by some specific point in the future against a Gilts benchmark. The firm breaks down the different components, including strategic asset allocation, tactical allocation and manager selection, so pension funds can see how value is being derived from each component.
Tech solutions needed
This not-so-small revolution, where cost transparency becomes a necessity for pension funds, fuels demand for data-analysis services of all kinds. At the most basic level, pension funds need transparency over their portfolios, which are increasingly complex. This is where organisations such as Milestone Group step in.
The firm serves institutional investors such as pension funds, asset managers, fiduciary managers and investment consultants, by providing digital portfolio analysis tools. It is headquartered in Sydney and has offices in Boston and London.
Randy McGathey, vice-president, says: "We provide the infrastructure that allows institutional investors to run their portfolios and deliver their products. When it comes to providers of delegated CIO solutions, they use our platforms to monitor and manage portfolios of the pension funds they serve.
"Our clients can see their entire portfolios on our platforms, monitor current valuations and exposure frameworks. The platform also allows them to execute asset allocation changes, moving assets from one fund to another. That includes transacting with private equity, real estate or other illiquid investment managers as well as pooled funds, through external managers or directly," says McGathey.
The fundamental element of Milestone Group's platform, he says, is the ability to see that total portfolio. This often requires investors to collect and assemble information from multiple sources. "Building that total view of the portfolio can be a very complex and time-consuming element from a technological and human point of view. Our platform takes care of that at scale. This is particularly relevant to large pension funds or entities that manage several pension plans. The investment strategies they develop result in increasingly complex portfolios."
Milestone Group's platform, known as pControl, is used by DB plans as well as by providers of DC plans that offer target-date funds with multi-asset portfolios. The platform helps those providers to allocate assets based on algorithms that determine the asset class weights of each fund, according to asset allocation models and members' choices.
McGathey suggests that the prevalent methods for portfolio data management are out of date. He says: "It is our observation that many, if not most, asset allocators rely on spreadsheets and very high-cost, high-expertise individuals to manage the data of their clients' portfolios. The same goes for pension funds. They tend to buy and customise off-the-shelf solutions coupled with expensive human data effort. We provide a technology-based solution that allows investors to achieve a more efficient and comprehensive view of a portfolio than most practitioners currently offer."
No doubt, there are plenty of tech-based solutions for portfolio data management on the market, each with its own characteristics. But the Milestone Group case shines a light on the data-related challenges that pension funds and their providers face when managing increasingly complex portfolios.
Overall, the investment data analysis industry still seems relatively fragmented, but it is poised to expand further and become more competitive as a result. The growing need for transparency in asset management is an opportunity for new businesses providing innovative solutions, from cost benchmarking to portfolio analysis.
The data analysis needs of pension funds are varied as their portfolios. It remains to be seen whether the cost of using these services will be justified in the current environment, where low yields and strict regulatory requirements make the business of running pension funds increasingly more expensive.
*This article has been amended online to better reflect ClearGlass's performance since the launch of the company