The resilience of private debt funds will be tested in the forthcoming downturn
Key points
Fund managers have rushed to launch private debt strategies
Many fund managers may lack market experience or an appropriate structure
There are different views as to whether lending standards are becoming looser
Appetite for risk has risen but the environment is benign
Investors in illiquid credit strategies face uncertainty, as the global economy enters a slowdown and vulnerable corporate borrowers are exposed. During the current economic cycle, private debt funds have grown phenomenally, refreshing memories of pre-crisis times. The last few years have been characterised by a toxic mixture of strong investor demand, rising risk appetite and, some would argue, recklessness by managers. Questions over the solidity of illiquid credit portfolios are more relevant than ever.
The private debt fund sector is prone to two diseases. The first is that managers have rushed to launch new private debt platforms, often assembling inexperienced teams or poaching key figures to leave existing platforms. The second is that fund managers engaged in a race to grow assets under management may have been incentivised to lend to weaker borrowers or with weaker covenants.
"Within every search for private debt managers that we run, 20% to 30% of the proposals that come in are from new institutions or products that were launched in the last three years", says Niels Bodenheim, senior director for private markets at bfinance. This shows how quickly the sector has grown. It is reasonable to expect that some teams lack the track record to manage loans during a downturn.
UK consultancy Hymans Robertson was an early adopter of illiquid investing solutions for clients, particularly private debt, according to its head of investment research Claire Cairney. She says that because private debt is a new asset class for pension funds, finding managers who can show a serious track record during downturns could be difficult. "We have tended to favour those managers who have established themselves in the US, which is a more mature market in terms of direct lending, or those that have a track record in financing sub-senior debt through a downturn", says Cairney.
"We have seen a significant amount of managers come out to market and an increased deal flow in direct lending, but equally we have seen the larger, more established managers, with longer track records, gaining market share," she says. "Particularly those that can show they have the capabilities in the working out and restructuring of deals."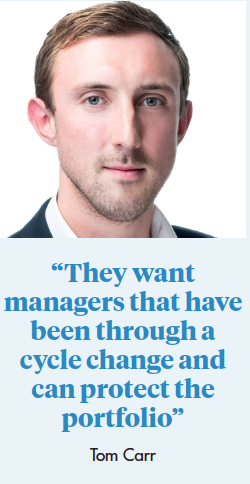 Tom Carr, head of private debt at Preqin, says that recent data shows capital is flowing towards larger managers with a track record. "Track record is often the key requirement investor mention when they are looking to make an allocation to private debt," he says. "They want to use managers who have been through a cycle change and can protect the portfolio on the downside. This is coherent with the observation that more and more capital is being raised by a smaller number of larger funds, managed by brand name managers who have such a track record and can demonstrate workout capabilities."
Few such managers existed before the financial crisis, when the market was dominated by banks. The experienced firms tend to be those that were specialising in mezzanine or distressed debt prior to 2008, which have broadened their strategy to other areas of private debt. "Having been through a cycle change, those managers should understand how to workout deals. Our data shows that those funds performed well in terms of protecting portfolios during the crisis," says Carr.
Performance dispersion is low among larger funds, which exhibit stable positive performance, according to Preqin. Smaller funds can outperform but typically show more volatile returns, he says.
However, choosing to focus on established managers and avoid newly launched platforms may not secure good workout capabilities. As Bodenheim at bfinance says, "some investors select with institutions that have been in the market for a long time, failing to assess that who is responsible for the strategies. Many key staff overseeing those strategies are no longer there. They have either retired or moved on and set up different funds, or have been replaced with individuals that may be skilled managers potentially but do not have direct experience in the asset class." In other words, the exuberance has led to quick staff turnover. Many investments are being managed by different individuals from those who underwrote the original transaction.
Furthermore, there is an imbalance in terms of senior and junior professionals within many platforms, according to Bodenheim. He says: "If a management team is overweight with a junior team and a relatively small team altogether, then it is lacking in experience in general. It is critical to analyse the number of individuals in a team, at what level they are, how many lead portfolio managers are in senior positions, and how long they have been with the firm and in the industry." That represents a deep understanding of a private debt strategy, but it becomes necessary at times of uncertainty, he says.
Lending practices
Track record can be difficult to assess. It should not be seen as the most important indicator of future success, argues Pete Drewienkiewicz, CIO for global assets at Redington. He says: "It is not always possible to find managers who have the credentials from investing through the crisis. Some may have transferred to other firms, which makes their track record less significant. There are also examples of managers who have a good track record but are doing questionable lending at the moment.
"If, for instance, you looked at the period from 2012 until now, you would see that most strategies that did not invest in energy or cyclical sectors like retail, which are mostly low exposures in loan portfolios anyway, have done well. With such low levels of default, anyone who invested in relatively riskier deals has outperformed."
What matters, according to Drewienkiewicz, is incentives. "Track record is often less meaningful than generally thought. Manager incentives actually play a big part in driving lending behaviour. Managers are of course incentivised to represent their lending as extremely conservative, so in evaluating their strategies one really has to find as much information as possible on what companies they lend to and on what terms."
There are telling signs that a manager is talking a good game in terms of lending conservatively, but is being less than prudent. Drewienkiewicz notes that managers often say they do not lend to companies with negative EBITDA, while in fact examining an actual portfolio will reveal that they do sometimes do this, on the basis that those companies represent 'special situations'.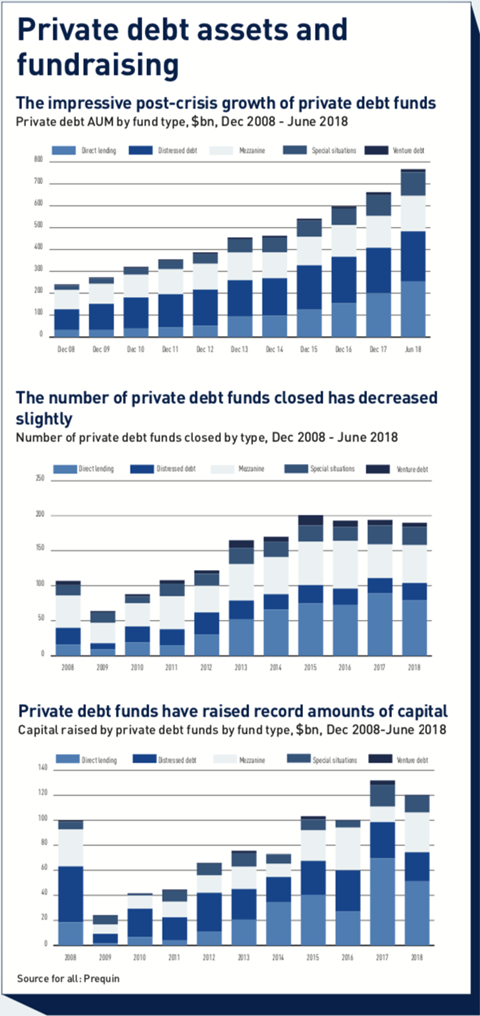 This relates to the second potential problem at private debt funds. Strong investor demand has empowered corporate borrowers, leading to a decline of lending standards. Most loans in the syndicated space are now 'cov-lite', meaning covenant protection is scarce. While in pre-crisis times corporates would have to pass regular tests of financial strength, known as 'maintenance' covenants, today covenants are mostly of the 'incurrence' type. Corporates only have to pass tests ahead of acquisitions or of issuing more debt.
Covenant questions
There is no clear evidence that 'cov-lite' is creeping into the direct lending space, but some have rung alarm bells. In a March 2018 research paper authored by M&G Investments' co-head of alternative credit, William Nicoll, it was stated that cov-lite debt facilities were already in practice in the direct lending and infrastructure debt sectors: "As competition for deals has intensified, we see signs of higher leverage multiples and greater covenant headroom becoming more prevalent in certain areas."
Others take a different view on covenants. Bill Sexton, senior managing director EMEA at Trimont Real Estate Advisors, says: "I have not seen significant reduction of covenants in the direct lending space. Certain borrowers have always been able to command more favourable terms than others, but I think that covenant protection remains reasonably consistent across the market." At the same time, according to Sexton, the market environment is generally benign. Loan-to-value ratios are not particularly high and loans that have been advanced post-crisis are mostly performing.
The problem, he says, is that some debt funds are showing an increased appetite for risk. He explains: "This is partly due to the retrenchment by commercial banks. There are certain areas where debt fund managers are more active than banks, often where the banking regulatory environment makes it harder for banks to participate. These areas generally have more implied risk and debt funds can secure higher returns. This can lead debt fund managers into riskier assets in terms of the quality of the real estate, in terms of shorter leases or development risk. That is why we have been growing our front office and middle office teams, which focus on the underwriting and asset management of this credit.
"If I had a concern, it is that some of these managers have expanded their business very rapidly, and if I was an investor, I would want to ensure that their ability to respond to any distress in the market has kept pace with the expansion of their business," Sexton concludes.
That is why private debt investors should review not just the experience within the fund management team but also the structure of the business that houses the team. Paul Lyons, a partner in the real estate group of law firm Goodwin Procter, sums up the complexity of the matter. He says: "Spotting the early warning indicators for distress and having the knowledge of how to appropriately react isn't always a given. Some lenders have this expertise, some do not. Some of the alternative lenders picked up teams that had plenty of experience with workouts and they undertake the appropriate workout analysis as part of their credit underwriting. However, distress is always time consuming, so even if you have suitably qualified people, do you have enough of them and how will the distress impact your ability to do the day job?"
It is worth noting that illiquid credit, although strongly influenced by cyclical supply and demand dynamics, is meant to be a long-term investment. Bodenheim says: "There is a justified concern that the market is overheated at the moment, but I still see alternative credit as a defensive instrument that should be at the core of investors' portfolio."
He points out that illiquid credit does not provide a risk-free return, but that if assets are invested prudently, it should be a relatively safe investment. He argues that investors often assume that alternative credit is a low-default and high-recovery strategy, which is not correct, as there will be losses, particularly during a downturn. However, with significant provisions for losses, and even assuming higher losses than those recorded during the last financial crisis, investors can make a decent return, according to Bodenheim. "Ultimately they are after yield and that's what the asset class does provide," he says.
Manager selection: Facing a difficult test
1

Currently reading

Manager selection: Facing a difficult test

2

3

4

5