Asian markets range from frontier and emerging to developed economies
Key points
• Global index providers disagree over whether to include Asia's more developed economies into emerging market indices
• Financials and to a lesser extent technology stocks tend to dominate in the more developed Asian markets
• Developed markets, emerging markets and frontier markets can be sub-divided within investment processes
• Most managers agree that the sell-off of emerging markets has been overdone
Asia contains several markets that are, by some standards, considered developed economies but are still sometimes treated as emerging markets. South Korea and Taiwan are good examples of this anomaly. Even global index providers are inconsistent in the way they treat them.
Portfolio managers also have varying methods of assessing Asia's equity markets. They generally favour the more developed economies and markets where there is ample liquidity.
Institutional investors tend to be much more benchmark-specific in their definition and expectation of what is to be held in their portfolios. While that may mean they will break down their asset allocation to Asia by developed and emerging, and even frontier markets, the reality is that the vast majority use an MSCI Global Emerging Markets index.
Alternatively, some asset owners use the S&P Global DMI index, which includes Korea and Taiwan, whereas MSCI does not include them in its developed markets category. Singapore and Hong Kong's equity markets have been included there for many years, largely because of their relative familiarity for global investors, and the quality of stocks available. In these more developed emerging markets, financials and, to a lesser extent, technology stocks dominate. Singapore tends to be dominated by the financials and real estate, whereas Hong Kong also has real estate, entertainment services, media services, as well as financials.
The relative instability of Asia's less developed markets, such as India, Indonesia, the Philippines, Vietnam and Bangladesh, poses a challenge for managers wanting to provide diversification. In emerging Asia, Malaysia is in the high-risk category, with political change having recently occurred and with external debt at 69% of GDP. On the other hand, its 3.7% GDP current-account surplus provides a generous cushion.
Indonesia has long been out of favour but Peter Sartori, head of Asian equity at Nikko Asset Management, says there are incremental signs that consumption is improving and Nikko has been adding back to positions where valuations look attractive. Thailand remains its preferred market in the Association of South East Asian Nations (ASEAN), where it has been able to identify some strong earnings prospects. The firm remains zero-weighted in Philippines where it sees the prospect of monetary policy tightening having a worse-than-anticipated effect on the local economy and credit cycle.
The political upheaval in Malaysia may be positive in the long term, says Sartori, but it is creating significant earnings uncertainty for large parts of the stock market, so Nikko remains underweight for now.
Trinh Nguyen, a Hong Kong-based economist at Natixis, notes that while investors are concerned that shocks to the Turkish lira may spill over to emerging Asian economies, there are some key reasons why EM Asia will be fine.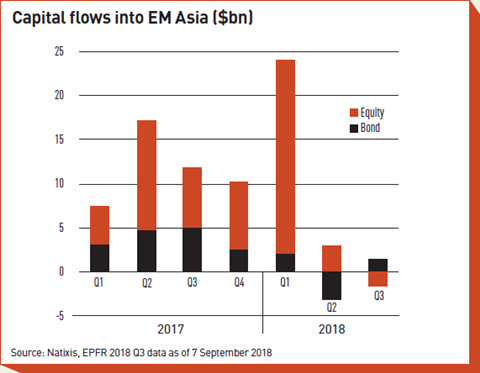 "They have ample foreign exchange reserves relative to short-term external debt, and prudent fiscal and monetary policy is preventing overheating," Nguyen says. "Most Asian countries have current-account surpluses, and even the deficit ones such as the Philippines, Indonesia and India have less than 2% of GDP." Meanwhile, Turkey has a current account deficit of 6.3% of GDP and does not seem to be on track to tighten its economy.
Asian central banks are also willing to move if required to ensure price stability. In August, Bangko Sentral ng Philippinas (BSP) hiked rates by 50bps to 4% and indicated it would raise rates further if necessary after inflation rose to 5.7% year-on-year. In China, the People's Bank of China stepped in to limit excessive depreciation of the renminbi by raising the reserve requirements for foreign-exchange forward positions to 20%.
Investment process
So is the investment process for developed and emerging Asia different? Brian Wolahan, senior portfolio manager at Acadian Asset Management, the Boston-based quantitative investment firm, says: "Process is oriented towards the benchmark, so when we look at our top-down framework, developed markets is one top-down region, emerging markets is a second and then we have frontier markets like Vietnam and Bangladesh."
"The domestic economic dynamics are in better shape than five years ago in many economies in the region, such as India and Indonesia"

Jason Liu
Each sub-sector has subtleties in the way the top-down model is calibrated, says Wolahan, "but they probably have more similarities than differences".
"As a quant manager, we know the risk of overstating historical data, so rather than try to cherry-pick and say we are going to use this factor for Hong Kong and this one for Singapore, we tend not to follow that route because we feel it's over-fitting in terms of the process itself. So we do tend to estimate the top-down models according to those three broad regions."
The Acadian process will then look at sectors individually and how they compete globally. Wolahan adds: "Unlike other quant managers, we do have about 20% of the model signal that is going to be from the top-down component."
Regional risk
Sectoral risk is more significant in Asian emerging markets, where sentiment can switch easily and take the good companies down with the bad. In China this year, the tech sector declined after one large-cap stock reported slower-than-expected earnings growth, in the wake of a tightening of approvals on mobile games by the Chinese government. The stock prices of the whole tech sector retreated as a result.
The risk of regional contagion remains, since China is such an important factor in trade with its neighbours. On the plus side, notes Jason Liu, head of the Asia-Pacific investment office at DWS, a potential trade war-related re-routing of foreign direct investment (FDI) could benefit Vietnam and the construction sector in Thailand, for example.
China's domestic stimulus measures could also lift regional metal and petrochemical stocks. On the flip side, if the trade tariff situation worsens, regional exporters and banks might come under pressure.
Min Lan Tan, CIO for the Asia-Pacific at UBS, says China's growth trajectory, its pace of technological catch-up, and the region's supply chains will naturally be affected by US-China relations. "In equities, we focus on US dollar earners, those with supply chain flexibility, and beneficiaries of domestic stimulus. If tariffs were to be imposed on all US-China trade, we estimate the first-round impact of this risk-case scenario would initially be a 4% cut in Asia ex-Japan earnings, with IT hardware, industrials and autos the hardest hit sectors."
Same portfolio?
Research Affiliates (RA) takes the view that the developed emerging markets make up the largest portion of an EM allocation for most investors and the remainder provide useful diversification. According to RA's CIO Chris Brightman, "China, Korea, Taiwan, India, and Russia, each in its own way presents political or economic risks. That's what makes them emerging markets". Together, these large, low-crisis-risk markets compose about 60% of the MSCI Emerging Markets index.
From the asset owner's perspective, David Neal, CIO of Australia's Future Fund, says his team is assessing risk in emerging markets and is not concerned about an increase in volatility: "It depends on what is happening in the world to create that risk. Emerging markets are a very large part of the world these days, so I wouldn't call 7% of our portfolio a very high weighting. Yes, they are at the riskier end and they tend to be pro-cyclical, and so you need to be very careful about managing the risk exposure. But as a part of a highly diversified portfolio, they play an important role."
Matthew McKinnon, director at Australian data firm VanEyk, says investors should aim to get broad, diversified exposure to emerging markets, rather than being too focused, giving rise to concentration risk.
Another thing to consider is that the more developed markets are not necessarily more stable, said Sartori. "In North Asia, the South Korean economy appears to be softening, both from an export and domestic consumption perspective. Consumer confidence has weakened and the much-hoped-for sales in Chinese markets are yet to materialise."
One thing Wolahan sees as "a slight risk in the longer term is the dominance of China in the EM index, as inclusion proceeds. That will concentrate the risk and the most commonly used indices could well be distorted."
Outlook
Most managers agree that the sell-off of emerging markets – on the back of trade tensions, rising US rates, a Chinese slowdown, falling EM currencies as well as Turkey and Argentina's economic problems – has been overdone. In that context, what is the best approach for investors wanting to engage afresh with the Asian opportunity?
"Even with US rates rising, we expect most EMs to withstand any potential adverse impact," says McKinnon. "EM stock markets outperformed in 2017, despite multiple US rate hikes. From 2004 to 2006, EM assets experienced one of their strongest ever bull runs. There is also less reason to expect a US dollar-driven EM debt crisis, given that EMs are issuing more debt in local currency."
"Within Asia, we recommend staying focused on relative value, and maintain equity overweights on Thailand, China and Singapore versus Hong Kong, Taiwan and Malaysia"

Min Lan Tan
Tan at UBS said, "We think valuations are already discounting (negative) earnings impacts. Within Asia, we recommend staying focused on relative value, and maintain equity overweights on Thailand, China and Singapore versus Hong Kong, Taiwan and Malaysia."
She adds that Thailand and Singapore have delivered satisfactory quarterly results and technical factors show Singapore is an oversold market. "On the other hand, we believe the underweight on Taiwan and Hong Kong should work in a portfolio context, if trade issues trigger our risk scenario. And in Malaysia, a likely increase in consumption thanks to tax reforms should be offset by the drag on infrastructure spending due to the cancellation or pause in mega-projects, limiting the upside for that market in the regional context."
Liu at Deutsche says that within a global EM framework, the Asian region should be better positioned to weather external volatility compared with the period of the taper tantrum in 2013-14. "The domestic economic dynamics are in better shape than five years ago in many economies in the region, such as India and Indonesia, thanks to their solid domestic recovery and lower inflation. Besides, the central banks in India and Indonesia were prudent this time with pre-emptive rate hikes to anchor inflation expectations and defend the currency."
Nikko's Sartori agrees that with a current price-to-book ratio of 1.5x and P/E ratio of 12.8, which is in line with post-global financial crisis averages, "the retracement in Asian markets is starting to show attractive valuations in a number of areas for patient investors with longer investment horizons".
Special Report Asia: Game-changer
1

2

3

Currently reading

Markets: Degrees of development