The impact of MiFID II in the US is complicated and convoluted
Key points

The EU's MiFID II directive is causing difficulties for US asset managers
Some US managers are subsidising their European clients' research costs
Some of the largest US asset managers are implementing MiFID II-style unbundling
There is concern that paying for research could hit performance
The EU's MiFID II directive has quietly stirred up two kinds of challenges in the US: the unbundling of trading commissions, particularly the payment for research; and then resolving who exactly is going to pay.
The unbundling issue is clearer because the trend has persisted for some time. Asset managers and their clients can benefit from better management of overheads, especially as the growth of passive investing increases the cost pressure on active managers. MiFID II has accelerated the process.
In the US, unbundling takes place through commission sharing agreements (CSAs). These originated in 2006 when UK regulators implemented a commission disclosure regime that required the declaration of research costs.
While in Europe MiFID II mandates a more hardline version of CSAs, known as Research Payment Accounts, in the US, "MiFID II encouraged more use of CSAs because most global US managers have decided to ringfence their MiFID II obligations," says Sanford Bragg, principal at Integrity Research Associates. "They reimburse their European clients for research costs but not their other clients."
Regulatory subsidies
By ringfencing, asset managers are passing on research costs, with US clients effectively subsidising their managers' European research costs; their European clients are benefitting from the same research, which is only paid for by US clients. Bragg refers to this situation as a "regulatory subsidy".
In the US, brokerage firms are prohibited from selling standalone research to US clients unless they are registered as independent advisers and fulfill additional fiduciary responsibilities. This regulation is a direct block to MiFID-style implementation in the US because it mandates reimbursement in commissions.
In October 2017, the Securities and Exchange Commission (SEC), issued a legal reprieve, via no-action letters, that postponed the direct impact of the MiFID II regulations. In them, the SEC stated it would not pursue brokers selling standalone research, as long as the transactions does not involve US clients. This policy is due to expire in July 2020.
Some US asset managers with a European client base have not waited for a SEC ruling to comply with MiFID II-style unbundling. Capital Group intends to reimburse clients for third-party research, while T Rowe Price will pay for research out of its own pocket. But because the existing arrangements are protected by law, it is unclear how many US asset managers, particularly those without European client bases, will decide to pay for research themselves. "It is a period of watching and waiting among other managers to see who will follow suit," says Bragg.
The US legislature has not been inactive on this subject. In July, the House of Representatives passed a law, the Improving Investment Research for Small and Emerging Issuers Act, which directs the SEC to study the impact of "the provision of and reliance upon investment research into small issuers". This addresses a concern that a MiFID II-type regulatory regime that causes pressure on research budgets will cause those budgets to be deployed on broader-stroke investment research at the expense of smaller shops.
In a statement, Ben McAdams, a Democrat representative for Utah and one of the bill's co-sponsors, said: "This is a pro-investor, pro-small company measure. It eases a problem for small issuers who have had difficulties getting market research into their companies, complicating access to investment firm capital."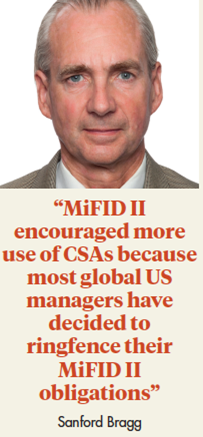 The Council of Institutional Investors (CII), a US trade body, supports further transparency. "We certainly would not oppose a study," says Jeff Mahoney, CII general counsel. But, he also notes that a research directive and a transformational bill are different things. "It is very difficult to pass any legislation in the current Congress, so the likelihood of a bill passing is very low."
In addition, Mahoney notes that "in the transition to full unbundling, it would be advantageous if we had some better disclosure in the meantime".
The CII supports unbundling. "If unbundling were required in the US, that would make it easier for our members to evaluate the cost of research from best execution and from other broker services," says Mahoney. "They can better shop for best value."
The asset management community is not concerned. An EvercoreISI study in conjunction with Frost Consulting and published this April revealed that only 15% of asset managers surveyed expect MiFID II regulation to be passed in the US in the next five years. But they do expect that CSAs, which foster enhanced transparency, will become more commonplace – 69% of managers surveyed said that the use of CSAs will become the norm over the same period.
An American disadvantage
Others perceive that US funds and their managers are at a disadvantage. In its letter to the SEC, the Colorado Public Employees' Retirement Association (Colorado PERA) asserted this directly: "Due to the narrow scope of the no-action relief provided to broker-dealers, Colorado PERA has been unable to completely unbundle and pay for research separately from trade execution. Consequently, Colorado PERA and other US-based investors (not subject to MiFID II) remain at a disadvantage relative to their European peers, as US investors are not fully allowed to seek the best provider of research, independent of trade execution. In addition, US investors are not fully allowed to seek the best provider of trade execution, independent of research."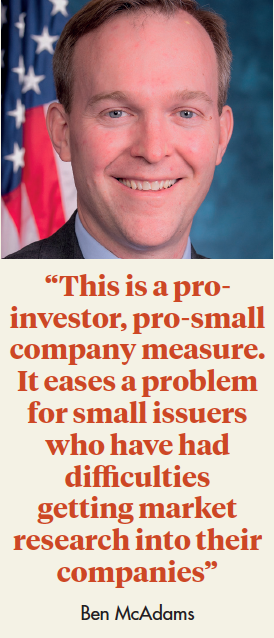 While there is consensus about the benefits of transparency, the issue of payments is more contentious. As Bragg says: "because the ability to pass on research costs is protected by US law, it is unclear to what extent US asset managers will decide to pay for research out of their own pocket – it's a period of watching and waiting to see who will follow suit."
For large asset managers, paying for their own research could become a competitive advantage at the expense of small to mid-sized managers. "That is what will determine whether or not US asset managers choose to absorb research costs, because there is no regulatory imperative and the majority of asset managers are not pressing for it," says Bragg. "From the asset owner perspective, research costs represent only a few basis points, so performance is much more important."
There is some concern that managers compelled to pay for research will effectively use less of it, which could drag down performance.
Research indicates that MiFID II's requirement has led to some underperformance among European funds, compared with US funds, particularly in research-intensive allocations. The EvercoreISI study found that "the number of US fund categories outperforming went up over the period [pre and post-MiFID II] with 13 of the 15 categories outperforming in 2018 (up from 10 in 2016), as did US funds' share of the outperformance captured (from 48% in 2016 to a staggering 98%)." Among certain fund types, the study found that "research costs are being dwarfed by the performance variance."
"European asset managers, in the process of cutting research budgets 20 to 30%, decided that they wanted to protect their large research relationships with banks, and the area they cut hardest was with independents," says Bragg. "But, over time I think the independent shops will retake market share, because of their lower cost of doing business, and because they are more innovative."
Investment Research: The small-cap research squeeze
1

2

3

Currently reading

MiFID II in the US: Complexity cost

4