By placing stronger requirements on best execution, MiFID II is transforming the execution landscape
Key Points
MiFID II has led firms to strengthen their best execution policies
Firms have to report the top five execution venues used and the quality of service achieved
Higher transparency and competition between providers benefits investors
Regulatory scrutiny on how firms achieve best execution will continue
In law, the choice of words is everything. Small differences in wording, which seem negligible to the untrained eye, often have profound implications. The wording concerning best execution in the most recent update to the European Union's Markets in Financial Instruments Derivatives directive (MiFID II) is a case in point. In the original 2007 text, the directive required firms to take "all reasonable steps" for achieving best execution. Under the version of the rules that came into effect in January 2018, firms are to take "all sufficient steps".
The slight change in terminology has raised the bar for asset managers. Best execution is still determined by the factors that were relevant in the previous regime, such as price, speed, size and likelihood of execution and settlement. However, asset managers have had to strengthen their best execution policies and assume more responsibility for this aspect of their service.
Under the new regime, firms on both sides of the market must provide more detailed reporting. Asset managers must publish an annual report, known as RTS 28, which shows the top five execution venues they have used. The report must include detailed information on the quality of execution they have achieved. This data has to be reported separately for 22 categories of financial instruments. Separate reporting for professional and retail clients is also required. Providers of execution services, on their part, must publish a quarterly report (RTS 27) on the quality of execution they have provided.
Adapting to the new rules has been a challenge, according to Matt Siddick, head of EMEA operational due diligence and monitoring at Aon. As part of his mandate, Siddick has looked at how managers have implemented the rules. He says there are various ways in which managers have had to adapt.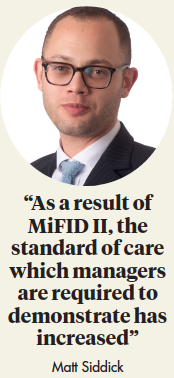 Siddick says: "As a result of MiFID II, the standard of care which managers are required to demonstrate has increased. It is very likely they have had to revise the language of their best execution policy. Some managers might have had an explicit best execution committee. That is something that is now required and has to meet at least quarterly.
"The execution landscape has evolved significantly since the first iteration of MiFID in 2007. Following MiFID II, there is a requirement to have greater controls in terms of the counterparties or venues that are used for execution. Typically a manager would do due diligence on a trading counterparty, such as a bank, and there would be a formal approval process. Now that approval process is going down to the individual algorithm that a trading counterparty uses," says Siddick.
"A manager's front office continues to have responsiblity for achieving best execution. But compliance departments now have the responsibility to oversee that the trading has been conducted in accordance with the policy. All of that is going to require training", adds Siddick.
In some cases, implementing the new rules may have required investment, Siddick points out. While some managers already had technology in place to capture the data, many firms have had to employ thirdparty tools for transaction cost analysis, according to him.
A substantial challenge relates to achieving best execution is in less liquid asset classes. Siddick explains: "Depending on the asset class, the ability to observe prices varies significantly. In over-the-counter markets there is a lack of readily observable prices or trading volumes. For these asset classes, managers have to adopt some kind of manual approach to recording their prices. It is possible that they do not go with the cheapest quote they get, because they will be considering other factors like volume or likelihood of execution. That would be the sort of issue discussed within the best execution committee."
The renewed emphasis on best execution is one example how MiFID II has brought disruption. The market has already seen several quarterly RTS 27 reports by execution venues, but asset managers have only released one RTS 28 report, covering 2017. The latter did not reflect best execution under MiFID II, therefore the upcoming RTS 28 reports, due in May, will offer fresh evidence of how the new regulation is changing the best execution business. There is a lot at stake, according to Gerard Walsh, head of business development for institutional brokerage at Northern Trust Capital Markets.
Walsh says: "These reports into what venues are used to execute will be quite informative for firms on both sides of the handshake. The first reports indicated that some managers were executing the vast majority of the orders with a sister legal entity. For instance, an asset manager might be executing 90% of its orders with a sister company, perhaps a large bank with a proprietary trading or corporate banking arm."
This is exactly where MiFID II intends to strike. The question, argues Walsh, is whether it is possible to demonstrate independence and freedom from conflicts of interest, if most of a firm's trading goes to a sister company.
"One of the improvements MiFID II was intended to bring to the execution market was more transparency and, as a result, more competitive execution solutions being delivered to investment managers. Previously, the lack of transparency might have restricted competition. Added transparency will allow clients to assess whether they are getting the most competitive execution solution", says Walsh.
The advantage for end investors is clear. More competitive pricing on execution services will save them money, to the tune of several percentage points annually. The impact on returns will be felt. Investors, theoretically, could sit back and watch asset managers and execution firms work through the issues themselves. In practice, however, they have a responsibility to proactively ensure that they are getting best execution, too.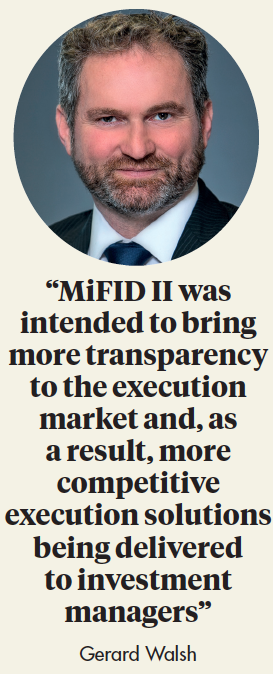 In that respect, it will be key to understand how businesses re-organise themselves under the new regime. "The new best execution requirements play in favour of agency-only brokers", points out Walsh.
Execution specialist
The new rules will also benefit companies focused on the market-making business such as Winterflood Securities, a subsidiary of the Close Brothers group. The firm caters to retail stockbrokers and institutional asset managers. It is not a new player in the market, having already gained a significant market share since it foundation 30 years ago. The firm has the largest market share in terms of volume and it is in the top 10 in terms of value of trades executed. "Interestingly, the other nine firms are all large investment banks", points out Ben Jowett, head of client sales and business development.
Jowett explains that Winterflood's relationship with both retail stockbrokers and institutional clients means it is able to provide access to a larger pool of liquidity. This, and the fact that it focuses entirely on execution services, is essentially what has earned Winterflood its considerable market share.
Unbundling leads to divestment
The success of focused market makers is also tied with the 'unbundling' requirement brought about by MiFID II, whereby firms providing execution services can no longer offer free investment research to clients. Unbundling has already led brokerage firms to divest from research activities. On a general level, it forces companies to rationalise their business models.
Jowett explains: "Nearly all of our peer group, as well as acting as market makers, have been engaged in corporate advisory, IPOs [initial public offerings] and investment research. Over the years, we saw lot of order flow going to 'fully bundled' services, where the commissions were essentially paying for research. Under MiFID II, firms have to strip the cost of research out, so it is up to our competitors to work out which camp they were in. Are they going to be doing research, execution, or both, but separately?"
Understanding how the counterparties restructure their business model will be an important part of getting best execution right. Furthermore, regulatory scrutiny on this issue will continue. The UK's Financial Conduct Authority (FCA), for one, said in 2017 that it had found that "The pace of change in improving client outcomes in best execution was slow, with few firms having a cohesive strategy for improving client outcomes."
The regulator said it would continue to look at best execution "to see what steps investment management firms have taken to assess gaps in their approach to achieving best execution and how they can evidence that funds and client portfolios are not paying too much for execution." It added it would pursue actions if firms were found wanting.
MiFID II: The best is yet to come
1

Currently reading

MiFID II: The best is yet to come

2

3

4