---
The debate about the pros and cons of zero rates and quantitative easing is ongoing
Such tools may be used again, but their impact will be more muted in the future
The role of central banks may change altogether
Fiscal and other policy, more than central bank activity, will be needed in a recession
The ongoing economic expansion is set to become the longest in the post-war era, at least for the US. The expansion that began in June 2009 could, according to some forecasts, outlast that which lasted between 1991 to 2001. There is no denying that record-low interest rates and the direct purchasing of fixed income assets, known as quantitative easing (QE), has played a part in this growth. The matter that is sometimes discussed is whether central banks have 'killed' the business cycle. By using unconventional policy tools, have they engineered the economy to the point that growth stays muted but indefinite?
Most economists agree that this is not the case. This business cycle is lasting longer than usual because of the crisis that preceded it and the unusually slow recovery, but will end. As Seema Shah, global investment strategist at Principal Global Investors , points out, aggressive pre-crisis manipulating of interest rates contributed to the crisis.
But, the idea of a flat cycle raises questions, such as, how successful has unconventional monetary policy been? What has been its impact? Furthermore, will such measures yield the same effects in the future?
Economists agree that by acting aggressively, central banks averted a more serious recession. It is also possible to measure the positive impact on growth and inflation. Marion Amiot, senior euro-zone economist at Oxford Economics, says that the effect of rate cuts by the European Central Bank since 2011 has been to boost activity and inflation by 1.1% and 1%, respectively.
Most experts share a positive view of central bank activity post-crisis. Isabelle Mateos y Lago, global macro strategist at the BlackRock Investment Institute, says: "Their main achievement has been maintaining very accommodative monetary conditions that have allowed households and corporates to reduce their debt burden, and governments to reduce or control debt and in some cases spend to support the economy. Low rates have allowed firms to restore balance sheets and get themselves in a position to invest. It took a while to kick in, but now we are finally seeing a pickup in investment."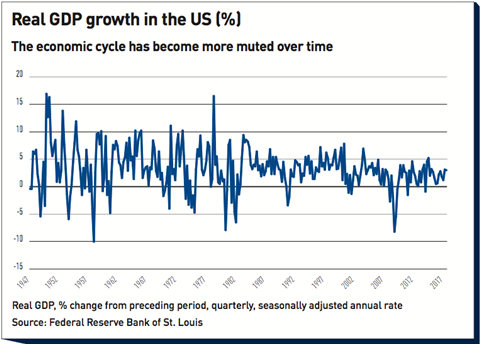 There are potential downsides to loose monetary policy, too. "Low interest rates have reduced the pressure on government balance sheets, which made structural reform less urgent. Governments have perhaps done less than they would have otherwise, " adds Mateos y Lago.
Principal Global Investors' Shah points out that the rules-based system that determined monetary policy prior to the 2000s might have let economies ride out the recession. Shah says: "Once that rules-based system was abandoned in favour of a more discretionary approach, boom-bust cycles became more excessive. There is a school of thought that we should move back to that rules-based system and avoid unconventional measures. If that thought prevails, QE is unlikely to be used again." The question is whether this approach, at odds with the current ideas inspired by Keynesianism, might have helped avoid some of the problems that economies are facing.
Erik Weisman, chief economist at MFS , has a scathing view of central bank policy. He says: "There are natural forces to business cycles, and what central banks have done since the 1980s is to mute those forces. They have anaesthetised price signals, which is probably unhealthy as it results in misallocation of resources. More broadly, what does it mean to have a ten-year cycle with negative real short-term rates? It depletes productivity, inflation and ultimately growth, and results in the same situation that got us here. Negative rates can be helpful in the short run, but I don't see how they can be the long-term answer."
Nevertheless, zero rates and QE are now part of a central banker's toolkit. The point is that central banks will not be able to rely on them, as their effectiveness will be limited. Florence Pisani, global head of economic research at Candriam, notes that banks eventually stop passing on lower interest rates to customers, in order to preserve margins. Besides, there are economic side effects to negative interest rates.
She says: "If there is another shock, central banks can cut rates again, but it is not at all sure whether this will translate into lower borrowing costs to households and firms. At the same time, we can already see some side effects on household prices. They have been rising quite sharply in Germany. In general, the deeper you go into negative rate territory, and the longer you employ QE, the more serious the side effects."
Silvia Dall'Angelo, senior economist at Hermes Investment Management, says that central banks need to dial back QE and other unconventional measures. "The only way we can achieve better productivity growth is to move to other approaches, including structural reform and fiscal policy to boost investment in R&D and infrastructure.
Oxford Economic's Amiot agrees: "We rely too much on central banks to fight recessions, to the extent that they are politicised. Government need to step in with fiscal policies and other productivity-boosting policies."
Thankfully, the debate on the role of monetary policy in influencing economic growth is shifting, according to Amiot. She says: "Is it more important for central banks to meet inflation targets or to look at financial stability? If the latter was the case, then monetary authority would want to raise rates and exit this ultra-loose policy environment. The consensus among central bankers is still to focus on inflation rates, but this might change as central bankers recognise the downside to this approach."
Steven Bell, chief economist of BMO Global Asset Management, argues that central banks should focus on macroprudential policy. "Regulatory authority has largely been taken away from central banks over the years, and that has been a mistake. One area that could easily be regulated is the mortgage market, for instance, where central banks could correct imbalances and help increase the resilience of banks."
There are many questions on the future of central banks, unless government's switch to fiscal activism they will continue to play a key rol
Monetary policy: Too much of a good thing
1

Currently reading

Monetary policy: Too much of a good thing

2

3

4