A checklist for investors looking to tap into multi-asset credit
Key points
Multi-asset credit has surged in popularity over the past decade
There is massive scope for opportunity within the asset class
Investors should understand the pitfalls if they are to negotiate the risks involved
Gauging the right amount of liquidity is a key decision for asset managers
From a fringe player before the financial crisis – with about €20bn across the whole strategy, according to Spence Johnson – multi-asset credit has gathered momentum, attracting income-hungry investors.
The pension fund love af fair with multi-asset credit is flourishing as public and corporate schemes line up to dive into the ever-widening pool. More than €160bn now sits in funds around Europe.
But romantic trysts do not always have a happy ending – no matter how well intentioned they begin.
In October, rating agency Moody's said its analysts had identified five key areas of weakness in European credit markets. Should a substantial shock hit markets, some issuers – and policymakers – might not be in an ideal position to weather the storm, it said.
Additionally, issues hitting high-profile, well-respected managers have given investors considering – or already invested in – multi-asset credit funds a lot to think about.
Motivation
Multi-asset credit has found favour with investors as it aims to produce healthy returns for a lower risk than equities, reducing reliance on the equity premium, which has been a particular issue in the UK.
Gaurav Gupta from the investment team at Barnett Waddingham, an independent UK consultancy, says pension funds like its cashflow-driven approach. He also maintains that it works alongside liability-driven investment (LDI) strategies to meet collateral calls when interest rates are rising.
The huge range of securities, sectors and geographies available also mean fund managers have a massive scope of opportunity.
However, all these perceived benefits could catch investors out, should they not be managed carefully.
Transparency
First, investors need to thoroughly understand what they are getting into. As there is no benchmark for such a wide-open market and managers are mandated on an unconstrained basis, investors must take great care in examining a potential fund allocation.
For Andrew McDougall, head of fixed income portfolio management for Mercer's European fiduciary clients, multi-asset credit funds generally fall into three categories that rely differently on manager skill and beta components.
McDougall launched a multi-asset credit fund in 2014, which has $3.3bn (€2.9bn) of assets from over 160 institutional investors.
"The first category is asset allocation, where a manager makes top-down macro decisions and times their entry and exit from asset classes," says McDougall. "It is the most common, and the least expensive. Large fund managers often use this strategy as it allows them to drop their fees, although I suspect some investors do not realise that."
The second relies on a bottom-up approach, according to McDougall. "There is not the breadth here, but you are less reliant on getting the macro calls right."
The third is the most expensive but may get the highest return with an almost hedge fund-like approach to security selection, taking long and short bets on interest rates and currency risk.
Investors selecting this third option need to be aware of the added risk they are placing in their portfolio – and the potential for losses, according to Simeon Willis, chief investment officer at XPS Pensions Group. "Investors need to focus on the diversification of capital and focus on the risks," says Willis. "This sector is not an active management playground."
Putri Pascualy, head of credit strategies at PAAMCO, an investment firm specialising in hedge funds, warns investors against assuming that just because they are accessing a broader toolkit, it will lead to better returns.
"An investor must ask which constraints they are removing – duration, weighting, asset class?" says Pascualy. "A manager may say they are free of all of them, but an investor must be comfortable that they are qualified with the core skill-set to do so."
Multi-asset credit portfolio managers cannot just take the 'best ideas' route, says Jens Vanbrabant at Wells Fargo Asset Management.
"Something might make sense on its own, but could turbocharge a whole portfolio in terms of risk," he says. "A manager does not have to own the riskiest credit in the class to get a return."
Structure
Experts say investors should not just look at the return target of a fund – its risk, and how closely they have stuck to it is as important. Managers do not always have to outperform, as long as they can explain how what they achieved was in line with their intentions.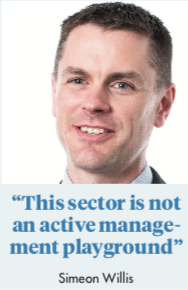 "These funds will not always do well," says Willis. "Credit spreads open and tighten. But a manager must be able to explain where the performance has come from and that the portfolio's reaction to something was expected."
Gupta at Barnett Waddingham says investors should not be surprised by a fund's performance. The manager should set guidelines for what investor should expect. Alarm bells should ring if significant outperformance suddenly appears.
And there is temptation for undisciplined managers to stray.
As credit markets grow to compensate for many banks' withdrawal, the shape and flavour of what is available needs to come under more scrutiny than ever – along with how managers are using it in their funds.
But just holding a wide range of securities will not necessarily lead to diversification, according to Willis. This 'noise' of diversification can often mask an underlying concentration risk of currency, duration or liquidity – all of which can be hedged at a cost, but they have to be identified and appreciated first.
Equally, two funds might hold 90% of the same named securities but through risk, duration and liquidity profiles offer vastly different performance outlooks.
Pascualy at PAAMCO says attentive due diligence needs to be ongoing process, rather than something just carried out at the start of a contract, with special attention being paid to the structure of a fund.
"The structure is what prevents a dam breach, which can occur from a piece of unforeseen news or decision," she says. The strength of the dam is the difference been sustaining some losses or becoming a disaster.
"The best structure cannot fix a bad decision," says Pascualy. "But a bad structure can compound one."
Liquidity
One of the key decisions for portfolio managers is the amount of liquidity their portfolio has – and how often they will allow investors access.
Holding difficult-to-trade instruments in a fund that allows investors to frequently redeem is asking for trouble, according to Jennifer Bishop, portfolio manager at Willis Towers Watson.
Bishop says: "You need to make sure the liquidity is appropriate for what is in the fund. If it is very liquid, it is unlikely you are getting the exposure you need. Do you want to be in multi-asset credit or an exchange-traded fund?"
Bishop, who co-manages the WTW £2.5bn Alternative Credit fund and £1.15bn flagship multi-asset Partners fund, says investors should not look for weekly or even fortnightly liquidity for this asset class.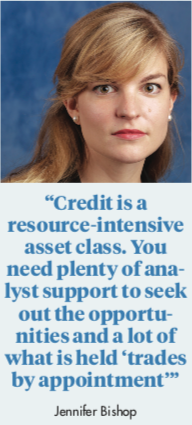 Allowing investors to come and go as they please upsets the fund for all remaining clients who may end up being overloaded with illiquid instruments as the most easily tradable is the first to be sold.
Mark Horne, former senior credit manager researcher at WTW, now a director in Fulcrum Asset Management's alternative strategies team, urges investors to consider the liquidity of a fund not just in normal market trading, but in the case of a stressed scenario.
"Investors need to know the impact of redemption and cost impairments," says Horne. "There is a sense of complacency since the financial crisis about liquidity – investors must get managers to reveal how what they own will respond in a shock scenario."
Managers should have this information on every security and be using it themselves to efficiently structure their portfolios, Horne says.
"Investors need to understand their managers' liquidity profile and see how they can vary the beta within a portfolio and protect capital in a bear market," he says.
Metrics
But do not mistake a large fund for one with liquidity, according to Bishop, as holding too many assets can affect performance too.
"Credit is a resource-intensive asset class," she says. "You need plenty of analyst support to seek out the opportunities and a lot of what is held 'trades by'."
This phrase refers to the manager having to go to market and find a buyer for a security, rather than use an automated system that is common for more liquid instruments.
Richard Ryan, manager of the £8bn M&G Alpha Opportunities Fund, says while his fund has a wide footprint, it does not invest in the whole credit universe and does not attempt to make macro calls.
"We are self-constrained, and it is very deliberate. What we do not cover, we do not play in," says Ryan. "You have to be experts to understand what makes money in certain sectors and what does not. If that means we miss knocking balls out of the park, that is okay. It is important that we can explain why to our clients."
Compatibility
As credit becomes a mainstay in investor portfolios, Dorian Carrell, fund manager in multi-asset income at Schroders, advises investors to be keenly aware of how such a wide-ranging asset class sits with the rest of a portfolio.
"You need to avoid duplicating risk," says Carrell. "Look at how the fund works alongside equites. If you have high-dividend stocks and rate-sensitive fixed income, if rates go up, you could be hit on both sides."
In a final warning to investors, Willis at XPS says: "Credit is a very technical asset class, unlike others where a manager can roll the dice and be at the mercy of the market. Risks here can be managed – but some are difficult to remove, which is why you are rewarded."
Credit: Reading the cycle
1

2

3

4

5

Currently reading

Multi-Asset Credit: Buyers' guide to multi-asset credit

6

7

8