Multi-asset funds that take account of investor goals and time horizons could provide steady income
Key points
• Cashflow negative pension funds need income-producing assets
• Multi-strategy funds can be tailored to this requirement
• Such products can also produce alternatives to cash
• Long-term income investors can ride short-term price volatility
Pension funds face considerable challenges to earning income in the current environment. Equity dividends are higher than bond yields while quantitative easing has, in turn, pushed down government bond yields.
When pension contributions were greater than pension payments, liquidity was not a problem and whether liabilities were matched with bonds or equities had no immediate impact on cashflows. But the problem is becoming increasingly urgent as more pension funds become net cashflow negative. Mercer's 2018 European Asset Allocation Survey found that about 56% of UK defined benefit (DB) plans are already cashflow negative. It also discovered there is a marked increase in the number of cashflow-positive schemes that are less than five years away from being cashflow negative (from 43% to 49% of cashflow positive plans).
John Roe, head of multi-asset funds at Legal & General Investment Management (LGIM), points out that the main aim of liability-driven investment (LDI) hedging is to reduce the volatility of the funding level rather than paying out cashflows. But now that more schemes are cashflow negative they need to create short maturity cashflows so that they are not forced to be in the position of a seller of assets at distressed prices.
There is an argument that the distinction between capital and income is artificial, as institutions can always sell investments to generate whatever liquidity is required. This ignores the fact that they face sequencing risks in doing so, as markets can be subject to irrational and severe moves. This problem has been apparent many times over the past few decades, most recently in the global financial crash.
Regular income delivery can help pension schemes delay, or even prevent, having to liquidate assets to meet their cashflow needs. Ominder Dhillon, global head of institutional distribution at M&G, points out that it can also partially mitigate the risks associated with forced liquidation.
Divesting in periods of market stress can result in losses being crystallised (particularly when less-liquid assets are involved) and could damage the prospects of an asset base delivering returns in line with long-term expectations. Managing the process of forced selling can also create administrative and corporate governance challenges, particularly for smaller schemes.
Paul Flood, multi-asset fund manager at Newton Investment Management, says there is a case for matching pension liabilities with dividends from multi-asset strategies. The great advantage of multi-asset strategies is the flexibility they provide to reallocate capital efficiently over the cycle. When returns become unattractive in one asset class they can move to another. "Multi-asset investing is as much about what you don't own as what you do," he says.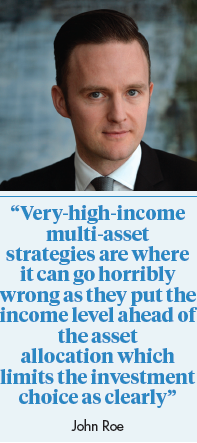 Asset allocation is always the main driver of outcome, says LGIM's Roe. What is really required is as much freedom as possible over the preferred asset allocation while limiting the sequencing risk. "Very-high-income multi-asset strategies are where it can go horribly wrong as they put the income level ahead of the asset allocation which limits the investment choice as clearly," he says. "Some potentially very attractive assets do not have high levels of initial income such as high-growth equities, inflation-linked government bonds, and so on."
Brian Jacobsen, senior investment strategist with the Wells Fargo Asset Management multi-asset solutions team, finds three keys to generating income in multi-asset strategies: first is to cast a wide net both geographically and across asset classes; second, to resist the temptation of extremely high yields; and third, to avoid the temptation to harvest capital gains to create income.
Roe argues that the required cashflows for pension schemes can be generated without forced selling by moving away from only thinking of income. A maturing scheme can make use of some of the redemption payments on bonds which pumps up total cashflow and helps manage sequencing risk. Many attractive bond assets such as emerging market debt and high-yield have maturities of five to 10 years and so their capital redemptions are available for the scheme. LGIM offers a retirement income multi-asset strategy that can access redemption payments in extreme cases to ensure income is available as required, without excessive transaction costs.
Insight Investment's preferred approach is for its clients to have the ability to decide in advance when (and where) they take cash from growth assets, including equities, while still meeting liquidity needs, says Ren Lin, the firm's head of client strategy and innovation. "We observe a material increase in demand for creating portfolios of contractual maturing assets, using both coupon and principal to fund liability payments without needing to draw on growth assets until they have done the job they were intended for," he says. Contractual returns that can be accessed in the market remain healthy, particularly when complexity and illiquidity risk premia are accessed in certain credit markets.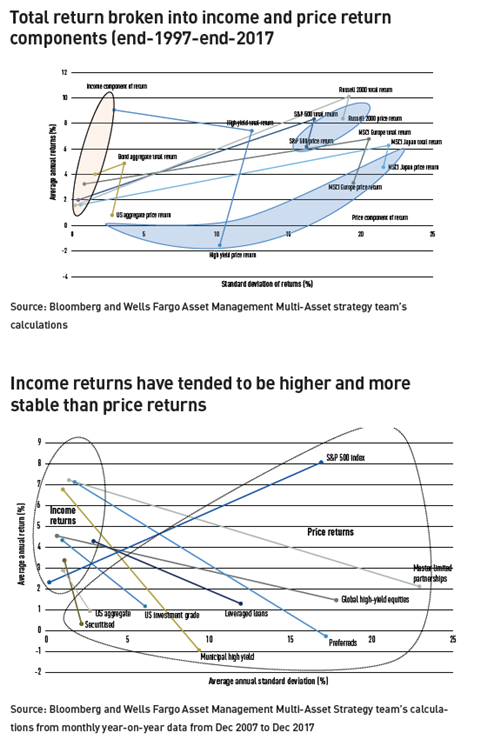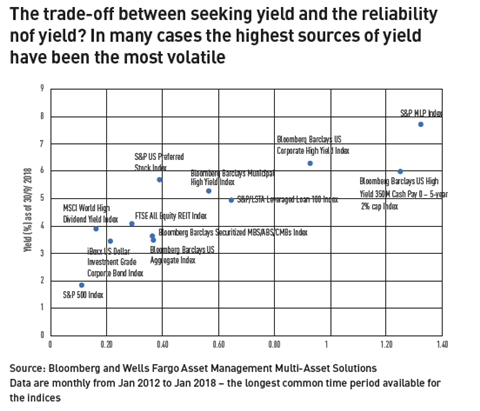 It is possible, though, to create multi-asset strategies that generate income at levels of about 5% without drawing on capital. Kames Capital, for example, has a strategy that aims to generate 5% income net of tax, based on the natural income of the portfolio.
At the same time, it seeks capital growth to maintain its real value with a volatility of half to two-thirds of global equity volatility. It achieves this objective, says product specialist Nick Edwardson, through an allocation of about 35-40% bonds, an equity allocation of about 30% and the balance in alternatives such as listed real estate, listed infrastructure and listed vehicles in areas such as operating renewable energy assets and real asset leasing.
What has changed recently is a build-up to bank credit at about 10% of the Kames portfolio, with a yield of almost 6%. "Banks have gone a long way to establishing financial stability that has not been fully recognised by investors whilst rising rates is positive for banks as their net interest margin widens, which is yet to be reflected in the ratings of these instruments," says Edwardson. The Kames strategy has proved popular across a wide range of clients including treasury teams at UK local authorities looking for a pick-up on cash funds and while having constraints on liquidity and volatility.
What multi-asset portfolios can take advantage of is that the income component of a portfolio's returns can be more stable than the price component. "Looking for significant income that is stable is an essential step for building portfolios with sustainable income in a risk-managed way, in the pursuit of total return," says Jacobsen at Wells Fargo. He finds that income volatility can be less than a third of price volatility. Therefore, having a focus on income producing assets can produce more stable portfolios even for total-return-seeking investors.
Liquidity preferences can determine how large the allocations should be to alternative assets. Kames finds that assets such as listed real estate, aircraft leasing, renewable energy and infrastructure can offer as much as 6.5% prospective yields.
The precise mix of assets across the globe, though, needs to take into account investor goals and time horizons. How much additional capital volatility are they willing to accept to generate a higher level of income to pay their annual liabilities?
Newton's Flood argues that over the longer term the increased flexibility across asset classes should be beneficial for income and income growth. Some asset classes may even be a better match a portfolio's inflation-linked liabilities.
For pension funds it may not be such a bad idea to look to multi-asset strategies for income.
Multi-Asset Strategies: Worrying developments
1

2

3

4

5

Currently reading

Multi-Asset Funds: A flexible way to generate income

6

7