The manager of Norway's giant sovereign wealth fund has given its backing to the IFRS' idea of creating a Sustainability Standards Board (SSB) alongside the International Accounting Standards Board (IASB) it oversees – but only for financially-material information.
Broader sustainability reporting could better be handled by other institutions, Norges Bank Investment Management (NBIM) said in a response to the IFRS Foundation's consultation on a global approach to sustainability reporting and the organisation's possible role in those developments.
NBIM wrote: "Over time, we believe that a coherent set of reporting standards responding to the needs of both investors and other stakeholders is required.
"The core building block in this should be a set of industry-specific standards for financially material information, with investors as the primary audience," NBIM said in the letter, adding: "We believe it is such standards that an SSB could develop, mirroring the IASB's focus on serving investors."
However, Carine Smith Ihenacho and Wilhelm Mohn, respectively chief corporate governance officer and head of sustainability at NBIM, who signed the letter, also said: "The interests of a broader set of stakeholders may be better catered for by other institutions".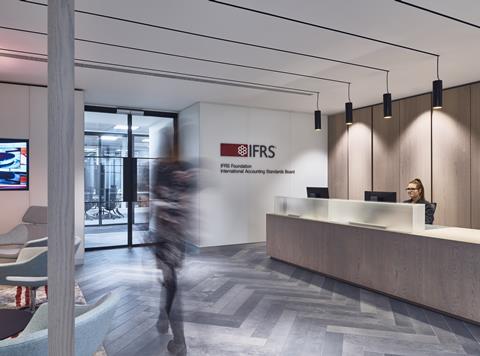 In many cases, measuring and reporting social and environmental impacts was a normative exercise, they said, which could be even harder to standardise at a global level than matters of financial relevance.
"The rapidly evolving nature of many environmental and social issues also requires flexibility and room for development that codification in fixed and mandatory reporting standards would not allow for," the pair said.
Smith Ihenacho and Mohn suggested that other institutions could refer to the SSB standards as a core as they developed standards for broader sustainability reporting, then only having to add further topic, region or viewpoint-specific requirements. The SSB would need to account for such interoperability, the pair wrote
NBIM manages the Norwegian Government Pension Fund Global, which currently has around NOK10.9trn (€1trn) in assets.
ESAs emphasise double materiality
The consultation by the trustees of the IFRS Foundation closes on 31 December.
In their feedback, the European supervisory authorities said they supported the Foundation's ambition to take advantage of existing jurisdictional and international initiatives to build a set of internally recognised non-financial reporting standards.
From a European perspective, the supervisors placed emphasis on the concept of 'double-materiality', they wrote.
In a letter of its own, ESMA said the notion of materiality was one of the most critical aspects to address from the perspective of avoiding developing standards that unncessarily result in duplicating disclosure efforts.
"ESMA believes that in order to be able to adequately promote transparency and investor protection, the standards for non-financial reporting need to refer to a notion of materiality that is capable of capturing both the impacts that ESG factors have on the reporting entities as well as the impacts that such entities have on the society at large," the watchdog said.
"Such double perspective is key for a complete depiction of an entity's position and performance in the ESG area."
In the EU, the European Commission is reviewing the Non-Financial Reporting Directive and has mandated EFRAG to provide technical advice on the possible development of European non-financial reporting standards.
In other news related to the IFRS Foundation's proposal, the Sustainability Accounting Standards Board and four other framework- and standard-setters last week published a prototype climate-related financial disclosure standard to show how existing content could serve as a "running start" for any sustainability-related reporting standards the IFRS Foundation may decide to develop.
The organisations, which in September published a joint "vision" for resolving challenges in the area of sustainability and corporate reporting, said they provided the prototype to bring the concept of sustainability-related financial disclosure to life.
In the UK, the Financial Conduct Authority today published the final rule for climate-related financial disclosures for UK premium listed commercial companies, confirming this would take the form of comply-or-explain. Companies in scope will be required to include a statement in their annual financial report which sets out whether their disclosures are consistent with the recommendations of the Taskforce on Climate-related Financial Disclosures (TCFD), and to explain if they have not done so.
The first annual financial reports subject to to the new rule would those published in spring 2022.
The regulator also set how existing disclosure obligations in certain circumstances may already require securities issuers to disclose information on climate-related and other environmental, social and governance matters.
Last month the UK government said it wanted to mandate implementation of climate risk disclosure using TCFD recommendations across the UK economy by 2025.
Looking for IPE's latest magazine? Read the digital edition here.