The chief executive of Norway's giant sovereign wealth fund has warned of higher volatility on the world's stock markets, even as the fund has raised its equity allocation.
Third-quarter data showed the Government Pension Fund Global (GPFG) had lifted its equities weighting to just shy of 66% at the end of September.
Reporting results for the third quarter, Norges Bank Investment Management (NBIM) – which runs the Government Pension Fund Global (GPFG) – said the fund had a market value of NOK7.95trn (€836bn) at the end of September, of which 65.9% percent was invested in equities, 31.6% in fixed income and 2.5% in unlisted real estate.
Since the end of the third quarter the portfolio's value increased further. Combined with exchange rate movements, this has pushed the value of the fund above $1trn for the first time in its history.
In the three-month period to the end of September, GPFG's equities allocation rose by 0.8 percentage points from 65.1% – 12 months ago, it was 60.6%.
The fund made an investment return of 3.2% in the July-to-September period, or NOK192bn.
Yngve Slyngstad, NBIM's chief executive, said: "We must be prepared for volatile stock markets, and cannot expect such a return every quarter."
His remarks echoed those of other leading asset owners in recent months who have attempted to manage future return expectations.
Equity market volatility has declined to near-record lows in some areas, with the VIX – a measure of the volatility of the S&P 500 – hitting an all-time low earlier this year.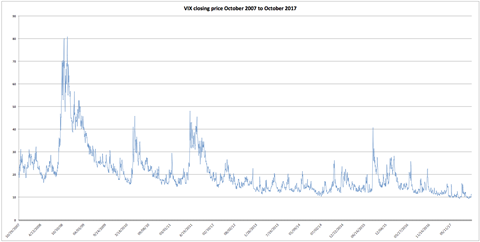 Slyngstad said the GPFG recorded positive results in all asset classes so far this year, and singled out the return on equity investments as having been particularly strong.
NBIM said the total return on investments was 0.1 percentage point higher than its benchmark index.
The manager has been shifting the fund's assets towards equities and away from fixed income for some time. Earlier this year the Norwegian government increased the fund's strategic equity allocation to 70%, from 62.5%.
The GPFG's equity investments returned 4.3% in the third quarter, while fixed income investments returned 0.8% and investments in unlisted real estate returned 2.7%.
Despite inflows into the fund and the investment return generated, the market value of the fund decreased by NOK68bn.
The krone's appreciation against major currencies was to blame: NBIM reported that this factor alone had eaten into the value of the fund by NOK250bn.
The fund received a quarterly inflow from Norway's petroleum activities of NOK41bn, but these quarterly inflows had been gradually declining at least over the last 12 months, NBIM said.
However, the size of the government's withdrawals from the fund – which started in the first quarter of last year in order to supplement its budget – have also been steadily shrinking.
In the third quarter of 2017, the Norwegian government withdrew NOK10bn from the fund.