The UK's National Employment Savings Trust (NEST) has challenged fixed income managers to come up with a scalable, open-ended structure for private debt suitable for its growing defined contribution (DC) client base.
In a tender notice published today, the £3.8bn (€4.2bn) multi-employer scheme said it believed its members could benefit from exposure to the asset class, despite it rarely being accessible to DC investors.
The scheme called for managers to come up with innovative ways of accessing unlisted infrastructure debt, real estate debt, and corporate loans.
Mark Fawcett, NEST's chief investment officer, said: "We don't buy the argument that private credit is out of reach for DC schemes. Our members should have access to the same opportunities as pension savers in large, sophisticated [defined benefit] schemes.
"DC pension savings are soon going to dominate the market and fund managers are beginning to recognise this. They'll need to think creatively about what this new generation of savers requires and be willing to negotiate seriously on fees.
"We're looking to work with innovative fund managers who see the future potential in this market and want constructive, long term relationships with their clients based on pension savers' best interests."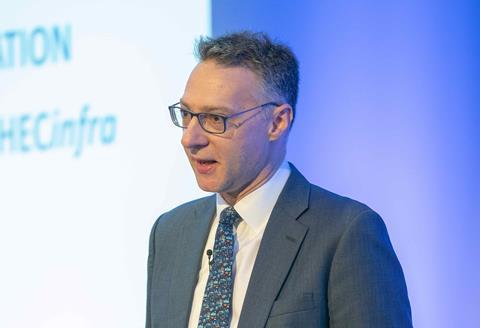 NEST said it had conducted "extensive research and analysis" on private debt markets and was confident that a DC-appropriate solution could be found "with some innovation" from asset managers.
The "traditional" closed-ended private debt vehicles were unlikely to fit NEST's requirements, it said. As a growing DC fund NEST's investment options needed to be "evergreen" and "scalable", the scheme said.
It indicated that it was open to debt-only or multi-asset strategies, and envisaged opening up to direct investments and co-investment opportunities in the future as its asset base grew.
The scheme said it was "interested in working with managers with the experience and motivation to support NEST in developing its in-house expertise in this area".
Fawcett issued a similar challenge to infrastructure investment managers earlier this year, saying providers needed to "completely recalibrate" their approaches to access the DC market.
In July, the scheme launched a commodities allocation run by US firm CoreCommodity Management, with the intention of investing up to £200m.
NEST tenders are available here.
This article was amended on 6 September to update NEST's assets under management.