Dutch pensions experts and the actors Gijs Scholten van Aschat and Jacqueline Blom shared the stage of theatre Stadsschouwburg in Amsterdam for a theatrical debate about pensions last month.
As an introduction to a discussion about mandatory pensions accrual versus individual pension saving, Scholten van Aschat and Blom (pictured) played characters meeting as former classmates at the local food bank. In the short scene they discuss how his garage – and future pension – had gone bust.
As the actors exited stage left, Albert Akkerman, former CEO of SPF Beheer, the provider for the €15bn railways scheme SPF, introduced the first panel discussion.
He called for mandatory pension participation for the more than 1m self-employed workers (known as 'zzp'ers') in the Netherlands. Akkerman told the audience: "If my pension fund hadn't been paternalistic, I probably wouldn't have paid any contributions at the time."
Arthur van der Wal, pensions director at insurer Nationale-Nederlanden, emphasised the importance of people being aware of their future pension needs.
He complained about the complexity of the debate about pensions in the media, which he said was causing participants to lose interest in the subject.
Peter Borgdorff, director of the €182bn healthcare pension fund PFZW, stressed that pension funds should reduce their complexity.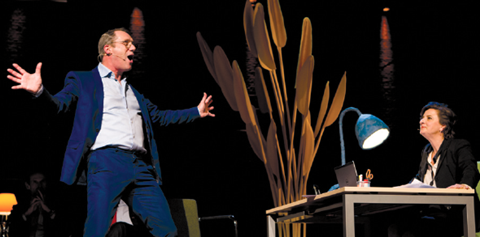 In the opinion of Roy Kramer, director of Nyenrode Business University, the initial blind faith in pension funds has turned into blind mistrust. He said the sector should put more effort into increasing interactions with members.
Akkerman suggested that schemes were often too rigid in their communication, and were sometimes blocked by the supervisor from following their instinct.
As an example, he pointed to the large metal scheme PMT, which last year was pressured by the Authority for the Financial Markets (AFM) to warn its participants of possible rights cuts that ultimately did not materialise. According to Akkerman, the AFM deemed this an appropriate form of communication. In his opinion, however, participants felt they had been scared unnecessarily.
Scholten van Aschat and Blom took to the stage again. Scholten van Aschat this time played an outgoing public relations man, who was about to "quickly help out the pensions sector". He discovered, however, that the issue was too complicated for a proper slogan.
During the course of the subsequent experts' discussion, Alfred Kool, strategic communication adviser at Willis Towers Watson, called for the pensions industry to be braver. "There is much expertise in the sector, but we are trapped in the system and are afraid of the supervisor," he argued.
PFZW's Borgdorff said that interviews with a small group of young participants had suggested they were not keen on individual pensions accrual – one of the favoured options for a new pensions system – as this would saddle them with unwanted responsibility.
"They indicated that their main interest was to know how much pension they would get at retirement," Borgdorff said, adding that PFZW plans to conduct further research in this area.
Kool further proposed that the pensions, housing, and care sectors co-operate to achieve a proper retirement proposition.