For institutional investors and asset managers, crypto-currencies pose a triple dilemma.
Their origins and investment characteristics are deeply unfamiliar. Holding them safely is difficult and fraught with technical detail. And if crypto-currencies were to succeed, institutions and asset managers would have had next to no say in their development, governance and distribution.
Could cryptocurrency exchange-traded products (ETPs) help bring the conventional financial market closer to the anarchic, internet-based platform for digital assets?
An unfamiliar, volatile asset – but one that refuses to die
The appearance of bitcoin, the most popular cryptocurrency, in the depths of the 2008–09 financial crisis was marked by a cryptic comment on the failing monetary system.
Satoshi Nakamoto, the pseudonym of bitcoin's creator, added a data 'tag' to the first batch (or 'block') of transactions in the digital currency, citing a headline in the UK press.
"The Times 03/Jan/2009 Chancellor on brink of second bailout for banks," Nakamoto wrote.
The early days of bitcoin were experimental, with a small group of cryptographers, computer geeks, libertarians and anarchists passing tokens amongst themselves to prove the system worked.
Those mining the currency – anyone able to solve a computationally intense puzzle – were rewarded by tokens that initially had little monetary value.
Things started to change when bitcoin took off in fiat monetary terms: bitcoin rose from under a dollar in value in 2011 to over $1,000 in 2013, before falling back to around $150 a coin in 2015.
The hack of the most widely used bitcoin exchange, Mt. Gox, in late 2013, attracted headlines in the mainstream press, as did the use of bitcoin as the transaction currency on the most popular dark net market, Silk Road, closed down by the FBI in the same year.
But it was 2017's stratospheric rise in the value of bitcoin and other cryptocurrencies that caught even professional investors' attention. The dollar price of a single bitcoin rose from under $1,000 a coin to nearly $20,000 by mid-December, before falling back.
At a collective market capitalisation of under $300bn, cryptocurrencies remain tiny relative to the global M3 money supply of $90trn. But their claims to serve as money have upset many in the conventional financial system.
Bank for International Settlements general manager Agustín Carstens has called bitcoin "a combination of a bubble, a Ponzi scheme and an environmental disaster", referring to the electricity consumed by those mining the cryptocurrency.
JP Morgan CEO Jamie Dimon last year described bitcoin as a "fraud worse than tulip bulbs" and threatened in 2017 to fire any of his firm's traders who touched the asset class.
"Bitcoin's intrinsic value must be zero," Stefan Hofrichter, Allianz's head of global economics and strategy, said earlier this year.
"A bitcoin is a claim on nobody – in contrast to, for instance, sovereign bonds, equities or paper money – and it does not generate any income stream."
Some asset managers, perhaps nervous that they might be missing a new opportunity, are more measured in their dismissals.
"We don't see huge demand for cryptocurrencies," BlackRock CEO Larry Fink told Bloomberg Television in July.
"I don't believe any client has sought out crypto exposure. I've not heard from one client who says 'I need to be in this'," Fink said.
But, according to a recent report, BlackRock has now devoted internal resources to the topic, setting up a working group to examine cryptocurrencies and their applications.
BlackRock, Fidelity and Invesco all declined to comment for this article.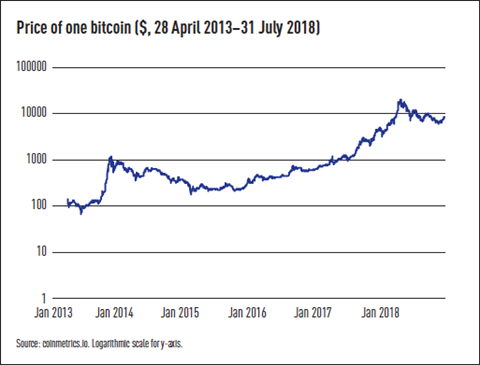 Mark Fitzgerald, head of ETF product management, Europe, at Vanguard, told IPE of the difficulty of classifying the new asset class, noting its uncertain prospects.
"Any new product we introduce must help diversify idiosyncratic risk, have an enduring investment rationale, offer a real return over the long term and have a clear and transparent structure. It's not clear that cryptocurrencies meet any of those tests," Fitzgerald says.
"Cryptocurrencies could perform a role as a means of payment, for example in countries where access to hard currency for international payments is somehow restricted. But to my mind that's not the same as an investment case."
One well-known equity investor has spoken out in favour of the cryptocurrency, however.
Bill Miller, CIO at Miller Value Partners, told Bloomberg TV in July that bitcoin's prospects are improving with time.
"It's an interesting technological experiment and we don't know how it will play out," said Miller, who has invested in bitcoin.
"But at around $8,000 a coin, I'd argue it's a lot less risky than it was at $100. Every day it doesn't blow up and go to zero, or get regulated out of existence, more money flows into the ecosystem and more people are looking at it."
Yves Choueifaty, CEO at asset manager TOBAM, which operates a bitcoin mutual fund with around $10m in assets, observes how cryptocurrencies divide opinions.
"Many people have polarised views on cryptocurrencies: some are almost hateful, while others are totally for them," Choueifaty says.
But interest in the topic among professional investors is now stronger than ever, he adds.
"The intellectual appetite for cryptocurrencies is very strong: everyone is very eager to discuss the subject," Choueifaty says.
Matt Hougan, head of research at Bitwise Investments, which manages a cryptocurrency index fund and has recently filed an application with the US securities regulator for a cryptocurrency ETF, highlights the peculiarities of the past price behaviour of cryptocurrencies.
"Institutions are unfamiliar with an asset class that offers high potential returns, high volatility, daily liquidity and low correlations to other assets," Hougan says. "They are doing more research, but there's career risk in being an early mover."
Gabor Gurbacs, director of digital asset strategy at Van Eck, which is awaiting regulatory approval for two different bitcoin ETFs in the US, quantifies institutions' continuing absence from the cryptocurrency markets.
"We estimate that the digital asset space is about 95% retail. Institutions and banks haven't yet entered the market in a meaningful way," Gurbacs says.
"This is the first time when Main Street beat Wall Street to the game."
Can ETPs help bridge the familiarity gap?
According to those developing cryptocurrency ETPs, the introduction of tracker vehicles will help institutional investors overcome the difficulties they face establishing trading and custodial relationships in the digital assets market.
"It's still difficult to invest in bitcoin directly," says Laurent Kssis, CEO of XBT Provider, which offers trackers of bitcoin and the second-largest cryptocurrency, ether, listed on the Nasdaq Stockholm exchange.
"It's quite technical and people may not want to disclose their identity and bank account information to relatively unknown counterparties based outside any European jurisdictions.
"You may not know who they are or even where they are based. Buying an ETP via a broker is a safe option. It takes care of the custody and all the issues related to setting up your own wallet or exchange account."
XBT's trackers are structured as debt securities, collateralised by holdings in the respective cryptocurrency. Europe's UCITS fund structure, which offers the widest scope for distribution to retail investors, and which is used by most European ETFs, sets minimum diversification requirements and would not permit a tracker investing in a single underlying asset.
In the US, funds issued under the 1933 Securities Act can hold a single commodity or currency, however. The 1933 Act structure is used by popular gold and oil ETFs and several promoters have now registered applications with the Securities and Exchange Commission (SEC) for bitcoin trackers.
However, the SEC has so far refused to grant a green light to such funds. In a recent public release denying for the second time a request by the Winklevoss Bitcoin Trust to launch an ETF, the regulator cited concerns about the potential manipulation of bitcoin prices and the lack of surveillance-sharing agreements with exchanges where the spot price of bitcoin is determined.
Nevertheless, many observers believe that the SEC will come round to approving cryptocurrency ETFs some time in 2019.
The US regulator has cited the late-2017 appearance of listed futures on bitcoin as a positive development. A number of the proposed new ETFs plan to use bitcoin futures, rather than direct holdings in the cryptocurrency, as their underlying asset.
"For the 1933 Act applications, which include both futures-based ETFs and ETFs holding cryptocurrencies directly, everything pivots on the Division of Trading and Markets of the SEC", says John Hyland, global head of ETFs at Bitwise Asset Management.
"Is there enough liquidity there? Are prices representative of the underlying? We've filed for an ETF that could hold either futures or the underlying asset. In the long run, ETFs should probably physically hold the coin. But it's not the worst thing if cryptocurrency ETFs have to hold futures."
"The rationale behind a futures-based bitcoin ETF is that the best way to hold the cryptocurrency is not to hold it," adds Van Eck's Gabor Gurbacs.
Van Eck has two outstanding applications for bitcoin ETFs with the US regulator, one based on a futures underlying, one planning to hold physical cryptocurrency.
"Custodianship is one of the big outstanding issues in the space. But institutions are also missing proper valuation and pricing benchmarks, sufficient liquidity and regulatory oversight," Gurbacs continued.
However, TOBAM's Choueifaty cautions that investors in cryptocurrency need to make sure they have full control of the underlying asset in order not to miss out on potential forks—effectively, bonus issues of new currency.
For example, bitcoin split into two currencies on August 1 2017 – bitcoin (ticker symbol BTC or XBT) and bitcoin cash (ticker symbol BCH). Owners of BTC before the split gained an equal number of coins in BCH on that date.
"If you buy and hold bitcoin via a platform, you may not gain access to all the forks of the cryptocurrency," Choueifaty told IPE.
"Since the launch of our fund, we have been able to access 30 forks, benefiting the holders of the fund. We use an open-source wallet, which means we don't have to rely on a trusted third party. If you use an ETN, you own a debt instrument with credit and legal risk. For example, the ETN may also not give you access to all the forks in the underlying, depending on how its prospectus is written."
Price vs convenience
By comparison with the razor-thin fees of many conventional ETFs, cryptocurrency trackers do not come cheap. XBT's bitcoin and other trackers, Bitwise's HOLD 10 cryptocurrency index fund and TOBAM's bitcoin fund all charge 2.5% a year.
Bitwise's John Hyland expects US-listed bitcoin ETFs, if approved, to charge between 1-2% a year at launch, though he says this figure will come down over time, reflecting declines in custody costs.
If these headline charges seem high, it's a matter of perspective, he says, drawing an analogy with gold and oil trackers, which have proved highly successful.
"ETFs offering exposure to a single cryptocurrency would be providing the same kind of packaged convenience as USO and GLD do for oil and gold," says Hyland.
"In the case of those two ETFs, 80-90% of holders were hedge funds and trading desks, most of whom could have saved themselves the fee and bought the underlying themselves. But they preferred to hold the ETF. It's far less time-consuming."
Paul Amery is founding editor of New Money Review (newmoneyreview.com)