Vincent Mortier has been appointed as Amundi's group chief investment officer, succeeding Pascal Blanqué, who has been appointed chair of the newly created Amundi Institute.
Blanqué, a member of Amundi's general management committee and executive committee, has been group CIO and head of the firm's investment management platforms since 2005.
He was also global head of institutional business and third-party distributors from 2010 to 2017. He began his career in institutional and private wealth management at Paribas in 1991.
As an economist and historian, Blanqué is the author of several contributions. His research interests and his academic work focus on monetary issues, the functioning of financial markets and economic philosophy.
Other staff changes have also occurred, including naming Matteo Germano deputy CIO. His former responsibilities regarding the multi-asset investment platform will be split between others: John O'Toole has been named head of multi-asset investment solutions, while Francesco Sandrini takes on the role of head of multi-asset strategies.
Mortier, who is also a member of Amundi's general management committee and executive committee, has been group deputy CIO of Amundi since 2015.
He has been instrumental in anchoring ESG at the heart of the investment process across the different active investment platforms of Amundi and the establishment of a strong risk management framework, the firm announced.
Mortier joined from Société Générale CIB where he held several positions within equity derivatives, most recently as chief financial officer of the global banking and investor solutions division since 2012.
Germano has been global head of multi-asset at Amundi as well as CIO for Italy since 2017. He is a member of the global management committee, the executive management committee and of several supervisory boards.
O'Toole has been global head of multi-asset fund solutions at Amundi since 2010. He joined Amundi (previously Pioneer Investments) in 2005 as global head of fund research and manager selection.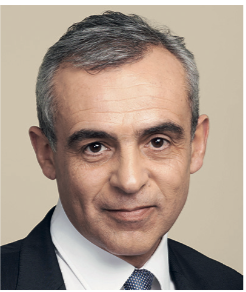 Prior to joining Amundi, O'Toole was a senior portfolio manager at Luxembourg-based IKANO family office for five years.
Sandrini has been overseeing the multi-asset balanced, income and real return portfolio at Amundi since 2017. Prior to that he was head of multi-asset security solutions, managing balanced, income and insurance solutions since 2012.
Amundi Institute
The firm claims that investors have expressed a critical need to better understand their environment and the evolution of investment practices in order to define their asset allocation and help construct their portfolios.
"This environment includes economic, financial, geopolitical, societal and environmental dimensions. To meet this need, Amundi has created the Amundi Institute," it said.
The Institute's aim will be to strengthen the advice, training and day-to-day dialogue on these subjects for all its clients – distributors, institutions and corporates – regardless of the assets Amundi manages on their behalf.
This new division – with an initial staff of around 60 – brings together its research, market strategy and asset allocation advisory activities under the Amundi Institute, it said.
Blanqué, who has been appointed as chair of the Amundi Institute, will supervise this new business line.
He will be supported by Monica Defend, who will be head of the Amundi Institute.
Blanqué said: "Inflation, environmental issues, geopolitical tensions… there are many structural regime changes underway. Investors across the board expect a deeper dialogue and sophisticated advice to build more robust portfolios."
Mortier added: "The creation of the Amundi Institute will enhance the contribution of research to all of Amundi's asset management activities so that they can continue to create high-performing investment solutions over the long term, adapted to the specific needs of each client and taking into account all the parameters of an increasingly complex environment."