APG, the Dutch pension asset manager, has increased its 50% stake in Via Outlets, an operator of 11 large shopping outlets in Europe, to 98%. It agreed to support its joint venture partner, UK real estate company Hammerson, financially by buying up the bulk of the latter's stake for €301m at a price "below market value", according to APG.
Hammerson will retain one outlet, in the German town of Zweibrucken.
The shopping centres were affected badly by the coronavirus crisis in the first half of this year as seven of them were closed completely while many shops in the other centres that remained open were also closed or had only a few visitors.
The rent that shops located in the outlet centres pay is based mainly on store revenues, which, as expected, have plummeted during the crisis.
As a result, Via Outlets' valuation has dropped by 4.2% since the start of the year to €1.55bn.
But APG's head of European real estate Robert-Jan Foortse is optimistic the tide has already turned as visitor numbers have been on the rise since June.
"The long-term strategic advantage of outlets compared to other bricks and mortar stores remains intact," he said. "This really is a different segment than main street stores where you pay the full price for more expensive brands. In the outlets, consumers can get discounts of 30-70%. The fact that they like this has been confirmed by the rising visitor numbers we've seen over the past few years."
And shopping centres are also of interest to upscale brands such as Tommy Hilfiger and Calvin Klein, Foortse noted. "It gives them an additional retail channel to sell their excess stock. This will not be sold in an industrial hall but in a nicely decorated shopping village instead," he said.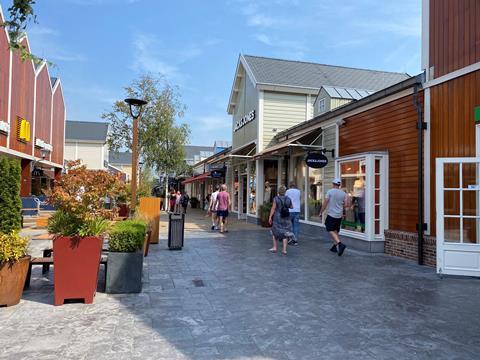 APG – which founded Via Outlets in 2014 together with Hammerson – has a more practical reason for acquiring Hammerson's stake.
"Hammerson needed to strengthen its balance sheet because of the coronavirus crisis. Issuing additional equity is an option in such a situation, but we don't like watering down our stake as we already were the largest shareholder in Hammerson, owning 19.6% of the company," Foortse explained.
In the end, APG and Hammerson agreed to the sale to limit Hammerson's need to raise additional capital. The real estate developer's other shareholders will still have to give the deal the go-ahead in September, however.
Separately, APG will buy additional equity in Hammerson for €120m, so its equity interest will remain unchanged at 19.6%.
Foortse, who said APG acquired the additional stake in Via Outlets at a discount, is open to expanding the Via Outlets portfolio of 11 shopping centres in the future, but added that this is "not a priority".
He believes coronavirus-related problems will not prevent the company producing the expected annual return of 11% per year, 5.5% of which consists of rental payments.
The other half is expected to come from an increase in the value of the shopping centres, Hammerson said back in 2014. Whether this is still a realistic expectation in times of a pandemic, is uncertain.
APG declined to comment on the return prospects for Via Outlets.
To read the digital edition of IPE's latest magazine click here.