Dutch pension funds will have to "coach" their members more actively following the upcoming pension reform which shifts risks away from employers to members, according to Gerard van Olphen, the departing CEO of the country's largest asset manager APG. He thinks they are not yet prepared for this new role.
But it would be a step too far to allow pension funds to give investment advice to their members, Van Olphen, who will leave the €531bn asset manager in the first half of next year to devote more time to his private life, said last week during a congress organised by IPE's sister publication Pensioen Pro.
"Pensions is not a commercial product, and the process of mandatory participation will remain under the new system. So it will continue to be complicated to consider a member as a client if they can't leave the fund."
Members will still need more guidance under the new system, as the risks for pension savers will increase. "But this could take the form of coaching rather than of real investment advice," said Van Olphen.
"I'm talking about taking away some uncertainty without offering a commercial product, a quick check to get the feeling that everything is alright with your pension. That would be something in-between execution only and advice."
Among other things, Van Olphen expects pension funds and their asset managers to develop applications to provide an overview of total retirement income beyond the second pillar pension.
"It's about financial fitness, about telling people whether they can continue their pre-retirement lifestyles."
Van Olphen also wants to "pro-actively" offer help to members "when their risk profile changes fundamentally," citing examples of marriage, divorce or death of a partner.
Not ready
Pension funds and their service providers are not ready for this new coaching role, according to Van Olphen.
"We have not been thinking enough about this as we have been pre-occupied with the pension reforms. We have not yet given enough though to that what's coming after. As a sector, we have to approach pension more from the standpoint of the members," he said.
Lower costs, more competition
Van Olphen also expects administrative costs to come down in the new pension system. PGGM CEO Edwin Velzel is predicting cost cuts of 25% because the new contract will supposedly be more simple to execute, but Van Olphen expects APG's costs to come down even more.
"If you really get a bare-bones financial product, and you compare this with costs in other countries with more simple pension systems, you would get a cost of €35-45 per year." Currently, APG's main client ABP pays APG €68 a year per member.
If such a simple pension product indeed becomes reality, disentangling the close relationships between pension funds and their service providers – such as PGGM/PFZW and ABP/APG – suddenly becomes a realistic option too, Van Olphen noted.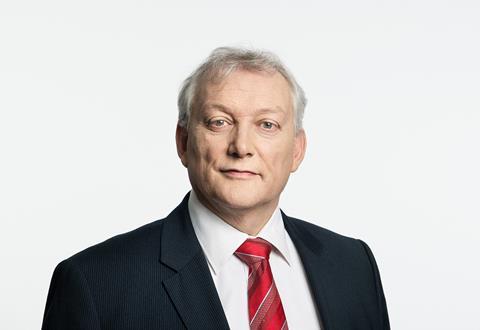 He said: "Much of the historical complexity of pension arrangements in the Netherlands would disappear with the pension transition. This would mean there would be more of a level playing field leading to competition between service providers to intensify. This also has its consequences for APG: we will have to work harder to prove ourselves."
But will the new pension system really be so much more simple? This remains to be seen, Van Olphen said. "I think it's quite remarkable that [social partners and politicians] on the one hand emphasise the complexity of the current system and the need to simplify, to then ask very complex exceptions for certain groups during the transition. But now is not the time for such things. Instead the focus should be on the workability of the reforms."
Van Olphen will possibly get the answer to this question on Wednesday, when the legislative outline for the new pension system will be unveiled.
APG to invest €100m in pension admin
APG will invest up to €100m in its pension administration until 2026, the deadline for the switch to the new pension contract, Van Olphen said. An "important part" of this money will be used to educate and school employees. These additional costs are not yet budgeted for. "We will sit together with our clients to see how to finance these additional outlays," Van Olphen said.
To read the digital edition of IPE's latest magazine click here.