The head of the world's largest asset manager has told companies they need to think about their wider impact and ensure they benefit all of their stakeholders, not just shareholders.
In his annual letter to the chief executives of the world's largest public companies, BlackRock's Larry Fink said companies were increasingly being called upon to help address broader societal challenges because many governments were failing to prepare for the future.
"Indeed, the public expectations of your company have never been greater," the founder and chief executive of the $6trn (€4.9trn) asset manager wrote.
"Society is demanding that companies, both public and private, serve a social purpose," Fink continued. "To prosper over time, every company must not only deliver financial performance, but also show how it makes a positive contribution to society.
"Companies must benefit all of their stakeholders, including shareholders, employees, customers and the communities in which they operate."
"Our responsibility goes beyond casting proxy votes at annual meeting – it means investing the time and resources necessary to foster long-term value."

Larry Fink
Without a sense of purpose, a company would ultimately deliver subpar returns to investors, said Fink.
Asset managers were also facing greater responsibilities, according to Fink. This was at least in part due to the growth in index investing, which was "driving a transformation in BlackRock's fiduciary responsibility and the wider landscape of corporate governance".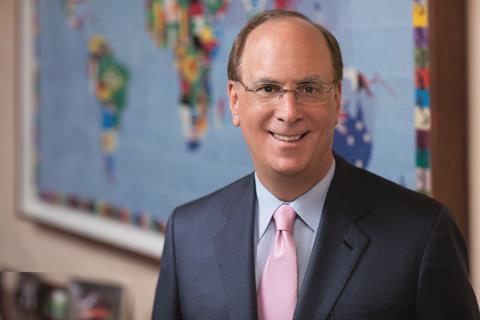 Because an indexed manager does not have the option of expressing dissatisfaction with a company by selling its securities, BlackRock's responsibility to engage and vote was "more important than ever", wrote Fink.
"We must be active, engaged agents on behalf of the clients invested with BlackRock, who are the true owners of your company," he said. "This responsibility goes beyond casting proxy votes at annual meeting – it means investing the time and resources necessary to foster long-term value."
A new model of shareholder engagement
Shareholder engagement has been too focused on annual meetings and proxy votes, Fink said, and instead needed to become "a year-round conversation about improving long-term value".
BlackRock, for its part, would be ramping up its efforts to shift its focus from proxy voting to engagement, he said.
Barbara Novick, vice chair and a co-founder of BlackRock, has been tasked with overseeing efforts in this regard. Michelle Edkins will continue to lead the asset manager's global investment stewardship group day-to-day.
BlackRock would also double the size of the investment stewardship team by the end of 2020, Fink said.
In November, BlackRock's investment stewardship team consisted of 32 corporate governance professionals, up from 20 in 2012, a spokeswoman previously told IPE. Morningstar recently said it found that the largest index managers had stepped up their stewardship efforts.
Companies had a part to play in making engagement with shareholders more productive, according to Fink, who honed in on the need for them to be able to articulate how they would create long-term value.
Company leaders should explicitly affirm that the strategy had been reviewed by the board of directors, he said. In the US, this would include companies explaining to investors how they planned to deal with increased cash flow following recent tax reforms.
Richard Turnill, BlackRock's global chief investment strategist, today said the impact of the overhaul of the US tax code would be varied, but that the Tax Cuts and Jobs Act was poised to boost a domestic economy already running at full capacity.
"A windfall from lower taxes and incentives for capex could spur more consumer and business spending and corporate deal-making," he said. "A likely convergence in tax rates could create winners and losers, rippling across sectors and companies."
A copy of the full letter from Fink can be found here.