Denmark's largest pension fund hailed its "best-ever annual result" in its 2019 financial report reported released today, although figures show returns did shrink in the fourth quarter.
ATP reported total assets swelled to DKK885bn (€118bn) by the end of last year, and said the DKK40.7bn investment return corresponded to a 39.7% return after costs on its leveraged investment portfolio.
Within the investment portfolio – which consists of ATP's bonus potential plus borrowing from its other assets that back the pension guarantees – government and mortgage bonds were the main contributors to the overall investment profit for the year.
These assets produced a DKK12.7bn return, while investments in foreign and Danish listed equities generated DKK9.3bn and DKK8.1bn, respectively.
Private equities, credit, infrastructure and real estate also generated positive returns, though inflation-related instruments – a category which includes long-term hedges against rising inflation – made a DKK2.4bn loss.
Including leverage, the investment portfolio had a value of DKK354.9bn at the end of last year, with the bonus potential having grown to DKK126bn.
In its financial reporting, ATP gives prominence to the return achieved on its investment portfolio, but the Danish FSA's N1 standard for pension fund returns allows the fund's returns to be compared to other Danish pension funds. ATP reported its N1 return was 16.2% in 2019 – higher than its 10% average between 2010 and 2019, according to this definition.
"2019 has been a fantastic investment year, and we have been able to take advantage of the favourable market conditions"

Bo Foged, ATP's chief executive officer
Bo Foged, ATP's chief executive officer, said: "2019 has been a fantastic investment year, and we have been able to take advantage of the favourable market conditions."
He attributed the "record return" to many years of focused efforts to optimise the portfolio construction and the market risk level, which had strengthened the basis of ensuring the real value of members' pensions.
"When I look back on the year, I am proud to say that we have once more, simply and efficiently, contributed to safeguarding the basic financial security for members in the longer term," he said.
However, ATP said that in line with market expectations, it expected lower returns and greater fluctuations in the years to come.
Less than a tenth of ATP's full-year return came from investment profits from the fourth quarter, with the return for that three-month period just DKK3.15bn, according to the pension fund's figures.
Results published in previous announcements last year show returns gradually dwindled throughout 2019, with the fund making DKK6.06bn in the third quarter, DKK8.04bn in the second and a huge DKK16.79bn in the first, when markets were bouncing back from end-2018 lows.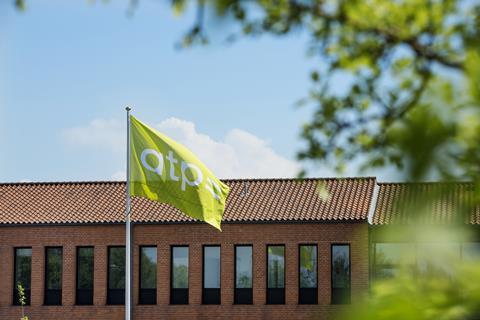 ATP also indicated in its annual report it would go public with some of its deliberations about possible changes to its business model.
"The supervisory board's targeted work will continue in 2020, during which it is hoped that some conclusions can be shared with the public," the fund said in the report.
ATP came in for criticism from some investment experts outside the fund last year, with CBS professor Jesper Rangvid saying the current set-up sent too much money into low and negative-yielding fixed income investments, while the free capital, in the form of the bonus potential, was being invested with a high level of risk.
"In light of continued low interest rates, which presents a challenge in general for generating high pensions, it is still relevant to continuously assess various adjustments to the pension product, the hedging and investment strategy," ATP said in the report.
Making sure the business model was up-to-date relative to the ATP's aims was the supervisory board's highest priority, so "targeted efforts" had been directed at these subjects in recent years, it said.
"As these are significant decisions which affect a large number of people, it is important that they are made on the basis of careful analyses," said ATP.