Petra Hielkema, director for insurance supervision at the Dutch central bank, has been recommended as the new chair of the EU's insurance and pension fund supervisor, EIOPA.
Members of the EU parliament's monetary and economic affairs committee (ECON) voted in favour of her appointment yesterday afternoon, with 54 votes in favour, none against and four abstentions. This followed what is referred to as an "exchange of views", with Hielkema replying to questions posed by the lawmakers.
The next step is for a plenary vote in the European Parliament, which IPE understands will likely be for the June session but could take place next week.
According to a statement from the European Parliament, the EU Council, the body for EU member states, has said it would appoint Hielkema if she is confirmed by Parliament.
In introductory remarks to ECON members yesterday afternoon, Hielkema said: "I am humbled and pleased that I was the selected candidate for this wonderful and important role – chairperson of EIOPA – […] and welcome this step in the process, for it is a proper reflection of the important role you play in financial supervision in the EU."
She said pension funds and insurers were operating in challenging times, citing the coronavirus crisis, and familiar as well as new and emerging risks, from low yields to climate change and technological innovation.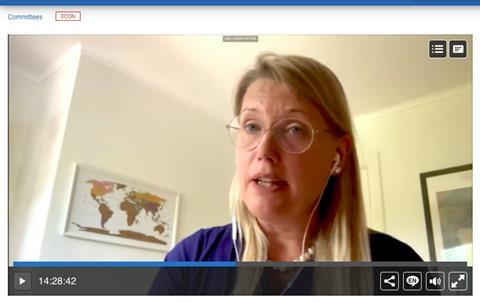 She said that if she became chairperson of EIOPA she would want to challenge pension funds and insurers to "recognise, mitigate and manage" the risks they faced, but also to challenge them to "play their role in the transition to more resilient and sustainable economies".
"I would like to do so from an authority that is confident in discussing and dealing with new technology, and focussing on good cross-border cooperation and supervisory convergence, providing high-quality advice also to this committee in order to have a framework that is both fit for purpose as well as balanced," she said.
Hielkema was one of three individuals shortlisted by EIOPA's board of supervisors for the position of chairperson. The others were Paolo Cadoni, head of division, prudential policy directorate at the Prudential Regulation Authority, Bank of England, and Christian Thimann, CEO of life insurer Athora Germany.
Peter Braumüller, managing director of insurance and pension supervision at the Austrian financial market regulator FMA and vice chair of EIOPA, has been acting as EIOPA chairperson since Gabriel Bernardino left the supervisory authority.
I would like to thank the ECON Committee for recommending me for the post of Chairperson of @eiopa_europa_eu. It's an honor indeed and I look forward to the next step in the process: plenary vote in the @Europarl_EN. @DNB_NL @EP_Economics https://t.co/LLUApfUuOP

— petra hielkema (@phielkema) May 11, 2021
Looking for IPE's latest magazine? Read the digital edition here.