The €700m Dutch pension fund for the wood processing and yacht building industries PHJ will join the €1.1bn Vlakglas scheme, window installers, glass makers and wholesalers in paint and glass. The merger will take effect on 1 January 2022, pending approval by regulator DNB.
PHJ initially wanted to merge with Meubel, the fund for furniture makers, but called off the plan four months ago. An important reason for the cancellation was the large difference in funding ratios between the two funds.
The 17 percentage point funding ratio gap at the time meant PHJ would have had to cut pensions significantly upon the merger.
The difference in funding ratios with Vlakglas is much smaller, at less than two percentage points at the end of August. PHJ has told its members it expects a cut of 4% once the merger takes effect.
PHJ has found a new partner in less than four months as it had already made up its mind that continuing as an independent fund was off the cards.
"Once it became clear the merger with Meubel wasn't going ahead, we went back to the drawing table," said PHJ president Jeroen van den Heuvel. "But we already had made a lot of preparations as the wishes of our board and social partners were already known."
More mergers to come
Van den Heuvel acknowledges the new €1.8bn fund will likely not be large enough to sustain itself over the long term.
He said: "The merger offers clear advantages for both sides, and the new fund is large enough to make the transition to the new pension system. But we will surely have discussions about further consolidation going forward."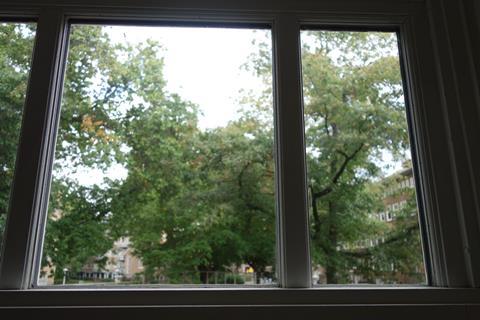 A possibility is that another fund will join the PHJ-Vlakglas combination, said Vlakglas president Bert Oosterloo. The new fund could also merge into a larger fund, he added.
Detailhandel, the pension fund for the retail industry, has repeatedly voiced its ambition to absorb other pension funds in the trade sector.
Different industries, similar members
The merger fits in a long-standing consolidation trend, but funds that merge tend to be active in similar industries. This doesn't seem to be the case here.
"It's true the two sectors do not have much in common," Oosterloo said. "But in the end, what matters is [that] you feel comfortable together."
While the two industries may be different, the member populations of the two funds are similar, as far as age and income levels are concerned, Oosterloo added. "Another similarity between our firms and the window installers and glass makers is that these are all traditional professions."
The new merger fund will get a new, appropriate name, according to Oosterloo. "We have invited all groups within the fund to make suggestions to this end."
To read the digital edition of IPE's latest magazine click here.