Three of the UK's largest asset managers are among the top five in a ranking of responsible investment performance from campaign organisation ShareAction.
Schroders, Aviva Investors, and Standard Life Investments ranked 1, 3, and 5 respectively in ShareAction's analysis of 40 major European asset managers.
French groups also performed strongly, with Amundi, Natixis, and AXA all in the top 10.
ShareAction said it wanted "to lift the lid" on European managers' "true" responsible investment performance.
The organisation has been compiling a ranking of major institutional investors on responsible investment every year since 2006, but this year's is the first in which the organisation has included European firms who mainly operate outside the UK.
The study rated the asset managers based on publicly available information and a detailed questionnaire, which allowed the firms to explain in more detail how their investment process incorporated environmental, social, and governance factors relevant to investment performance.
Nine asset managers did not respond to the survey. Five of these were ranked in the bottom five by ShareAction: Deutsche Asset Management, KBC Asset Management, Union Investment, SEB, and BBVA Asset Management.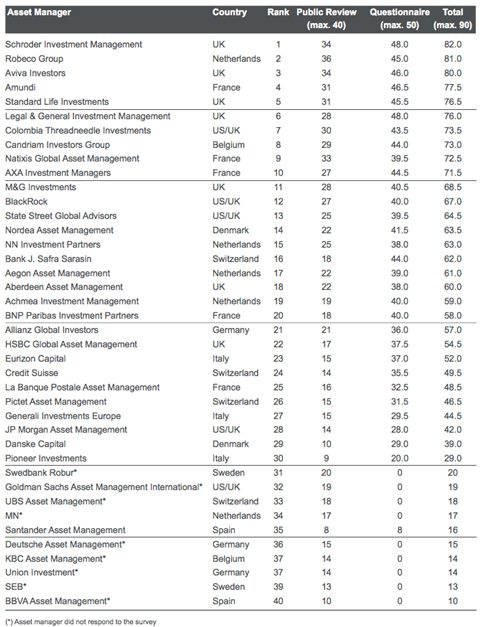 The asset managers were assessed on transparency, including the accessibility of information about voting and engagement with investee companies, conflicts of interest policies, and disclosure of investment fees and charges.
This year the survey included questions on impact measurement to reflect "the increasing interest in this area".
Only two of the asset managers (Natixis Global Asset Management and Robeco Group) provided "comprehensive detail" about the impact of the investments, according to ShareAction. Just over 60% have some information on impact measurement methodology, however.
ShareAction said only eight asset managers (20%) provided a full list of companies engaged with over the year and that seven asset managers (17.5%) do not include any information at all on environmental or social impacts within regular reporting to clients or publicly.
Just over half (51.6%) included responsible investment and ESG issues in fund managers' performance assessment.
Catherine Howarth, chief executive of ShareAction said: "We hope this report will stimulate speedy improvement in the performance of poorly ranked firms, and we have provided individual recommendations for each of the 40 asset managers to help achieve that outcome."
Janice Turner, co-chair of the Association of Member Nominated Trustees and trustee of BECTU Staff Retirement Scheme, said: "The information in ShareAction's report empowers us to have better informed conversations with asset managers about issues that make a real difference to long-term fund performance and to our members' wellbeing in retirement."
The full report and ranking can be found here.