Germany's finance minister Olaf Scholz has appointed Mark Branson, chief executive officer of the Swiss Financial Market Supervisory Authority FINMA, as the new president for BaFin.
Branson will replace Felix Hufeld at the helm of the German financial supervisory authority in the middle of this year.
Hufeld stepped down in January after being under fire for the handling of supervisory activities of Fintech and former DAX listed firm Wirecard.
"This is a very difficult step for me to take. I am very proud of what this relatively small team has time and again achieved together in very challenging times," Branson said.
Jan Blöchliger will take over as head of FINMA from 1 May. FINMA's board of directors has already started the process to select a new CEO.
Raimund Röseler, CEO of banking supervision, will take over the leadership position at BaFin until Branson takes office, according to reports.
The German finance ministry had taken the decision to replace Hufeld after BaFin filed a criminal complaint to the public prosecutor's office in Stuttgart against an employee on suspicion of insider trading.
The employee, who worked at the regulator's securities supervision sector, had sold structured products with Wirecard shares as the underlying on June 17 last year. Wirecard made public last June that €1.9bn was missing from its account.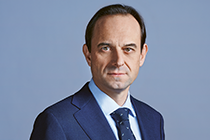 BaFi suspended the employee, started disciplinary proceedings, and in October tightened rules on compliance for personal securities transactions conducted by its staff.
"With Mark Branson at the helm, we want to continue BaFin's reform. The trust in Germany as a financial centre is important and BaFin is a key factor [to build] trust," said Scholz.
The finance minister admitted in the wake of the Wirecard scandal that BaFin needed reorganization, not only in terms of a new management, in order to fulfill its supervisory functions effectively.
The German cabinet also passed the draft law Financial Market Integrity Strengthening Act (FISG) to reform the supervisory authority as a consequence of the Wirecard scandal.
The draft law aims to close the gaps in the proceedings to check companies' balance sheets, reinforce auditors' independence, tighten rules on their liability in the event of misconduct and to improve internal controls in companies.
To read the digital edition of IPE's latest magazine click here.