Brunel Pension Partnership, one of eight asset pools formed by UK local authority pension funds, has appointed Legal & General Investment Management (LGIM) to a passive equity mandate.
The contract is expected to be worth more than £4bn (€4.6bn), roughly 14% of Brunel's total assets. It is the first fund manager appointed by Brunel since it opened for business at the end of March.
Mark Mansley, CIO at Brunel, said the quality of bids for the mandate was "excellent".
"LGIM's approach to enhancing performance and their commitment to corporate governance and stewardship, along with their client-focused ethos, has contributed to making them our preferred choice," he said. "We are confident that LGIM's approach will be fully in line with our own low-cost, high quality agenda."
Brunel said it was also seeking to appoint passive managers for smart beta and gilts portfolios.
Last week the pool launched manager searches for a UK equity mandate worth an estimated £1.2bn and a low-volatility equity allocation of roughly £600m. Both figures are subject to change depending on actual demand from Brunel's founder funds.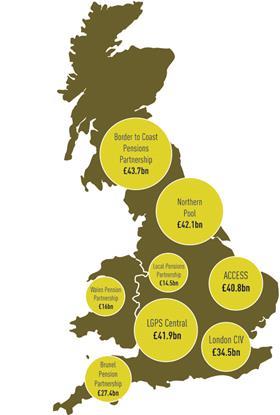 Brunel Pension Partnership was formed by 10 funds in the Local Government Pension Scheme: Avon, Buckinghamshire, Cornwall, Devon, Dorset, the Environment Agency, Gloucestershire, Oxfordshire, Somerset, and Wiltshire.
See also: LGPS asset pools (almost) ready for action – from IPE's April issue