UBS, RBC Bluebay, Universal Investment, AP1, Comgest, Dalriada, Hymans Robertson, ATP
AP1 – Anna Magnusson has been appointed as the new head of active ownership for the Swedish national pension fund. She replaces Ossian Ekdahl, who AP1 said was moving on to focus on research in law and economics, also taking on certain board assignments.
Magnusson joins the SEK421bn (€37bn) buffer fund from her current role as a specialist in corporate governance at Alecta, where she has worked for almost two years. Prior to that period, AP1 said, she worked for the Swedish government in various senior roles responsible for sustainability and corporate governance issues in the department of state-owned enterprises.
AP1 said Ekdahl would remain in his role at the buffer fund until Magnusson takes over on 1 June.
---
Dalriada Trustees – The UK-based independent professional trustee firm has appointed Chris Roberts as managing director. Roberts joined Dalriada as a professional trustee in September 2011 and helped to set up the firm's Manchester office in June 2015. He was appointed to the board in October 2019 and as a professional trustee, he acts as the lead trustee representative or trustee chair on multiple trustee appointments across a range of schemes.
As managing director, Roberts will assume overall responsibility for the Dalriada business, working with the wider practice boards in the development and execution of the Dalriada strategy.
The firm also appointed six of the team as practice board directors – Sarah Ballantyne, Amanda Banister, Judith Fish, Jo Harris, Julie-Anne Jones and Charles Ward.
"As well as leading on some of our most complex and challenging trustee engagements, all six individuals have played and continue to play a key role in the strategic development and growth of the business," Dalriada stated. The practice boards have responsibility for the development and delivery of strategic plans for the different parts of the Dalriada business.
---
ATP/ATP Real Estate – Henriette Krogh Bjørneboe Fynsk has been promoted within the Danish statutory pension fund ATP to the position of chief financial officer at its property arm. She is set to take up the role officially on 3 May, moving from her current job of deputy director within ATP's data and analytics department – a job she started in 2020.
Krogh Bjørneboe Fynsk is replacing Vibeke Bak Solok in the CFO role, with the latter leaving ATP Real Estate at the end of March to take up the job of chief executive officer at the online bank Lunar, ATP said.
---
Comgest – The asset manager has further strengthened its ESG team with the appointments of Jane Russell as head of responsible development and Yemareshet Gemeda as an ESG specialist, both based in Paris. The firm now has 10 dedicated ESG professionals.
Working alongside Comgest's head of responsible investment Sebastien Thévoux-Chabuel, Russell will focus on collaborative engagements, industry initiatives, evolving RI policies and oversight of all ESG communications. She is already a member of the firm's sustainability committee and diversity, equality and inclusion (DE&I) working group.
With over 23 years of industry experience working in Australia, Ireland and France, Russell joins the ESG team after working for the past 10 years as Comgest's head of global consultant relations and UK investor relations. In this role, she was instrumental in building Comgest's UK client base as well as establishing the firm's local presence in the US and the UK.
She has worked closely with the ESG team over the past decade, developing tailored solutions and bespoke ESG reporting for clients as well as contributing to the development of the firm's 'Plus' strategies, which apply the same Comgest quality-growth philosophy with additional exclusions and ESG selection criteria to align with leading European SRI labels.
Prior to joining Comgest, Russell spent over 10 years in investor relations, business development and finance roles at firms including Antin Infrastructure Partners, PIM Gestion France, Warakirri Asset Management and PricewaterhouseCoopers.
Gemeda joins as an ESG specialist to focus on RI regulations as well as biodiversity strategy, engagement and policy development. She has more than 13 years of experience in the asset management industry and has been working at Comgest since 2017 as a compliance adviser. In this prior role, she worked on regulatory project management and processes, conducting internal training on the evolving ESG regulatory landscape.
Gemeda was instrumental to the firm's implementation of key disclosures concerning SFDR and Article 29 as well as evolving RI policies, SRI labels and investor communications. Over the past five years, she has been advising and collaborating with the ESG team to design and implement policies, guidelines and procedures related to ESG matters.
---
RBC BlueBay Asset Management – Monica Yan has been appointed as consultant relations director, UK & Ireland.
Yan is responsible for nurturing RBC BlueBay's investment consultant relationships and developing the firm's business with consultants in the region. She joins from Deutsche Bank International Private Bank in London, where she was EMEA alternatives specialist director. Prior to this, she spent 13 years at Goldman Sachs Asset Management International where her roles included EMEA consultant relations director.
Based in London, Yan reports to Abhi Jain, head of UK, Ireland and Middle East business development at RBC BlueBay.
---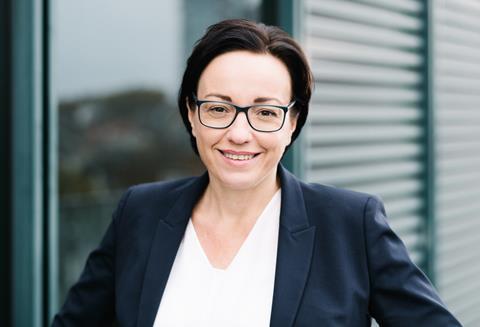 Universal Investment Group – Katja Mueller has been appointed as non-executive director to the board of its Irish Super ManCo. The appointment underlines the importance of the firm's Irish hub in servicing the growing Anglo-Saxon market.
The Irish fund platform is integral to the continuation of Universal Investment Group's successful growth strategy, which has seen the company become one of the leading players in Europe over the past two years with growth in assets under management and administration to more than €970bn.
Mueller, chief customer officer of Universal Investment Group and managing director at the firm, has extensive expertise in fund administration and distribution, gained during her 25-year career, including 12 years at Deutsche Bank Group.
She joined Universal Investment Group in 2014, where she is responsible for relationship management across all customer groups as well as sales, marketing and external communications.
---
UBS Asset Management – Shamaila Khan will join the firm as head of fixed income for emerging markets (EM) and Asia Pacific, effective 1 April 2023. She will report to Charlotte Baenninger, global head of fixed income, and become a member of the fixed income investment forum. She will be based in New York.
Khan is a seasoned investor, with more than 23 years of experience in EM sovereigns and corporates, hard and local currency. Most recently, she was head of EM fixed income at AllianceBernstein, where she oversaw $33bn of assets across EM dedicated strategies and EM exposure in multi-sector accounts. She was also portfolio manager on several global multi-sector fixed income funds as well as EM multi-asset funds.
Khan succeeds Hayden Briscoe, who is taking on the new role of APAC head of multi-asset portfolio management for investment solutions, in addition to his role as head of Hong Kong asset management. In his new role, Briscoe will report to Ryan Primmer, global head of investment solutions and will be responsible for leading the portfolio management of asset management's APAC-based multi-asset portfolios. Briscoe will also play an important role in capitalising on the synergies between the firm's investment solutions and fixed income teams in the region and will continue to be a member of the fixed income investment forum.
---
Hymans Robertson – The consultancy has appointed Shirley Brown as head of its third-party administration (TPA) practice. She will be taking on the role at the leading pensions and financial services consultancy following the retirement of the current head of TPA, Gary Evans.
Brown is a partner at Hymans Robertson, having joined the firm in 2019 as head of operations for TPA. She has over 35 years' experience in pensions and prior to joining the firm, worked for PWC, Buck Consultancy and Barnett Waddingham.
In taking up the position, Brown will lead the firm's TPA activities in delivering secure member-focused quality administration and continue to support clients with their data journey to buyout, through ongoing investment in digital solutions. She will also continue to oversee the training and reward of all TPA employees as they develop their careers.