Federated Hermes, ITS, Cardano, Hannoversche Kassen, ACPA, Kenfo, Qontigo, BNP PAM, Allianz, Barings
Federated Hermes International – Olivia Lankester has been appointed as responsible investing and sustainability director to Federated Hermes International's global emerging markets equities team, reporting to Kunjal Gala, lead portfolio manager.
Joining this week, Lankester will work with the team to enhance and communicate its vision for responsible investing, ESG integration and engagement efforts at a portfolio level. As part of this work, she will further develop the team's ESG analysis, determine whether portfolio companies are prepared for climate change risks and align companies to the UN SDGs. Lankester will work closely with EOS, the firm's stewardship team with $1.7trn in assets under advice, to ensure a regular dialogue is maintained with all companies across the global emerging markets portfolio and progress is being consistently made against engagement objectives.
Lankester has more than 20 years of experience in sustainability, most recently as senior director, social impact and responsibility at the Lego Group. She was also a strategic advisor on the Lego Group's sustainability strategy covering brand purpose, social impact investment, responsible sourcing, circular economy and caring employer values.
---
Independent Trustee Services (ITS) – Brian Barbour has been hired as client director at ITS as the company continues to deliver on its ambitious growth plans to expand its presence across the UK.
Barbour, who splits his time between bases in the North of England and Scotland, has more than 12 years of experience as a trustee of the Standard Life Staff Pension defined benefit and defined contribution schemes, as well as several years as chair and vice chair of the NHS Pension Board in Scotland. He brings with him significant expertise in corporate transactions and de-risking.
He combines this with over 20 years' experience in the wider financial services sector. As a former information security director, he has a strong understanding of cyber security and risk management related issues. He is also a former chair of the audit and risk committee of the Scottish Police Authority.
---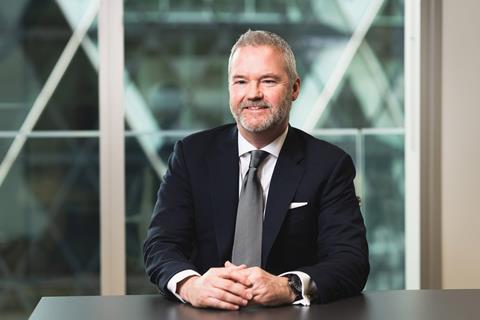 Cardano Group – The pensions advisory and investment management specialist has appointed Justin Hatch as head of credit, a newly-created role.
Hatch will be supported by investment professionals across Cardano's offices in London and Rotterdam. He will sit on the investment committee and will report to Marino Valensise, group chief investment officer.
Hatch's appointment builds upon the recent announcement of the acquisition of Actiam as demonstration of Cardano's commitment to continually enhance the capabilities of its investment offering.
Hatch brings more than 20 years of experience in fixed income investments, the majority of which have been within credit markets. Prior to joining the team at Cardano, he spent 16 years at British Airways Pensions Investment Management, where he was head of credit and lead manager on sterling corporate bond portfolios. Prior to that he was a fixed income fund manager at Old Mutual Asset Management.
---
Hannoversche Kassen – The supervisory board of the German provider of occupational pensions for companies and non-profit organisation has appointed Ralf Kielmann as a member of the management board from 1 January 2022.
Kielmann succeeds Regine Breusing, who will retire at the end of December. Kielmann will form the management team with Silke Stremlau, responsible for insurance, IT and accounting, actuarial work and controlling.
Kielmann joined Hannoversche Kassen as an expert in company pension schemes in 2012. He was promoted to the position of deputy head of the insurance department in 2013, and head of department in 2014. A year later he took over the management of the IT department. Prior to joining Hannoversche Kassen, Kielmann worked at Sparkasse Hannover and Volksbank Braunschweig/Wolfsburg for over 20 years.
---
Employer Covenant Practitioners Association (ECPA) – Karina Brookes has been elected the group's first female chair, succeeding Andy Palmer. She is a partner at EY-Parthenon and leads their UK covenant advisory team within their wider pensions strategy practice.
She was previously vice chair at ECPA, a role being taken over by RSM's Guy Mander.
The ECPA said it was currently focused on developing further market guidance on ESG and covenant in the context of new TCFD requirements and also the wider market debate on covenant horizons.
---
Kenfo – Germany's nuclear waste management fund has hired Ilan Beyer as investment manager for infrastructure. Beyer joins from Helaba Invest, where he was responsible for investments and co-investments in infrastructure, private equity and private debt. Prior to joining Helaba, Beyer served at PwC as associate and senior associate transactions.
---
Qontigo – The German provider of index, analytics and risk solutions, part of the Deutsche Börse, has appointed Axel Lomholt as chief product officer, indices and benchmarks, responsible for the STOXX and DAX index portfolio.
Qontigo was founded in 2019 by combining Axioma, DAX and STOXX. Lomholt will report to Qontigo's chief operating officer Neal Pawar. He joins Qontigo after spending nearly nine years at Vanguard Investments, most recently as head of product and programme management for Asia, and prior to that as interim chief executive officer Asia.
Lomholt also served at Barclays Global Investors (BGI), BlackRock, which acquired BGI in 2010, at the Gulf International Bank and HSBC Global Asset Management.
---
BNP Paribas Asset Management – The French asset manager has made several appointments within its sustainability centre, which provides the investment teams with industry and sector research, ESG data and analysis of more than 13,000 issuers.
Rachel Crossley has been appointed head of stewardship for Europe. Malika Takhatayeva is now sustainable fixed income lead, EMEA, having previously been at Moody's Investors Service. Thibaud Clisson has been appointed climate change lead, Robert-Alexandre Poujade is biodiversity lead, and Delphine Riou is inclusive growth lead. The latter three have already been at BNPP AM for several years.
---
Allianz Invest Kapitalanlagegesellschaft – The Austrian investment management firm has appointed Andreas Witzani as the new CEO from January 2022. Witzani succeed Martin Bruckner. In his new role, Witzani will be responsible for the market department. Sonja König will take on the role of spokesperson as managing director for the back office.
Witzani was most recently managing director of Merito Financial Solutions. His has previosuly worked for Raiffeisen International Fund Advisory and Volksbanken Kapitalanlagegesellschaft, where he was responsible for operational fund management among other things.
Witzani was responsible for company strategy, sales, accounting and controlling during his time on the board of directors of IMMO KAG. He started his career as a financial analyst at Erste Invest Consult.
---
Barings – José Carlos Torres has been appointed as head of real estate, Iberia at Barings. Based in Madrid, Torres will lead thr firm's real estate investment activity in the Iberian region and will work closely with both Gunther Deutsch, who leads European transactions, as well as with Charles Weeks, Barings' head of real estate for Europe and Asia Pacific.
Torres brings more than 16 years of experience in the sector and joins from Hines, where he had been an investment director for the past three years to lead its Spanish acquisitions team. Prior to this, he gained experience at Redevco, Zaphir Asset Management and Aguirre Newman.
To read the digital edition of IPE's latest magazine click here.