GTAG, AP Pension, AP1, VFF Pension, Bread Street, Vontobel, Redington, Pensioenfederatie, Capital Group, Pensjonskasseforeningen, Epworth, BlueBay, TransitionZero, State Street
Green Technical Advisory Group (GTAG) – The UK government has appointed an expert group to provide independent, non-binding advice on developing and implementing a green taxonomy in the UK context.
Ingrid Holmes, executive director of the Green Finance Institute, will chair the group, which comprises 18 other members representing different areas of expertise and perspective. Brunel Pension Partnership's Faith Ward, in her capacity as chair of the Institutional Investors Group on Climate Change; James Alexander, CEO of the UK Sustainable Investment and Finance Association; and Invesco's Elizabeth Gillam, on behalf of the International Regulatory Strategy Group, represent financial service taxonomy users on the GTAG.
The full membership list and the group's terms of reference can be found here. The government said the group was expected to be convened for two years in the first instance.
---
AP Pension – Martin Munkesø has been appointed as a new portfolio manager in the alternatives department of Danish pension provider AP Pension. The firm promoted its former head of equities Rasmus Cederholm to the role of CIO last month, and has been reshaping its investment department as a result.
A spokesman for AP Pension said Munkesø would be working under Anders Bang, the head of alternative investments, and would take up his new role from 1 September. Munkesø is joining AP Pension from his current position as senior portfolio manager at Nykredit, where he has worked for the last nine years.
The AP Pension's spokesman told IPE there were no further hirings for the investment team taking place at present.
---
AP1 – Anette Dahlberg has been appointed as a new equity manager at AP1 in Sweden. The national pensions buffer fund told IPE that Dahlberg was replacing Anders Jacobsson, who has left its equity department to take up the role of risk manager at the pension fund.
Dahlberg is to start her new job in September, and be responsible for the fund's Swedish large company portfolio. She is coming to AP1 from her current job as a portfolio manager at Swedish pensions and insurance group Länsförsäkringar, where she has worked since 2017. Prior to that, she worked for AP7 for over 16 years as a senior portfolio manager.
---
VFF Pension (Volvo) – Conny Granbom has been appointed as the new chief executive officer of Sweden's VFF Pension, the Volvo staff pension fund. He has replaced former CEO Marie Hagstedt, who the firm said is retiring.
VFF Pension said Granbom, who took up his new job on 1 June, had worked for the pension fund since 2005, in various managerial roles - most recently as head of insurance.
Hagstedt said that after 22 years at VFF Pension, and having been CEO since 2008, she was now looking forward to having more time for her own interests.
"During the spring, the work of conversion to an occupational pensions association (tjänstepensionsförening) was completed, and it now feels right to hand over to new forces," she said.
---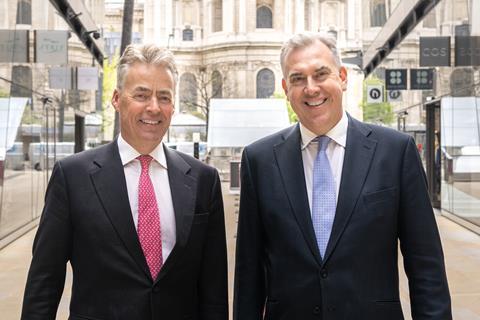 Bread Street Capital Partners – Alex Barr and James Witter have launched Bread Street Capital Partners, a new investment management business specialising in broadening investor access to global private markets including private equity, infrastructure, private debt and real assets.
Between them, Witter and Barr have more than 60 years of investment and capital markets experience and have managed or overseen £60bn of private markets assets.
Bread Street will launch private markets portfolios that deliver responsible thematic, financing stage or manager exposures, and focus initially on developing a series of innovative stock-exchange listed private markets funds. Bread Street will also provide complete private markets solutions to asset managers including investment advisory, legacy portfolio rationalisation, operating framework design and risk oversight services.
The managing partners duo will lead the strategic growth of the business, its investment pipeline growth and management of the company's first listed investment fund. Former chief operating officer (COO) of The Big Exchange, Abigail Sater, has been appointed COO.
Barr has more than 28 years of industry experience and has held senior investment roles at Janus Henderson, Aberdeen Standard Investments and Deutsche Asset Management. Witter has more than 34 years industry experience, and has held senior roles at ASI, SVG Advisers, Nomura and Merrill Lynch.
---
Vontobel – Elena Tedesco has joined Vontobel as a portfolio manager with responsibility for the newly launched Vontobel Fund II- Global Impact Equities on 7 June. She joins from Federated Hermes, where she was the co-portfolio manager for the global emerging markets ESG strategies and director of sustainability for the global emerging markets team.
Tedesco has more than 20 years of experience in integrating sustainability in fundamental equity analysis and engagement and was responsible for developing the investment approach to sustainability and ESG issues for Federated Hermes' emerging markets equity strategies. Prior to that, she was an analyst at Deminor, a Belgium-based independent research boutique, now part of ISS within Deutsche Börse group.
The new Global Impact Equities fund seeks a "double dividend" for investors by investing in companies that contribute to the advancement of the United Nations Sustainable Development Goals (SDGs) and targets as well as delivering attractive performance.
---
Redington – Tricia Ward has joined Redington's manager research team as a director for private markets as the firm continues to broaden its capabilities across the asset class.
She will report to head of manager research Nick Samuels and joins a now seven-strong team dedicated to covering alternatives and private markets. In total Redington's manager research team spans over 22 people. Assets under advisory across the firm stand at over £500bn.
Ward joins from the Greater Manchester Pension Fund where she was a senior investment manager responsible for private credit research and portfolio construction as well as development of its ESG framework. She brings more than 10 years of investment banking and independent boutique investment experience, specialising across the alternative and private lending investment space.
---
Pensioenfederatie – The Dutch association for pension funds has appointed David Versluis as its new management director. Versluis, who is currently a senior client manager at Achmea Pensioenservices, will take up his duties on 1 September 2021.
Versluis will replace Emile Soetendal, who has been director ad interim since April this year. According to general director Edith Maat, Versluis' experience in programme management and coaching will specifically help the Pensioenfederatie "in its project-based management of our strategic objectives".
---
Capital Group – The asset manager, with assets under management of more than $2.4trn, has further strengthened its investment capabilities with the hire of Flavio Carpenzano as a fixed income investment director.
Reporting to Jeremy Cunningham, investment director, Carpenzano will work in the investment specialist team to bring Capital Group's fixed income offering to retail and institutional clients across Europe. he joins from AB where he was a senior investment strategist, supporting the strategic growth and servicing of the fixed income business across EMEA, with a particular focus on both retail and institutional clients in Southern Europe, the Middle East and the UK.
Prior to that, he was a product manager at PIMCO focused on developing its range of credit strategies. His early career also includes an analyst role at the Bank of England.
---
Norwegian Association of Pension Funds – Bjarne Refsnes and Kjetil Korshavn have been appointed as chair and deputy chair, respectively, of the board of the Norwegian Association of Pension Funds (Pensjonskasseforeningen). They replace the lobby group's previous chair and deputy chair, Ole Petter Gjerde and Guri Horsfjord Lassen, respectively.
Refsnes is currently chief executive officer of the pension fund of Norway's Viken municipality and Korshavn is pension fund manager at the Telenor Group – a Norwegian majority state-owned telecommunications company.
The association said Gjerde and Lassen would remain on its board as ordinary board members.
---
Epworth Investment Management – The UK investment manager dedicated to serving the needs of churches and charities said that Roz Amos has joined as chief investment strategist. Amos will be responsible for all matters relating to the investment functions of Epworth Investment Management and the central finance board of the Methodist Church, including defining and executing the investment strategy, asset allocation, and fund performance.
Prior to joining Epworth, Amos worked at UBS Asset Management, chairing its product strategy board, helping build the global product range and develop an innovative product shelf and strategy. Before that, she was an investment consultant with Willis Towers Watson, where she started her career, working in both London and Sydney.
---
BlueBay Asset Management – The specialist fixed income manager is strengthening its sales team in Germany and Austria with the appointment of Michael Wolfram as head of institutional sales Germany and Austria. Based in Munich, he reports to Viola Patock, head of Northern Europe.
Patock said: "As we continue to expand our presence, Michael's appointment is one of many at BlueBay that will allow us to look further afield and continue to expand into new markets, with innovative products and services. In an environment of negative yielding debt where investors are hunting the income in fixed income, we appreciate the importance of having experts within this field who can support our clients in their individual needs during these uncertain times."
Before joining BlueBay, Wolfram was most recently a director for Germany, Austria and Switzerland at bfinance focused on business development and relationship management of its pension, insurer, church and endowment clients based out of Munich.
---
TransitionZero – Meryam Omi, head of sustainability and responsible investment strategy at Legal & General Investment Management, has joined the climate analytics provider's board of directors. She has been appointed to help grow the company's footprint in the financial sector.
She said the industry faced a shortage of data that is timely, granular and sector-specific and that TransitionZero "is able to bring its world-class analytics to decision-makers to help them reach their zero-carbon targets".
TransitionZero is a founding partner of the Al Gore-backed coalition Climate TRACE, which is aiming to mobilise the global tech community (harnessing satellites, artificial intelligence, and collective expertise) to track human-caused emissions to specific sources in real time, independently and publicly.
---
State Street Corporation – Jason Knight has been named global head of the firm's insurance segment. In this role, Knight will be responsible for creating and executing the insurance segment's strategy globally, and will work closely with senior leadership in sales, product, as well as State Street's other business lines.
Knight joins from BNY Mellon, where he was most recently the head of the insurance segment in the Americas for asset servicing. He brings 27 years of experience in the financial services industry, and has served in a number of insurance and investment management segment-related leadership, business development, product and relationship management roles throughout the years.
To read the digital edition of IPE's latest magazine click here.