Russell Group, a group of 24 leading research-intensive UK universities, has set out areas of agreement with options put forward by Universities UK (UUK) in its consultation on ways of addressing the contested 2020 valuation of the £68bn (€79bn) Universities Superannuation Scheme (USS).
The areas of agreement are indicated in what the group described as a statement of principles it believes are key to any future discussions about the pension scheme.
Russell Group's statement comes shortly after USS told heads of participating institutions it believed "there are grounds for cautious optimism".
"A way forward is emerging that could address affordability concerns and put the scheme on a more sustainable footing, but which could also see members continue to build up a meaningful level of inflation-protected income for life in retirement," USS wrote in a note to heads of employers on Friday.
However, its author, USS group CEO Bill Galvin, said this would depend on the outcome of UUK's consultation, and any subsequent proposals tabled at the Joint Negotiating Committee (JNC) by UUK or University College Union (UCU).
UCU is the trade union representing USS members. It has lambasted the suggestions put forward by UUK in its consultation, which included lowering the salary threshold for accruing defined benefits.
Russell Group's 'principles'
In its statement today, Russell Group said it supported the principles of USS Employers' proposals, including "an appropriate rolling moratorium on institutions leaving".
UUK has suggested a 20-year rolling moratorium on employer exits from USS without the trustee's consent.
The Russell Group of universities also expressed support of the principle of debt monitoring, but said more information was needed on how the proposals would apply in practice as well as a guarantee they would only be applied to future debt.
It also said it agreed the sector should "explore options for a lower threshold for defined benefits to keep contributions affordable for all".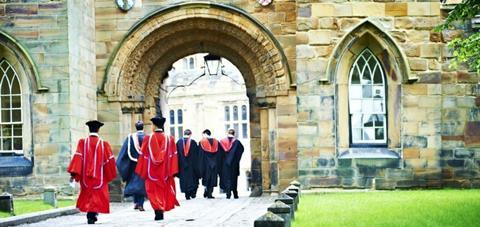 Another area of agreement captured in the "principles" was UUK's call for an independent governance review of USS.
Nick Hillman, head of the think-tank Higher Education Policy Institute, said Russell Group was a "particularly powerful" subset of UUK, as it was made up of many of the UK's more prestigious universities.
It was not really surprising that UUK and the Russell Group were aligned, he added, as USS was mainly for older universities and many newer UUK members had less to do with it.
"It is also not surprising in the sense that the USS faces existential problems that need quick resolution," he told IPE. "The time for talking is over."
The Russell Group said the statement of principles would be "at the heart" of any response by its members.
Nancy Rothwell, president and vice-chancellor of The University of Manchester and chair of the Russell Group, said: "Russell Group universities unanimously believe the current contribution rates are fair and affordable for all parties and should be sufficient to provide an attractive pension.
"We also believe reform is needed to put the scheme on a stable, long term footing and to ensure that it remains attractive and affordable for all of our colleagues."
USS has indicated that the 2020 valuation points to a need for a significant increase in pension contributions if existing benefits are to be maintained. The overall contribution rate currently stands at 30.7% of payroll and is due to rise to 34.7% under the 2018 valuation.
Russell Group has previously said the options put forward by USS were unaffordable for staff and employers, and did not reflect the backing the significant backing the sector provided for the scheme.
In Friday's note to heads of participating institutions, CEO Galvin indicated that USS's initial pricing of the options UUK is consulting on would be 34.7%, although IPE understands it is entirely by coincidence that this is the same contribution rate that is set to apply from October 2021 under the 2018 valution.
However, Galvin also wrote that "a more favourable overall rate than 34.7% could yet be achieved".
Next steps
UUK's consultation, which closes today, will inform any formal proposals the employer body subsequently tables for discussion at the JNC. UCU may also want to formally present alternative proposals at the JNC.
The JNC is the body that decides what contribution and benefit structures to put in place. According to Galvin's update to heads of USS employers, the JNC now has until the end of August to decide how the contribution increases for the 2020 valuation will be addressed.
According to Galvin, this meant the October 2021 contribution increases are highly likely to apply, due to the time it would take to complete the necessary statutory consultation processes following a JNC resolution.
USS's valuation for 2020, which will be based on a snapshot of the scheme on 31 March 2020, has to be completed by 30 June 2021.
Looking for IPE's latest magazine? Read the digital edition here.