Switzerland's largest pension fund is rolling out a customised "climate efficient" equity index that it says will allow to significantly enhance management of climate-related opportunities and risks in its investment activities.
According to Publica, the measures it had taken so far only involved ad hoc analyses of parts of the securities portfolio, and specific risk aspects such as transition risks in individual sectors.
The new index, in contrast, enables "comprehensive coverage" of climate-related risks as well as opportunities while taking into account different climate scenarios. The scenarios are "business as usual" – where governments fail to implement the goals of the Paris Agreement — a disorderly transition, and an orderly transition.
Patrick Uelfeti, head of portfolio management at the CHF40.5bn (€37.2bn) federal pension fund, said the index differed from other climate change-related investment approaches in the market in that it aimed to consider transition opportunities as well as risks, and on a systematic basis.
"We also consider physical risks and opportunities, which concerns not only fossil fuel energy companies but completely different companies that are exposed to climate-related physical risks and opportunities due to the location of their production facilities," he added.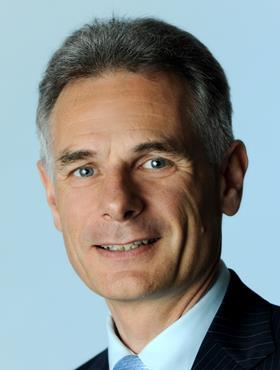 The proposal to introduce a climate-efficient index was taken on the back of a 2018 analysis of the effects of climate change on Publica's investments, with the board of directors last month giving the green light for the index to be adopted.
It was developed in collaboration with MSCI – and climate analytics firm Carbon Delta before it became part of MSCI – and the aim is to progressively implement it throughout Publica's equity portfolio by the end of 2021.
"The innovative climate-efficient equity index is thus a further steering tool enabling Publica, through its investments, to respond effectively to the challenges of climate change," said Publica.
It said the "climate efficiency" results from an improvement of up to 50% in each of three parameters (see below), without any deterioration in the expected risk/return ratio compared with the original equity index. The index can be combined with its existing factor strategy.
An important consideration for Publica was that the new index allow for a very wide range of companies to be covered, as it has equity investments in more than 50 counties and 9,000 firms. It indicated this condition was met because the sources of the climate data used are not dependent on information supplied by companies and are reviewed by third parties.
The parameters
The index allows investments in companies with negative exposure to climate risks to be underweighted, while overweighting investments in companies that are best prepared for climate risks or have technologies and business models to reduce greenhouse gas (GHG) emissions.
Publica said its index was constructed using multiple climate-relevant attributes for each company, which makes it "overall less susceptible to errors in individual models and their assumptions".
It is based on three parameters, two for transition risks and opportunities, and one for physical risks and opportunities.
The first covers regulatory risks, based on the ratio of expected costs of taxing carbon dioxide emissions over a 30-year period to a company's market capitalisation.
The second, meanwhile, is based on what Publica described as an innovative patent analysis covering almost 100 million patents registered worldwide in more than 400 categories, all of which are aimed at reducing GHG emissions.
The potential earnings from the patents over a 30-year period are simulated in relation to a given company's market capitalisation, which "captures the opportunities that regulation opens up for innovative and adaptable companies".
A third parameter captures expected weather-related physical risks and opportunities, such as damage to production facilities or higher crop yields due to milder temperatures.
Publica manages the assets of 20 Swiss public pension schemes, 13 of which are open and seven closed. It has a 27% strategic allocation to equity.