Innovation showcase: three Danish pension tech case studies
Over 60% of pension funds will invest in new technology over the next three years, according to PwC's 2018 Pension Tech survey. Millennials are driving demand for interactive communication tools, while cost-efficiency, de-risking, analytics, enhanced cyber security and improving standards of governance are also important drivers.
The Nordic region is hub for innovation in Pensions Tech with initiatives ranging from state-sponsored platforms where end-users can calculate their total pensions, union-sponsored robo-advice on fund selection to others offering benefit advice and add-on products.
In Sweden, PwC recently launched a digitalised tool, Pension Insight, focused on accounting and administration for small and medium-sized companies. Employers answer standardised questions and receive automated answers from PwC. In Finland, the Finnish Centre for Pensions has tested machine learning to predict retirement on a disability pension based on socioeconomic, earnings and benefits data.
Here we showcase three Danish innovations.
A challenger pension fund
In Denmark, Grandhood has entered the scene and aims to disrupt the pensions industry by creating an end-to-end, fully digitalised subscription-based workplace pension for entrepreneurs and small and medium-sized companies. And Denmark is only the start, according to Jon Lieberkind, CEO and a co-founder of Grandhood.
Technological advances and the growth of small companies, where traditional pension products may not fit, has created a niche for Grandhood, a name that indicates that there is something great to come, Lieberkind explains. "We founded Grandhood with the ambition of reinventing the way people perceive pensions, reducing complexity and fees," he says.
Lieberkind founded Grandhood in 2017 with Jens Kam, chief product officer, and Mathias Bredkjaer, chief financial officer. All had previous experience within investment advisory and risk management businesses.
Grandhood
● Fully digitalised occupational pension product
● Low-cost and simple
● Life-cycle product
● ESG-friendly ETFs
● 450+ companies signed up
Smaller companies tend not to get the same discounts as large companies and therefore pay higher fees, which erodes investment returns. In addition, the process of joining is often not feasible for entrepreneurs who are the CEO, office manager and everything else in between, according to Lieberkind.
"There are over 300,000 without a workplace pension in Denmark. This could easily produce an AUM of €1.4bn" - Jon Lieberkind
Denmark has one of the world's best pension systems, scoring highly in the annual Melbourne Mercer Global Pension index. It has one of the highest pension savings per head and OECD predictions state that Danes can expect a replacement rate of 70%. They are particularly well covered if they are part of a collective-bargaining scheme.
However, most of these schemes bundle savings with healthcare and insurance products which the individual has no choice but to join. "This means a significant minimum contribution and a one-size-fits-all product," Lieberkind says. He adds that future employment is likely to be different with an increasing number of freelancers, multiple jobs and varied income levels, making the old fund models less fit for purpose.
"There are over 300,000 [people]without a workplace pension in Denmark. This could easily produce an AUM of €1.4bn for Grandhood. In addition, a large portion of those employees would have historical fragmented pension pots that Grandhood would be happy to put into its scheme, further increasing AUM," Lieberkind adds.
Grandhood has its own asset management licence and offers algorithmic asset allocation based on low-cost ETFs, and total annual fees are below 100bps. It also offers a life-cycle product variant. "We assign each customer a specific risk profile based on their age and other factors. We then match their risk profile to a specific investment portfolio that best suit their circumstances. The portfolio risk is reduced over time along a single glidepath as they age and their risk profile changes," the CEO says.
The start-up's investment universe includes equities, fixed income, credit and real estate and has a global scope for diversification purposes. While ESG is part of the investment process – and it has identified several ESG-focused exchange-traded funds (ETFs) to invest in – the main objective is risk-adjusted returns at a low cost. Recognising its limits as a small firm, the company is looking to partner with an external ESG specialist.
Grandhood is backed by Denmark's SEED Capital, Sunstone Capital and Austria's Speedinvest, who invested DKK20m (€2.7m) in total. Grandhood also partnered with Saxo Bank which operates its depository and trade execution functions. This partnership enables 100% digital onboarding and gives the firm access to financial markets using cutting edge technology.
Since its launch, Grandhood has won several innovation awards and grants. It now has a team of 13 with over 450 clients signed up. The founding trio has their eyes set beyond Denmark with potentially the UK and the Netherlands as future destinations. Depending on the success of attracting employers, they may also compete with the existing providers for the pension assets of bigger companies.
Core process redesign
New technology often brings challenges and challengers to the existing order. So how are Denmark's large labour-market funds responding and can they stay relevant?
One solution is to hire the likes of Andreas Meier, head of machine learning, artificial intelligence (AI) and chatbot, at PensionDanmark. He joined from the shipping industry – a sector, like many others, that has adapted to technology to stay relevant.
As a pension fund with 26,700 employers and 732,000 members, communication is key as interaction is continuous. "At PensionDanmark, we are and want to be a frontrunner of digital partnerships between the public and private sectors. Innovation with cost effectiveness is in our DNA and in the back of our minds is having the best customer satisfaction," Meier says.
PensionsDanmark
● Non-profit labour market pension scheme with €32bn AUM and 732,000 members
● Innovation focused on improving customer satisfaction
● Uses include machine learning and robotic process automation
The provider prides itself on being Denmark's most cost-efficient pension fund, which is why its business model is centred around digital solutions to ensure effective administration with the most satisfied customers, he says.
It uses AI externally for customer-facing issues but also internally with staff. Externally, its uses range from chatbots to customer service reach through new channels. The fund uses AI – including machine learning (ML) and robotic process automation (RPA) – to redesign core processes resulting in much faster and effective response times. "An added bonus is that customer satisfaction increases, when you deliver both what they expect but go beyond that," he says.
PensionsDanmark is extensively automated with over 50 RPA processes on top of an automated platform, but AI and ML are used to extend this even further to assess the processes that could benefit from further development. "Marketing is automated, but we want to take it further so that it is not only personalised but actually arrives at the right time and on the right channel for that person," Meier adds.
He wants the 20-strong customer services team to focus on cases where they can add value. "This can be through a personal and empathic touch over the phone, live chats or cases that need a high degree of flexibility, something people do better than machines," he says.
"Innovation with cost effectiveness is in our DNA and in the back of our minds is having the best customer satisfaction" - Andreas Meier
Mundane questions and repetitive tasks that need number crunching can be handed to the machines as AI ensures consistency and speed. "You get the same answer to the same question every time and each case is being treated equally every time," Meier says.
PensionDanmark uses AI and ML in the assessment and prediction of inbound emails to identify the language, intent and sentiment.
The goal is not to reduce staff numbers as a 20-strong team dealing with 732,000 members is already slimline. Meier sees the combination of staff and smart technology use as the best solution, and expects that technology will develop to be more proactive, offering new services without being intrusive. Meier also sees developments in voice-activated assistants in the style of Amazon's Alexa and believes partnerships may form across industries.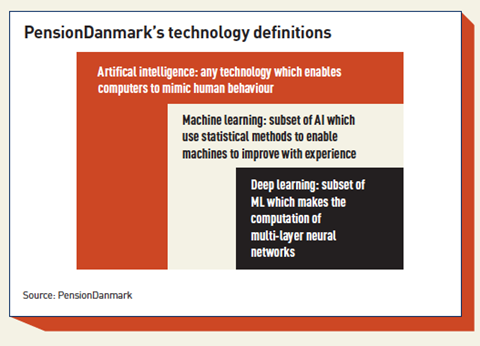 Most innovations deal with the savings and investment end of pensions but few with the payout phase. Linnemann Actuarial Consulting is using technology to change this. The firm is creating the next generation of fully automated, algorithm-based investment solutions, adding intelligent shock absorbers and an automatic transmission to existing target date funds (TDFs) and life-cycle products. Changing the payout phase
Founder Per Linnemann, an independent actuary and former actuarial director and chief risk officer at PenSam, has developed individual target date funds (iTDFs) or what he calls a new standard for drawdown retirement income. "Traditional TDFs lack customisation and are a one-size-fits-all proposal. iTDFs give each investor a personalised, dynamically self-adjusting glidepath where asset allocations are automatically adjusted between risky investment funds and less riskier ones," he says.
iTDFs
● Fully-automated algorithm-based investment solution and a customised product
● Produces smooth retirement income, adjusting fluctuations in investments
● No need for additional buffers
● Automated, scalable, low cost
iTDFs are designed to produce smooth income during retirement, either for a pre-determined period, or if combined with optional longevity pooling for as long as the member lives, offering a seamless transition between the two phases. The pension provider does not have to assume investment or mortality risk, Linnemann says.
"The level of retirement income is managed in a capital-efficient way using an innovative formula-based shock absorber that smooths payouts by adjusting to fluctuations in investment portfolio value over time. The products do not require additional assets as buffer capital, which is very expensive for customers," he says.
New technology has enabled this fully-automated solution, which allows scalability combined with low cost. Linnemann has developed the iTDF to include greater certainty that current income will not have to be adjusted downwards, and is currently working on new savings concepts.
Pension tech for dummies
1

2

3

4

5

Currently reading

Nordic focus: A northern pensions hub