---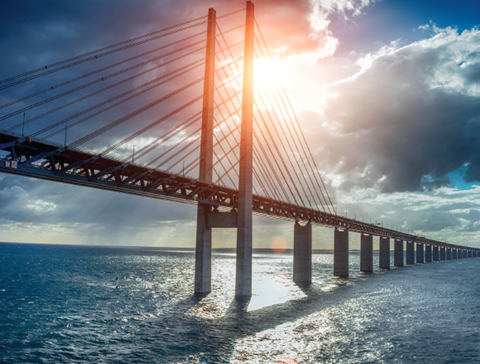 Is the Nordic dream of a unified Danish-Swedish pensions market over?
Key points
• Nordea Life & Pension has sold its Danish arm to a customer-owned association
• Danica Pension closes competitive gap with rival PFA through SEB Pension acquisition
• Skandia sells Danish unit to AP Pension; takes over AI Pension in Sweden
In the 18 years since the opening of the Øresund Bridge between Denmark and Sweden, links between the Nordic neighbours have also tightened in many less concrete ways – and land on both sides of the national border is now officially called the single Greater Copenhagen metropolitan area.
But over the past year the pensions sector has seen some Danish-Swedish integration unravelling, with the Danish arm of a Nordic financial group splitting, and some Swedish providers retreating from Denmark to focus on their domestic market.
In 2016, in a complex ownership transaction, the Danish arm of the pensions business belonging to pan-Nordic bank Nordea began to peel away from its equivalents in Sweden, Norway and Finland.
Nordea's owners sold 25% of Nordea Life & Pension Denmark to the association Foreningen NLP, which is jointly owned by Nordea Life & Pension Denmark's customer base of about 330,000 people.
The association then changed its name to Norliv, hired one of Denmark's most experienced financial managers in Lars Wallberg – the former CIO of pension fund LD – as its chief executive, and began to take a more active role with its DKK8bn (€1bn) of investment assets and in deciding how to deploy the proportion of funds earmarked for charity.
In January, Norliv boosted its stake in Nordea Liv & Pension Denmark to 70% and announced that it would fully own the business within the next few years. With the transformation almost complete, the Danish business revealed this summer that it would rebrand, taking on the new name Velliv (Well Life), with Norliv changing name once more, this time to Velliv Foreningen (association).
Having lost the Danish part of the life and pensions business, Nordea has been restructuring the operations in Sweden, Norway in Finland – after losing key people in the investment subsidiary, which was integrated across all four Nordic countries less than two years ago.
Anders Schelde, the CIO of the Danish business, joined the pension fund for academics employed in public-sector schools and universities, MP Pension, as CIO in July 2017, and Jesper Nørgaard, NLP group CIO, left at the beginning of February to join Sampension as deputy CIO.
Since the first signs of the Nordea Life & Pension split, other pension providers with operations in both Denmark and Sweden have moved back to their home markets.
Danske Bank's pensions subsidiary Danica Pension struck a deal in December 2017 to take over the Danish activities of SEB Pension – a subsidiary of Sweden's Skandinaviska Enskilda Banken (SEB). The merger allows Danica Pension to close the size gap differentiating it from its rival, the commercial mutual pensions provider and market leader PFA.
For SEB's part, selling the Danish pensions unit fits in with its overall direction of travel, according to Johan Torgeby, SEB's president and chief executive. He said it was "consistent with SEB's strategy allowing us to continue to grow with our core customer segments and accelerate the transformation of the bank".
Lucrative market growth
For its part, Danica Pension shows no signs of avoiding its ambitions to expand pension sales in neighbouring countries, and has apparently been making inroads into the Swedish pensions market in particular.
In 2017, premiums in Sweden grew 39%, compared with 10% in Denmark and 8% in Norway, according to Danica's annual report. The year before, the Danske subsidiary said its strategy to grow market share in Norway and Sweden had led to a 17% rise in premiums in Norway and a 13% increase in Sweden.
However, Danica Pension and its parent have been battling serious problems since the SEB deal, though only tangentially related to the takeover. The money-laundering scandal which was uncovered at the parent bank's Estonian branch came to a head in September when a report into the failings was published by an independent firm of lawyers – but paid for by Danske Bank.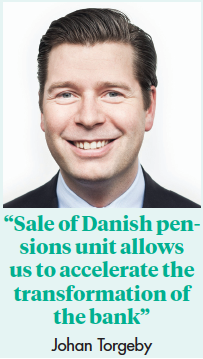 According to the report, staff in Tallinn, Estonia's capital, might have helped customers, or colluded with them, on suspect transactions, and a significant part of about €200bn of deals is likely to be suspicious.
Separately, in August Danica Pension admitted to suspected breaches of competition law related to a joint bid made with labour-market pension provider PKA for the occupational pensions business of retailer Salling Group. The problem is understood to have emerged at Danica Pension as work was being done in connection with its proposed takeover of the Danish side of SEB Pension.
In August, the smaller but commercially acquisitive labour-market pensions provider AP Pension managed to double its business by snapping up another Danish pensions subsidiary being shed by a Swedish financial group.
Saying the sale would allow it to concentrate on its Swedish business, Skandia signed a deal to sell Skandia Denmark to AP Pension.
Domestic focus
Skandia is a large Nordic financial group, with over SEK600bn (€57.8bn) in total assets across all operations, but Frans Lindelöw, chief executive of Skandia said the group was now focusing on its home market. "We sold our banking business in Norway previously as part of this strategic process, and now we think the time is right to sell Skandia in Denmark too," he says.
Bo Normann Rasmussen, the chief executive of AP Pension – which is a customer-owned company – said the acquisition would give his company a stronger foundation and various synergies. Underlining its domestic focus, Skandia has agreed to take over the Swedish pension fund for architects and engineers – a scheme that has been under pressure from stricter regulation in the pensions industry.
Under the deal, which will leave the AI Pension name and brand intact, Skandia will acquire AI Pension's stock of insurance and operations, subject to approval from the Swedish Financial Supervisory Authority.
The prospect of IORP II, the EU-based pensions regulation coming into force next May, did not bode well for AI Pension's future competitiveness. The fund said that to meet the new requirements it would have had to hire more people, leading to an increase in costs that would hit its members.
With just SEK7.87bn in assets under management, AI Pension is a hundredth the size of Skandia in terms of business volume, but larger Swedish pension providers are likely to find many pensions minnows in their nets in the next few years.
The Swedish pension market is in a state of flux owing to regulatory change. Smaller providers are arguably facing a tipping point as occupational pension providers because of the demands of IORP II. In addition, fund providers in the premium pension system's funds marketplace are being squeezed out.
Many smaller fund companies which have been listed on the PPM's fund marketplace platform until recently could find themselves excluded by the newly drawn contract whose conditions they have to meet.
Fund company numbers are likely to be whittled down further in 2020 when the second stage of the PPM reform is implemented, which will bring in a tendering process that companies will have to pass through.
What lies at the root of Swedish pension providers' retreat from Denmark?
Doing business in both countries presents obstacles, with the two economies and cultures having some substantial differences and the two currencies being subject to a particular set of forces.
While the Danish central bank resolutely pegs the Danish krone to the euro, for example, the Swedish krona is not fixed. Over the past six years the currencies have diverged significantly in value on the foreign exchanges. In 2012, one Danish krone bought SEK1.12, but today can be exchanged for as much as SEK1.42.
One Swedish pensions expert suggests that the return to a domestic focus could simply mark the end of an expansionary transnational experiment in pensions provision that has been going on for the last two decades – part of a Nordic dream of unity, and the logical extension of the deregulation of banking and financial services that took place towards the end of the last century.
What was perhaps optimistically thought of as one pensions market turned out to be two. "It's easy to think that selling pensions in Sweden could be the same as marketing in Denmark, but they are in fact two quite different markets," says one Danish pensions insider.
Meanwhile, Denmark is still reeling from revelations surroundings the money-laundering fiasco at Danske Bank's Estonian operation. Time will tell whether the scandal – in which illegal business is suspected to have been happening between 2007 and 2015 – will rattle managers at other Nordic financial institutions, which have been happy to expand into neighbouring countries.
Nordic Region: Shifting borders
1

Currently reading

Nordic Region: Shifting borders

2

3

4