Monitoring and managing liquidity will be a major issue for many US pension funds in 2022. The risk of a liquidity crunch affects public systems above all, but corporate plans are not immune.
"Liquidity is top of mind in all the work my group is doing right now," says Jay Kloepfer, director of the Capital Markets Research group at investment consulting firm Callan, whose institutional clients are both public and corporate plans.
"Some of the big pension funds are becoming more and more complex and taking more and more risks with alternative assets. The major question we ask them is: how much liquidity do you need to pay the monthly benefits to your members? Also, how long can you go if the stock market declines a lot? Up to six months?"
The period during which most of Callan's clients had to deal with liquidity problems, from October 2008 to March 2009, indeed lasted six months.
"Even short-term bonds that were not T-bonds were frozen, illiquid," recalls Kloepfer. "Now they understand they need liquidity as a buffer, and they know it is a cost, because government bonds do not yield a lot. Corporate funds have much more liquidity because they moved to liability-driven investments, so in their portfolios there are a lot of bonds. But many still have 20% to 30% in stocks that may be a problem."
Public pension funds have historically been able to sell bonds to get cash during equity market downturns. But over the past two decades, their fixed income portfolios shrank to 24% of assets from 33%, according to the Boston College Center for Retirement Research. And they are now aiming to keep only about 0.8% of their holdings in cash, while increasingly turning to illiquid private markets to enhance returns.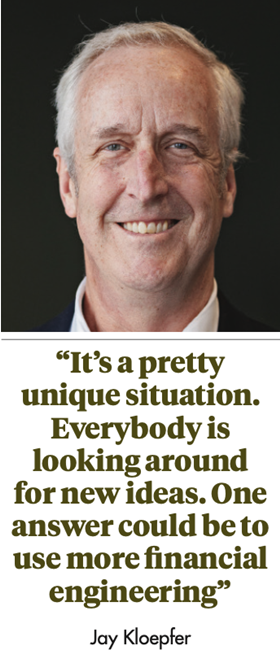 That is a potential problem, according to Ronald J Ryan, CEO of asset and liability management firm Ryan ALM. "The value in bonds is the certainty of their cash flows," he explains. "This is why bonds have always been used to defease and immunise pension liabilities. Bonds should be separated as the liquidity assets to fund benefits plus expenses chronologically. This buys time for the growth assets to grow unencumbered. The longer the horizon that bonds can fund, the higher the return on equity on growth assets."
Obviously, it is difficult to make general statements about the industry. "Each pension plan is different," says Jeffrey Nipp, principal and senior investment consultant at the independent risk management, benefits and technology firm Milliman. "Many corporate plans are in a wind-down mode, they are frozen and have adopted LDI strategies. The public funds keep going on and can accept more liquidity risks. They have hopefully learnt the 2008 lesson and they know they have to think about their liquidity needs. We see a greater sophistication of fiduciaries and plans. They focus on how to build resilient strategies."
Angela Antonelli, executive director of the centre for retirement initiatives at Georgetown University, agrees that "pension fund managers have become much better at monitoring and managing liquidity, so there is no reason not to explore the inclusion of other asset classes".
She adds: "Our research has focused on greater asset diversification in private sector defined contribution plans and concluded that including a modest allocation to alternatives, for example, in a target date fund can lead to better retirement income outcomes."
"We have seen some reductions in the liquidity of asset allocations, but not for all our clients, who are corporate pension plans," says Christy Loop, director of investments at Willis Towers Watson. "There are a number of clients whose objectives, time horizon and cash outflows would limit their ability and willingness to reduce the liquidity profile of their asset pool, such as those with a desire to terminate their pension plan." WTW recommends sponsors use scenario analysis and stress testing to assess both the potential outcomes and the resulting liquidity impact on their investment programme.
"Given the events over the last couple of years and resulting liquidity crises from stressed market scenarios, most sponsors likely have or will be integrating this type of analysis into their ongoing monitoring activities," adds Loop. "What remains to be seen is whether those sponsors that had difficulty executing a re-balancing plan or liquidity raise in March 2020 have identified the governance, process and resourcing deficiencies, along with a corrective action plan for future scenarios. Specifically, have appropriate delegations of authority been implemented and which resources will be responsible and accountable for future execution when plan or market conditions warrant action?"

Everyone agrees that 2022 will be a very difficult year to navigate. "Many professionals in the pension fund industry come from the best 18-24 months of returns of their career, and they are facing the weakest expectations in 20 years," points out Kloepfer.
He adds: "It's a pretty unique situation. Everybody is looking around for new ideas. One answer could be to use more financial engineering. Some large public funds, for example, are leveraging the whole portfolio, and that requires a lot of understanding of the consequences. We help our clients understand what they need and what they should expect if they choose a very complex strategy such as leveraging: is that right for their organisation?"
Nipp confirms: "The prime issue for everybody is what to do in a low return environment. The answer depends on the risk tolerance, size and needs of each particular pension fund."