The COVID-19 pandemic is having an immediate and transparent impact on American defined contribution (DC) plans. But it also has implications for defined benefit (DB) plans in the long run, and it cause changes to the methodology used to calculate liabilities.
First, DC plans such as 401(k) and Individual Retirement Accounts (IRAs) are affected by the $2trn (€1.8trn) Coronavirus Aid, Relief, and Economic Security (CARES) Act. The new rules allow "hardship withdrawals" and loans of up to $100,000. "That is OK for people who are desperate for money but long term it will have a negative impact on people's retirement savings," says Robyn Credico, Willis Towers Watson DC consulting leader, North America. "If DC plan members take the money they will lose all the value that they could get when the market goes up again. Every plan sponsor should look at its plan's members and understand what their needs are: are they really hurting? A company can decide what options to offer and not make it easy to withdraw money."
"Most of the CARES Act provisions are optional," says Neil Lloyd, partner and head of US DC Research at
Mercer. "We do know that plan sponsors are deliberating what they should do. Some are definitely concerned about the long-term impact of distributions and loans on retirement adequacy. Ultimately we expect the responses to vary by industry with the industries more affected more likely to implement these provisions. It is a tricky issue, though, since plans sponsors can assess how their employees have been impacted by COVID-19 but they are not in as good a position to assess the impact that COVID-19 has had on spouses or dependants."
"The record keepers are scrambling to change the systems and comply with the new temporary rules," says Credico. "They were prepared for smart working and they also have organised call centres from home. They are doing much better than during the 2008-09 financial crisis."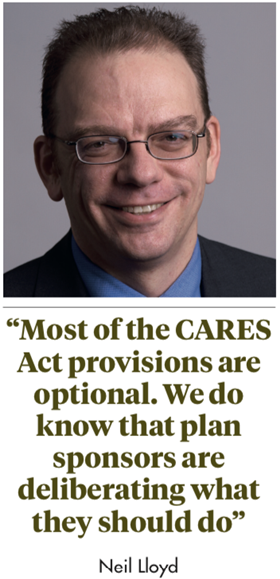 There is one common trend with the global financial crisis. "In 2008, a lot of companies suspended contributions to 401(k)s, then they reinstated them after the crisis," says Credico. "I expect they are doing the same now. The difference is that in 2008 they also cut healthcare benefits; today it would not look good and I think they will not do it."
In March, Amtrak, La-Z-Boy, Mattress Firm and Sabre were among the first companies suspending or reducing matching contributions to employees 401(k) plans. Marriott and Macy's have delayed their 401(k) match to later this year.
According to Willis Towers Watson, companies that suspended their contribution matches during the 2008 financial crisis did so for a median of 12 months. In a 2011 survey of 260 employers that had suspended their matching contributions, 75% reported restoring it by 2011. Of those that reinstated the match, 74% did so at the previous level; another 23% used a less generous formula.
With respect to DB plans, it is too early to see how much damage coronavirus is doing to them.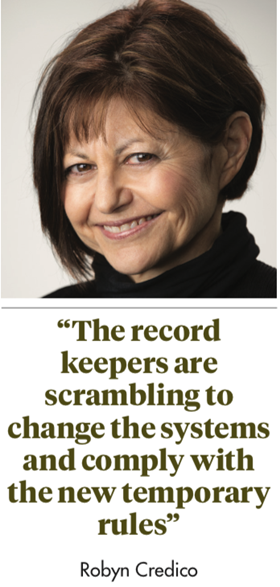 "We estimate that the average US corporate DB plan was 88% funded at the end of 2019, and fell to 79% funded at February 29, 2020 before falling further in March, but a sharp increase in spreads during March lowered liability values and improved funded ratios," says Jay Love, partner at Mercer.
"The CARES Act gave relief also to DB pension funds, because any cash obligation for the remainder of the year can be voluntarily deferred to January 2021," says Zorast Wadia, principal and consulting actuary at Milliman. "That is a huge help for many pension funds that are not cash rich. Moreover, the 2020 funding status can be based on 2019 data, so benefit restrictions will not be necessary. Our key message to corporate plan sponsors is do not panic but use this extra time to plan for the future: ask actuaries for a multi-year projection of obligations and set aside funds to deal with possible contribution spikes."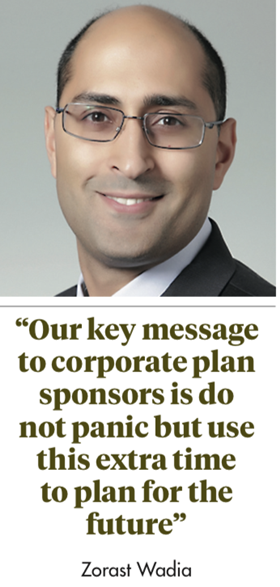 Even before coronavirus, state and local public DB funds were in bad shape; only 72% funded, according to Boston College's Center for Retirement Reseach. "The most vulnerable ones have cash to pay benefits for at least five years, so there is no need to worry right now," says Alicia
Munnell, professor and CRR director. "But another drop in the funding status will be an issue for public administrations that will have to make hard decisions. We think that a 100% funding status is ideal, but maybe it's not reasonable. Our take is that benefits that were decided many years ago, from the '30s to the '70s, are the cause of unfunded liabilities. In fact, only in the '80s and '90s many states started funding their pension funds. So the problem is a legacy cost. We need a thoughtful conversation about a different approach to funding."
To read the latest IPE Digital Edition click here