Pension funds and other institutional investors used to invest in hedge funds aspiring to outperform public stock and bond benchmarks. Now, after years of disappointing performances, they have changed their attitude. They still invest in hedge funds, but the new expectation is simply to get a few percentage points above the return on zero risk investments.
Moreover, these lower expectations are motivated by interest rates persisting at historical low levels. That is good news for hedge funds that offer "uncorrelated" strategies: they are receiving fresh inflows from pension funds that buy them as substitute of fixed income.
"We are seeing this trend among most pension funds: they have reallocated their assets away from low yielding traditional fixed income mandates into hedge fund with uncorrelated strategies," says Donald Steinbrugge, founder and CEO of Agecroft Partners, a hedge fund consulting and marketing firm. "The expected returns of those strategies vary from 2.5 to 4 percentage points above LIBOR or short-term Treasury bonds or even cash."
At the same time, pension funds are still concerned about achieving a 7-7.5% assumed total return, and improving their funding status. So they are increasingly interested in new alternative strategies promising attractive performances. One strategy in demand is cryptocurrencies, according to Steinbrugge.
"Cryptocurrency strategies are evolving from being considered exotic and speculative to being more broadly accepted," he says. "Pension funds are doing a lot of research about these strategies. However our last survey of institutional investors reveals that not many of them will consider this kind of investment in the short term."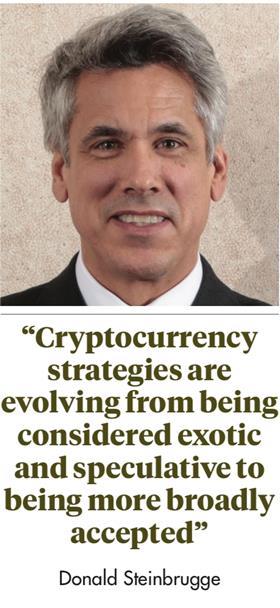 Two pioneering pension funds from the State of Virginia are the $4.8bn (€4bn) Fairfax County Employees' Retirement System and the $1.6bn Fairfax County Police Officers Retirement System. In 2018, they invested $21m into the Morgan Creek Blockchain Opportunities Fund, managed by Morgan Creek Digital Assets, a subsidiary of Morgan Creek Capital Management. In 2019, they committed an additional $52m to the second iteration of the fund, which offers exposure to the blockchain infrastructure than cryptocurrencies. As of 31 March 2021, Fund I had a return on invested capital of 4.4 times and Fund II was 3.4 times, according to Mark Yusko, founder, CEO and CIO of Morgan Creek. In April 2021, the two Fairfax retirement systems made another $16m commitment to Morgan Creek's third iteration of its fund, and a $16m commitment to Blockchain Capital V, managed by Blockchain Capital.
"The Fairfax retirement systems consider these funds as private equity investments, but the line between hedge funds and private equity is blurring," says Steinbrugge. "Besides, today pension funds tend to include certain hedge funds in other parts of their portfolios. For example, hedge funds specialising in direct lending or distressed debt are included in the fixed income portfolio; equity hedge funds go into the equity portfolio; and less liquid strategies go to the private equity portfolio."
Another trend among pension funds investing in hedge funds is lowering the minimum assets required to hire new managers. "Now it is down to $100m," Steinbrugge says. "It is difficult that it goes even lower. So most pension funds don't take into consideration small emerging managers, including high profile ones who left big famous firms: they promise great returns, but they seldom deliver, because without the support of a big firm they cannot be successful as before."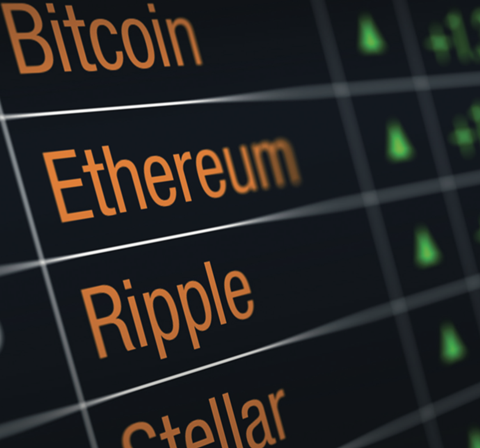 Costs have fallen too, from the original 2-and-20 standard fee structure of hedge funds. "Pension funds have been able to negotiate fees," he says, "and for mandates above $100m it is not uncommon to get 1% annual fees plus 10% performance fees."
It will be interesting to see, from the annual reports of the fiscal year ending June 2021, whether this new approach to hedge funds is really helping pension funds achieve their proscribed goals.
During the March and April 2020 COVID-19 related market turbulence, many pension funds changed their tactical allocation. "They shifted out of uncorrelated strategies and into other strategies to take advantage of the equity selloff, but it was only a temporary shift, and later they went back to the original asset allocation," says Steinbrugge.
The Fairfax retirement systems, for example, in early April 2020 cut by five percentage points its Absolute Return portfolio – that has a 20% target exposure – and added more distressed debt mandates, more gold, and equity correlated investments. But in the fiscal year ending on June 2020, its investment return was only 2.85%, net of fees, below the long term return target of 7.25%. It remains to be seen whether the strong recovery of capital markets during the final quarter of 2020 improved the returns of the Fairfax systems and of other pension funds that implemented the same tactical shift.
See Ahead of the Curve, p68