By the first half of this year, the United States Supreme Court is expected to issue a decision that could affect the defined-contribution (DC) industry. The case is Hughes vs Northwestern University, one of about 150 similar class-action lawsuits filed nationally in the past few years, alleging that plan fiduciaries breached their duty of prudence under ERISA, the Employee Retirement Income Security Act of 1974.
Northwestern University's DC plan is a 403(b) plan, not a 401(k). The latter is common in the for-profit sector, while 403(b) plans are sponsored by educational institutions and other not-for-profit organisations, and have been operating before ERISA.
Historically 403(b) plans offer annuities, which guarantee a minimum rate of return. They also have more than one record-keeper. Northwestern University's plan has two investment providers and record-keepers. They are: TIAA (the Teachers Insurance and Annuity Association), which offers several annuities; and Fidelity Investments, which offers primarily mutual funds.
Before a review in 2016, Northwestern's 403(b) plan offered 242 investment options; currently, there are only 40.
The plaintiffs allege that Northwestern breached its fiduciary duties by overpaying for record-keeping fees and that the sponsor should have maintained one record-keeper only, in order to pay less in fees.
The plaintiffs also claim that too many options caused confusion among participants; that many funds were expensive because of a lack of economies of scale; and that the university offered participants retail-class shares instead of cheaper institutional-class shares.
The 7th district court found no breach of fiduciary duties, noting that plan participants could freely choose the more desirable funds and ignore the others. But the US Solicitor General's office concluded that the ruling was incorrect, saying that "ERISA fiduciaries may not shift onto plan participants the burden of identifying and rejecting investments with imprudent fees".
The implications could be very broad, as the potential ruling may apply to any DC plan under ERISA, according to Jana Steele, senior vice-president and DC consultant at pensions advisory firm Callan.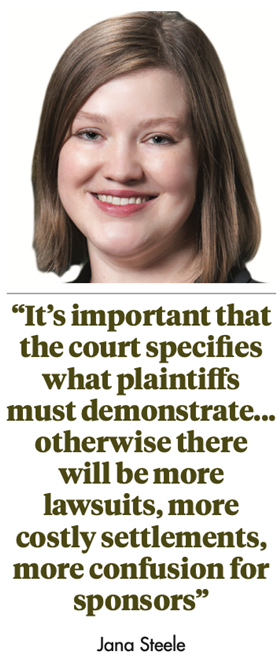 "For the industry, it's important that the court specifies what plaintiffs must demonstrate to show that a sponsor didn't follow the 'prudent man' rule, otherwise there will be more lawsuits, more costly settlements, more confusion for sponsors," says Steele.
However, the court's ruling may be much narrower and might not provide the clarity that plan sponsors desire. Callan's advice to sponsors is to review the number of funds offered, in order to achieve larger economies of scale and lower prices and pay attention to any revenue-sharing between investment managers and record-keepers, and how the revenue sharing is managed. Steele says: "Sponsors must always discuss what are the best benefits for participants, and document each step taken to demonstrate every decision is made as a 'prudent man'."
Shawn O'Brien, senior analyst at Cerulli, agrees that the court case could prompt some plan sponsors to evaluate the number of investment options in their line-ups. "But this one is interesting," he says, "because, in order to qualify as a 'safe harbour' plan under ERISA section 404(c), a plan needs to offer a broad range of investment alternatives that allows participants to reap the benefits of diversification."
O'Brien also points out that a lot of the high-profile ERISA class-action litigation is taking place in the large and mega plan segments of the 401(k) and ERISA-covered 403(b) markets. "Key investment decision-makers in these market segments are plan advisers, consultants, and plan sponsor investment committee members," he says.
"By recognising how this litigation may affect the investment decision-making of plan fiduciaries, asset managers can structure and position their investment products to resonate with the fiduciaries" - Shawn O'Brien
"Asset managers must understand the ERISA fiduciary standards to which these key plan-level decision-makers are beholden. By recognising how this litigation may affect the investment decision-making of plan fiduciaries, asset managers can structure and position their investment products in a manner most likely to resonate with plan fiduciaries. For instance, many asset managers should make clean, low-cost mutual fund share classes, or collective investment trusts a main focus of their product development efforts," adds O'Brien.
Cerulli recommends that asset managers illustrate how their actively managed product can deliver superior performance net of fees or provide unique diversification benefits.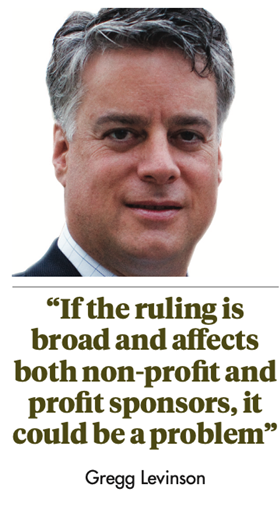 Gregg Levinson, senior director for retirement at Willis Towers Watson, hopes that the Supreme Court ruling will be specific, concerning only the non-profit sector. "The problem is the structure of 403(b) plans that only after 2009 have been really affected by ERISA," Levinson explains. "The traditional 403(b) plans have historically included a lot of annuities, their contracts are locked for several years, typically seven, and sponsors cannot easily change that. The annuity assets are illiquid, difficult to move immediately from one provider and record-keeper to another."
That means, in Northwestern's case, that consolidating TIAA annuity assets into Fidelity in order to have only one record-keeper would require a long and complicated transition. "There is value in annuities," says Levinson. "Many university employees like them because of the minimum rate of return. The Supreme Court could decide if it is okay for a 403(b) plan to have both annuities and investment options. If, instead, the ruling is broad and affects both non-profit and profit sponsors, it could be a problem."