Norway's local government fund makes extensive use of ESG strategies
KEY POINTS
KLP adopts a high level of transparency in ESG.
Sends staff on field trips to examine ESG problem areas first-hand.
Recommendations from the Government Pension Fund Global's Council on Ethics provide useful input.
Now has NOK1bn committed to impact investing.
Norway's Kommunal Landspensjonskasse (KLP) is a unique institution with an unusual accountability structure. The NOK596bn (€65.3bn) pensions provider counts 419 of Norway's 445 municipalities and counties as its clients, with each of these run on an open basis by an elected mayor and municipal board members who are answerable to local voters.
With so many eyes trained on its investments in a country sensitised to the ethics of wealth ownership by the dominance of its sovereign wealth fund, the Government Pension Fund Global (GPFG), openness over its environmental, social and governance (ESG) decision-making could be seen as a challenge or a necessity.
For Annie Bersagel, acting head of responsible investments at KLP Kapitalforvaltning in Oslo, the level of transparency in KLP's ESG approach is the main aspect in this area, setting it apart from other institutional investors.
KLP publishes the exclusions its makes on ethical and sustainability grounds and provides a detailed rationale. It also publishes a list of companies it has engaged with, as well as its voting record.
"We really have two reasons for doing this," she says. "Firstly, transparency creates impact. For example, as a minority shareholder, our decision to vote against the board might not be noticed if it weren't openly available on our website. We have a greater amount of influence by communicating our voting record in a transparent manner.
KLP'S KEY DATA
Public sector occupational pension provider
Location: Oslo, Norway
Employees: 950
AUM: approximately NOK600bn
Founded: 1949
Mutually owned by local authorities
"These are rather liquid securities, and there are always other investors all too willing to buy them, so we are under no illusion that divestment has any real financial impact on the company. Nevertheless, when we are open about our opposition, that's less palatable for the companies."
The second reason is the disciplining effect of publicising its exclusion rationale. "We are responsible for documenting exactly how a given company's activities run afoul of KLP's guidelines for responsible investment, as well as the information upon which that conclusion rests," she says
Although other institutional investors have sent representatives to far-flung places to investigate a situation affecting ESG principles, KLP has been notably active in sending staff out to examine problem areas around the world. "We have done it where practicable," Bersagel says.
In December 2016, Bersagel made a field visit to the Standing Rock reservation in North Dakota, the site of protests by the Sioux people and supporters in opposition to the construction and operation of the Dakota Access oil pipeline (DAPL).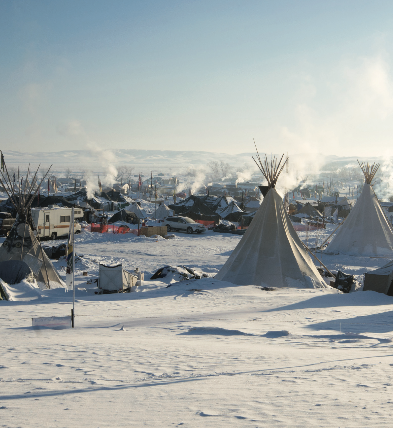 In September 2016, Bersagel's colleagues, Marte Siri Storaker and Jeanett Bergan, took part in a palm oil visit arranged by UNPRI in Sumatra.
And in November 2014, Bersagel and KLP colleague Odd Rune Heggheim went to Myanmar following years of investor engagement with companies operating there, meeting representatives of Telenor, Coca Cola, Total, Ericsson and Daewoo International.
"You get a better understanding of what the situation is like and the context around it," Bersagel says. "You see why certain cases might particularly engage our stakeholders and the background to them. There's a sense you get from driving through the community of what is going on; for example, you might notice that there are more government offices than private businesses, and this provides you with an insight into the backdrop to a situation," she says.
But, she acknowledges there can be limitations to the hands-on approach. "If we're looking at an area that might be dangerous or slightly inaccessible, you often have to rely on the companies to serve as guides, and those helping you might only show you what they want you to see," she says, citing Western Sahara or Kurdistan, which KLP's director of corporate responsibility, Heidi Finskas, visited several years ago, as examples.
"Nevertheless, we have still received information from trips that wouldn't have been possible to access from a distance," she says.
Even when discussing issues with companies over video conference, she stresses it is possible to evaluate the consequences of what is being said and take note of cases where, for instance, the executives are being inordinately defensive.
KLP first adopted ESG guidelines in 1997, and the first exclusions it made were tobacco companies. The impetus to divest from this sector came from the healthcare side of the municipalities that are part of KLP's mutual ownership, and Bersagel points out that KLP made these exclusions before the GPFG.
"KLP was in this space fairly early, and we owe a great deal to our owners. Because our commitment to ESG was shaped by their initiative, we never had a very controversial decision to make on that score," she says. "We support the Norwegian code on corporate governance, NUES, and we have been part of the process of developing that.
"After our first set of ESG guidelines, there have been updates over the years, and it was a natural evolution of our policy that we became a member of the PRI (the Principles for Responsible Investment) in 2007."
The GPFG's ethical guidelines are almost identical to KLP's and reflect the pillars of the UN Global Compact framework for businesses, which includes ten principles on human rights, labour, the environment and anti-corruption.
Having a set of guidelines in common with other investors is important because it allows KLP to work with other institutions, and preferably in the same direction, making its voice louder and more effective, Bersagel says. Recommendations from the GFPG's Council on Ethics are useful inputs.
The four main tools KLP has to implement its ESG policy are excluding companies; its active ownership policy; integration of new investments using ESG, and impact investments. "Impact is a fairly recent addition to our toolkit, which started in 2013, and we have now doubled the amount committed to this area to NOK1bn," she says.
KLP has invested in Norfund — a private equity company set up by the Norwegian government two decades ago — to help developing countries tackle poverty through economic growth, as well as in renewable power projects.
While KLP has no mandate to invest in green bonds, it does hold them as part of its fixed income allocation. Norwegian Hydropower bonds, issued well before the term 'green bond' was coined, have been part of the institution's portfolio for decades.
Does KLP seek to be a leader in the area of ESG? "We do have an ambition to be a leading institution in terms of responsible investment," she says.
As the largest provider of index investments in Norway, KLP has a universe of some 3,000 companies, which is a challenge for ESG monitoring.
"We're sometimes asked, why can't you have a narrower universe for these reasons, but we have an obligation to offer a quality financial product, and were we to significantly narrow the universe, that could be compromised," Bersagel says.
"A key part of what we do is to deliver pension assets to our customers, but if KLP is able to achieve a higher return than the 3% required for pensions, a lot of that goes back to the municipalities who are then able to spend it on things like public childcare and health services. So, we have an incentive to keep returns strong," she says.
Sweden: AP funds power on
1

2

3

4

5

6

7

8

Currently reading

Norway: Ahead of its time