The Turkish private pensions system experienced exceptionally strong growth in 2013 following the introduction of a 25% government contribution top-up in January that year. Today, the system, which attracted more than a million new members last year, consists of 18 firms investing €9.95bn in 237 funds for some 4.53m pension savers.
The under secretary of the treasury, Ibrahim Halil Çanakcı, has described 2013 as a "significant milestone" in the growth of private pension funds. Over the year, assets in the system increased by 29%. "One million new entrants to the system is a two-fold increase compared to the preceding year. We are observing with happiness the contribution [of the private pension system] to the development of our economy and capital markets, whilst pension savings are growing," Çanakcı wrote in the 2013 report of the Turkish Pension Monitoring Centre (EGM).
From January 2013, the Turkish government has been matching 25% of individual contributions up to TRY1,000 (€350) a month. Participants have access to government contributions through a gradual vesting system – 15% after the first three years, 35% after six years, 60% after 10 years and 100% at retirement at the age of 56.
The pension industry, however, is still small considering Turkey's 76.6m population. The ratio of pension assets to GDP was just 3.8% in 2012 – in the Netherlands and Switzerland the equivalent ratio was 155.4% and 113.6%, respectively.
Cemal Onaran, managing director of Garanti Pension and Life, which has TRY4.6bn (€1.61bn) in assets, describes 2013 as the "golden year" for the Turkish pensions sector. Garanti Pension gained 153,000 new pension savers and its fund volume increased by 22% over the year.
"The new legislation increased public awareness about private pensions. We believe this growth will continue this year," Onaran says. "GDP growth will increase disposable income and that will result in higher saving rates. We forecast that the number of pension savers will exceed 5m by the end of 2014."
The private pensions system in Turkey could be further boosted by introducing a compulsory second pillar and directing severance payments into the system, according to Ömer Yenidoğan, CEO at TEB Asset Management, which manages TRY859bn (€300m) of pension assets for BNP Paribas Cardif Pension Company and Anadolu Pension Company in Turkey. Most pension business is through individual plans, while group individual contracts make up 22% of overall assets. The strong pension systems in Latin America are good examples of the advantages of a compulsory second pillar, Yenidoğan believes.
"There is a discussion going on about directing severance payments to the system, which would grow it notably," Yenidoğan says. "Trade unions, however, are not welcoming the idea, so the government is trying to find a middle way. It will take time for this issue to develop further in Turkey."
At a glance
• The Turkish private pension sector manages assets worth €9.95bn.
• This should grow to €11bn by the end of 2014.
• Some 18 companies manage 237 funds for 4.53m pension investors.
• In 2013, Turkish pension funds returned -0.76% on average.
• Some companies plan foreign equity funds, and property funds are now permissible.
Discussion is also focusing on introducing a so-called automatic enrolment system in the market, a second-pillar pension model, which would automatically enrol employees into a workplace pension scheme.
"If the government enforces the second pillar for the entire private sector, the second pillar would grow considerably. Although employees would be given the right to withdraw in the grace period, it would be a great encouragement for them to start to accumulate savings," Onaran says.
Both Yenidoğan and Onaran foresee strong growth over the coming years. "Turkey is an immature pensions market with a lot of room for growth," Onaran notes. "There is still immense untapped potential in the pension industry and the participant numbers will duly grow."
Yenidoğan echoes this sentiment: "We expect assets under management in the industry to reach at least TRY32.5bn (€11.37bn) and the system to have some 5.1m participants by the end of this year," he added.
In search of diversification
Over 2013, foreign currency government bonds and bills recorded the best returns for Turkish pension investors. Allocation to the asset class, however, remained peripheral (less than 1% of all assets) as risk appetite among Turkish pension investors is still very limited. The lion's share of assets (just under 60% of the average portfolio) is currently invested in treasury bills and government bonds, which returned -0.32% last year. The remainder is invested in other investment vehicles (18%), stocks (12.9%), reverse repos (7%), foreign securities (1.2%) and money markets (1%), according to Turkey's financial regulator (SPK). The overall return of Turkish pension funds for 2013 was -0.76%
Onaran of Garanti Pension and Life, believes that although Turkish investors still strongly prefer fixed-income investments, equities will be the most rewarding instrument for pension funds in the long term. His company is planning to launch an international equity fund over the coming four years.
"Until 2008, interest rates in Turkey were quite high, at around 25%, so the optimal strategy was to invest in money market or government bonds funds. From 2008 on, however, interest rates fell to 7-8% and investors started to demand for higher returns. This has increased interest in alternative investment vehicles," Onaran says.
Growing knowledge and experience in financial markets is also leading to interest in alternative investment vehicles such as foreign equity funds. "We plan to launch new funds in international equities and commodities in about four to five years. Our foreign stock market investment fund will most likely invest in both developed markets such as the US and Germany, as well as in emerging markets like Brazil, China and Russia. This will respond to the need for alternative investment vehicles and provide a tool for diversification away from domestic risks and vulnerabilities," Onaran explains.
An increase in the firm's overall equity portfolio is also on the cards. Just under 70% of Garanti Pension's assets are invested in local fixed-income, 13.5% in equities and 9.8% in reverse repos. The remaining 7.9% is invested in time deposits, foreign exchange fixed-income instruments, as well as commodities.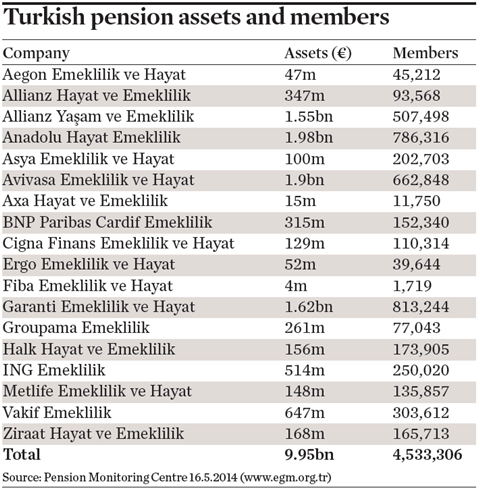 "The equity allocation in our portfolio is higher than the market average already. We are planning to increase that further up to 15% of all assets in two to three years, and to 20% in the long run. We will gradually increase the average equity ratio within our flexible and equity funds as the market prices test reasonably low levels," Onaran adds.
BNP Paribas Cardif Emeklilik, which manages assets totalling TRY899m (€315m), also plans to launch a fund investing in international equities. "Almost all of our existing funds are affected significantly by the developments in domestic financial markets," the firm's general manager Cemal Kişmir said. "Funds investing in alternative instruments avoid these risks. There are funds investing in international stocks and other countries' treasury bonds, but are relatively smaller in asset volumes. Our plan in the medium term is to launch an international fund that will focus on international markets in order to diversify away from domestic risks," Kişmir says.
But Yenidoğan says the conservative approach of local investors limits options for product variety. "To secure better returns, the pension fund industry should enhance equity exposure either in domestic or international asset classes as such," Yenidoğan says. "But exposure to foreign equities is not necessarily a must for the diversification of pension funds here. Exposure to foreign exchange can be attained also via euro bond issuances." TEB Asset Management recently launched its first euro corporate bond fund and is keen to grow its Turkish lira corporate bond fund.
Property fund launches are expected in the medium term. The introduction of property funds was included in recently approved regulations for mutual funds and will probably be expanded to apply to pension funds.
"Property funds will definitely be very popular among pension investors here. We will probably be the pioneers in the field when regulations are finalised," Onaran says, adding that property investments have been very popular in Turkey for several decades.
Year-on-year returns for real estate were approximately 13% in March 2014, according to the Turkish Central Bank. "Because of the increasing demand in the property market, returns are huge compared to other popular investments like time deposits, government bonds and even the stock market in certain periods," Onaran adds.