As the equity markets begin 2019 in worse shape than last year, we asked three European pension funds how they conceive and execute their equity strategy, in order protect the portfolio
Actively passive
Caisse de prévoyance de l'État de Genève (CPEG)

Our investment strategy consists, in a nutshell, of harvesting the premiums provided by each asset class in the long run. Equities provide a premium and that is why we allocate one-third of our portfolio to them. We allocate 10% to Swiss equities and the rest on a global basis. We tend to be more passive-oriented. We have active exposure to the less efficient markets. If you consider the S&P 500, it has averaged around 9% for the last decade. I do not know many managers that have performed in a similar fashion. That market is generally very efficient, yet for the past five years it has been driven by the FAANG [Facebook, Apple, Amazon, Netflix and Google] stocks, which you would not get exposure to through a fundamental active mandate. That is why we prefer active mandates in emerging markets.
We have recently implemented a multi-factor allocation to emerging markets that complements our active portfolios. After extensive research, we concluded that investing with a multi-factor specialist is better. Our investment strategy is a long-term one, however we try to manage short term risks. We try to identify macro or political risk and determine whether they are risks we want to live with or protect against. In that sense, I like to say that we are actively passive. As an example, before the Brexit vote we dialled down our exposure to UK equities. The low-volatility bull market is over, but we remain constructive on equities. We are still experiencing synchronised global growth and strong corporate earnings. We might adopt a more neutral stance this year due to the ongoing political risks. More specifically, we see value in emerging markets and the US but are more neutral on Europe.
Be reactive
Louvre Endowment Fund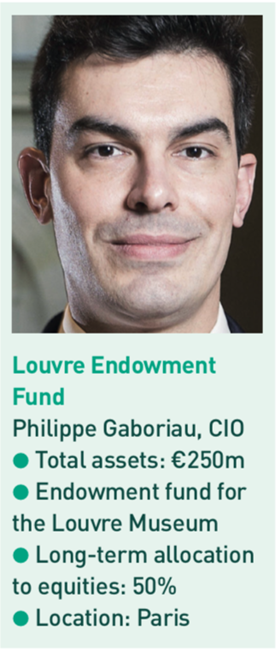 Our benchmark has a 50% weighting to equities, but our portfolio is performing significantly better than the benchmark. Generally, the exposure has evolved, ranging from 45% to 28%. We are firm believers in active management. The only passive allocation is to US equities. We are underweight US equities at the moment, having reduced our exposure to 8.5% of total assets in the early part of last year. Until March 2018, we were strongly overweight in emerging markets but now are more or less neutral at 11%. We are underweight in Europe at 6%. It is difficult to be positive on the region, as global investors seem to shy away from its complexity. We also invest 4% in Japanese equities and 3.5% in an energy fund managed by BlackRock.
We retain a preference to regional funds over global funds. Our country allocation has performed well. Although we see ourselves as being long-term investors, we believe it is important to react to changes in market conditions, something which governance allows us to do. Typically, governance models do not allow investors to adapt quickly. I suspect it will be increasingly complicated for those governance models to produce good returns in the coming years.
Personally, I never developed an interest in smart beta or factor-based strategies. They seem new versions of old strategies. If you invest in an active value fund, you will be implementing that factor bias, but in a more sophisticated way than you would in a quasi-passive strategy.
Gradually reducing exposure
Church of England Pensions Board (CEPB)

We are reducing our strategic equity allocation over the long-term, in order to buy assets which suit our pension scheme funding policy better than equities. The changes we are making are not necessarily because of current market conditions, although obviously we might have a view. Generally speaking, we still believe in the equity risk premium and estimate a long-term annual return of 4.6% over Gilts. However, we see issues with investing in public equity, regardless of the current or future levels. The mark-to-market volatility is one. Furthermore, by investing in equities you are not necessarily getting exposure to the best areas of the economy. We find that the best assets that give you contractual income are found more easily in private markets.
Our strategy is managed by nine managers. We have moved away from a silo basis and begun using style analysis for the entire equity portfolio. We are looking to absorb more absolute risk than with the global benchmarks. We are doing that by adding emerging markets and small-cap mandates. Within the active bucket of our equity portfolio, we have a balance between quantitative and qualitative strategies. Over the years, we have run a relatively concentrated portfolio and retained a small value bias. It is not a significant bias, but we are happy to retain it in the future. This is probably not the time to build a growth bias.