---

Seeking alternative risk premia
We have no explicit allocation to factors in our long-only portfolios. However, we allocate 10% of our total assets to two alternative risk-premia (ARP) strategies, managed by AB Custom Alternative Solutions (ABCAS) and JP Morgan Asset Management (JPMAM), respectively.
Our managers have created a bespoke portfolio for us that harvests alternative risk premia in different asset classes, including equities, fixed income, commodities and currencies.
We target up to 30 different risk premia using systematic, rule-based trading strategies. These can be simple ones, like investing in stocks or bonds with price momentum, or going long cheap companies and short expensive ones. But there are also more sophisticated strategies such as being long realised volatility and short implied volatility. The aim of the ARP allocation is to diversify against the inherent traditional betas that our long-only active managers pick up. You could think of it as a hedge fund beta portfolio, but the cost is significantly lower than building a hedge fund portfolio.
We opted for this approach, rather than allocating to factors in each asset class, to reflect our total portfolio view. It was tough to find a provider that offered a bespoke version of what we wanted.
There are two ways to implement this strategy. ABCAS uses a total return swap on several indices created by investment banks that reflect the different buy and sell positions. JPMAM implements the strategy directly, buying and selling the individual securities. This dual approach provides added diversification.
We have been running the portfolio for almost three years. Last year, the risk-adjusted return was good, while the portfolio fell slightly short of expectations for 2015 and 2016. SPK as a whole, however, performed well last year compared with our peers from a risk-adjusted return perspective.
Combining factors and ESG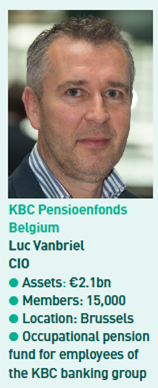 Within the defined benefit section of our pension scheme, we have an equity allocation of 38%, of which 12%, about one third, is invested in smart beta. The allocation to smart beta is split between two strategies. The largest is a minimum-variance approach that focuses on low volatility. The portfolio is benchmarked against the MSCI World All Countries index. The in-house manager of this portfolio focuses on reducing the total volatility by selecting low beta shares. There is also a quant filter that helps determine which stocks have some performance potential. The manager also optimises the portfolio to take into account the sensitivity of stocks to interest rates. This portfolio has a strong ESG component. We apply a sector-neutral and region-neutral best-in-class ESG approach.
The second strategy is also benchmarked against the MSCI World and it allocates to four other factors besides low volatility: value, earning revisions, momentum and dividend yield. This is also an ESG portfolio, but it is centred around sector-related restrictions. The universe is therefore broader.
Last year, the low-volatility portfolio outperformed the benchmark by about 2%, while the multi-factor portfolio slightly underperformed. From a smart-beta perspective, it was a tough year, but it was a positive year overall for our fund.
Factor portfolio provides protection
We allocate around 10% of our total equity portfolio to smart beta. This is about CFH700m (€597m). Our experience with smart beta began three years ago, when we started investing in factor ETFs. Now we have moved to segregated mandates. We have two mandates, one focusing on the US market and the other on the MSCI World. They are both multi-factor portfolios, one focusing on six factors and the other on three. The six-factor portfolio is equal-weighted.
In researching how to implement a smart-beta strategy, we looked at how individual factors behaved and at combinations of factors over different cycles. We opted for a defensive factor allocation. The idea behind it is that in difficult equity markets our factor portfolio should be more robust than just holding the market.
Three years is not a long time and we have experienced ups and downs. The first year, 2015, was positive, while 2016 was more difficult, particularly the last quarter. Last year we slightly outperformed the market. We are still in a testing phase for this portfolio.
Our core equity portfolio, consisting mainly of large-cap stocks, is managed internally with a low-tracking-error approach. We have a several active managers focusing on small and mid caps.
Interviews by Carlo Svaluto Moreolo