---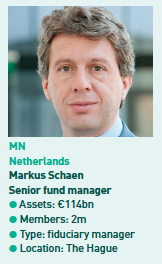 Focusing on under-researched companies is important
We use different sources of research as input for asset allocation decisions and it is the combination of such sources that really makes it valuable. We like to consult various, sometimes opposing, views, and we read them, analyse them and try to understand the reasoning
behind them. Then we distil our own view. We have internal teams that follow specific markets and invest in them directly, but we do not have the depth, local knowledge or local access that some of the large sell-side firms have. Often these firms provide us with information we do not have and cannot expect to have. Our task is to challenge their opinions and views.
Currently we do not acquire research from sell-side firms. We get it free of charge, as it is customary in the pre-MiFID II world. However, we purchase research from some independent research providers like S&P, Moody's, Mercer and eVestment.
We have never had to pay for research explicitly. Some of the contracts with our managers include 'soft-dollar' clauses with respect to investment research. Of course, at the end of the day, buy-side organisations like ours pay for some of the research in some way or the other.
With regard to the issue of MiFID II, and whether asset managers will charge clients for the research they have to pay for, we are still in the process of getting official communication from our managers. So far, it looks that almost all external asset managers will absorb the costs instead of passing them onto us.
As long as external managers absorb the costs we will continue to use their research as we did before. Because so many managers have indicated that they will absorb the costs, I foresee that we will stop using the research produced by firms that will not absorb the costs. There is no real need to continue to use their research when there are sufficient free resources available. It might be different for niche markets, where the amount of research capacity is generally limited and the important providers can therefore charge for their research.
I expect that MiFID II will lead sell-side firms to look critically at their research costs and question the amount spent, particularly in relation to the benefits, which are much harder to quantify. Firms will start with calculating the total research costs.
I assume that, in the past not all firms were able to come up with a concrete number spent on research firm-wide. MiFID II forces them to closely keep track of the funds spent on research and to account for them separately. Some boards might be surprised when they see the numbers. Then firms will try to figure out the benefits of acquiring the research, which are much tougher to express in quantitative form, especially if the costs are not being passed on to clients.
This might lead to pressure at many firms to reduce money spent on research, which can be achieved by lowering the number of analysts and replacing more experienced but more expensive analysts with cheaper, junior analysts. If there are fewer analysts, the remaining ones will have to cover more companies, or the firm will end the coverage of many smaller companies, or a combination of both. In any case, this will harm coverage of the market. Fewer analysts will look at a given company, which is especially true for companies that carry a smaller index weight, and less time will be spent on a company, which should lead to lower-quality analysis.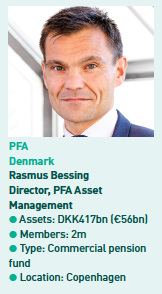 The impact of MiFID II is hard to predict
We use, and will continue to use, research provided by sell-side firms such as brokers and investment banks. The question whether this research constitutes a valuable input in our asset allocation decision is a very broad one. But in general, we would say that good research can be an important factor in successful investment decision making.
We acquire research on companies primarily directly, rather than from external asset managers. We pay for most of the research implicitly through investment management fees, but we have sometimes paid for it explicitly. The majority of the external asset managers we deal with have signalled their willingness to absorb the cost of research themselves once MiFID II takes effect.
"We believe MiFID II should not lead to increased costs overall"
We foresee that we will continue to to use external research. However, when the new rules come into force, we will monitor the cost associated to investment research. We believe MiFID II should not lead to increased costs overall, and we will make sure that the cost of research paid for explicitly results in lower execution cost.
It is very hard to foresee to what extent this provision in MiFID II will change the research landscape. It is not unlikely, however, that it will lead to fewer providers of research.