After the ECB's announcement of more QE, we asked two pension funds how they plan to manage the prospect of lower yields

Overweight Europe
We implemented a liability-driven investment [LDI]strategy to protect ourselves from the risk of falling yields more than a decade ago. Obviously, we did not expect yields to fall as far as they have done, but we knew that a Japan-style scenario in Europe would seriously harm our defined benefit plan.
At the time, we decided that 42% of our assets would be invested in the LDI strategy, with leverage of 200%. To put it into context, the yield curve was around 4.5%. In February 2017, we took down the hedging level to 30%, since the yield curve had become lower. We now have put in place a trigger for further LDI hedging. We will hedge more if the yield curve rises up to 75bps.
According to the results of our latest ALM study, we will increase our allocation to real assets, including unlisted infrastructure and unlisted real estate. We will also lower our allocation to cash bonds and listed equities. We will allocate mainly to core euro-denominated assets in order to protect our portfolio from the currency risk.
We also have a target allocation of 2% to private equity and for the time being we will maintain that level.
Half of our real estate portfolio is invested directly in Belgium. The other half is invested through funds, mostly open-ended, but we will also look at closed-end funds to get exposure to some specific investment themes, such as retail parks and residential. We will invest in infrastructure mainly through funds in order to get broad diversification. However, we will focus on core infrastructure assets, in order to avoid development and currency risk.
We are wary of our currency exposure because we expect the volatility of currencies to be significantly higher than the volatility of euro bonds or real assets. On the other hand, this means we have to be overweight in European assets. We are cautious on the European economy, but we are not too pessimistic either.
If you look at the debt-to-GDP ratios of countries like the Netherlands or Germany, this is far below the level of countries like the US, Japan or China. It is just one indicator but an important one nonetheless. We are not saying the European economy will outperform other economies but we feel the European economy has a level of protection from very bad scenarios such as a global recession.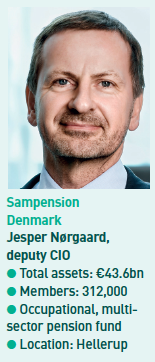 Searching for fixed income replacements
In the months leading up to the recent meetings of the European Central Bank (ECB) and the Federal Reserve, we thought the markets had got slightly carried away and had built expectations that were not going to be fulfilled. In the days before the actual meetings, investors began to reconsider whether those expectations were realistic. This is how we explain the markets' behaviour of the recent months.
We believe markets now have a more balanced view of what the ECB and the Fed can deliver going forward. With regard to the ECB, we will see what they can achieve in terms of supporting the markets and the economy. It will be exciting to see what the new chairperson will do with the parting gift that Mario Draghi is leaving.
What has changed in recent weeks is that while before central banks' recent actions only the front-end of the European interest rate curve was negative, now more or less the entire curve is either negative or around zero. With inflation at current levels, that means low but positive numbers. Real rates are negative for the entire curve.
This has brought us to think hard about our fixed-income portfolios. In essence, the situation means that what once used to be risk-free assets are no longer risk-free. The entire curve is now a risk asset, in the sense that the risks are skewed towards a rise in interest rates. If an outright correction does take place, at the very least, there will be volatility and low returns going forward.
For that reason, we are considering whether there are alternatives to fixed income for our customers. We ask ourselves, particularly for our older customers, would they be better off with real estate, infrastructure or other fixed-income substitutes that deliver long-dated, stable cashflows?
It has been our consideration for the past five years or so, but on the back on the recent developments it has become even more relevant, and we do consider whether traditional fixed-income assets are proper assets to hold on our balance sheet.
The problem is precisely that traditional fixed-income assets carry a lot of risk. Real assets are risky too, and that is why we need to discuss what kind of strategies in that area will protect our portfolios and deliver the returns our customers need.
On the fate of the European economy, I am on the positive side, as opposed to what the market seems to be implying. If you believe that inflation will stabilise between 1% and 1.5%, that is in the lower end of ECB target but above zero, and that nominal yields will stay below zero, the implication is that growth will be very negative. That is not how I see the world. The European economy is more resilient than that.
Interviews by Carlo Svaluto Moreolo