We asked two pension funds to share their views about investing in Europe at this crucial juncture for its economy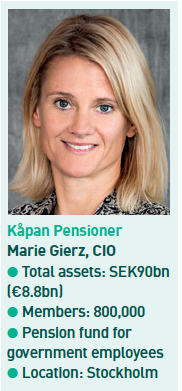 Difficult to find positives
The majority of our holdings in the listed equity space is invested through a passive or enhanced index approach based on the MSCI World and MSCI ACWI indices. Therefore, our exposure to Europe has been falling as the weight of European companies in those indices has fallen. We have also slightly deviated from those indices to increase our exposure to emerging markets, as we think that over time it will deliver higher returns.
Among the 20 largest constituents of the MSCI World, there is only one European company. This is because the European economy is lagging the world. Moreover, the performance of equity indices has been driven by technology stocks recently and Europe lacks those companies. The European economy still consists mainly of traditional industries such as automotive, banks and other cyclical sectors.
Generally, it is difficult to be positive on the European economy. It has been struggling for a long time. The recent slowdown in global growth appears to have affected Europe more severely than others. This is partly to do with the euro crisis, which still burdens the economy. Banks are still reducing their balance sheets and it is difficult to increase risk. Economic structure also matters, since traditional sectors suffer more from a slowdown. Tensions around global trade and politics within the European Union also weigh heavily on the European economy. There are spillovers in Sweden, which is dependent on strong European demand, even though the Swedish economy does have a broader sector mix and a stronger technological component.
We still see opportunities in listed equity markets as well as non-listed alternative assets. Some of our boutique managers can help us add value by finding interesting, high-growth companies that are exposed to the European economy. There are opportunities in European infrastructure, for instance solar energy, as well as in technology in the private equity space.
We are not making an active choice to reduce our exposure to Europe, but we expect it to decrease as we track global indices.
There is a question whether European central banks will be able to support the economy in a recession. They were successful in dealing with the euro crisis, but their balance sheets are loaded with fixed income assets and interest rates remain below zero. I still believe they will be able to deal with a crisis, but countries would need to apply fiscal measures and there is limited scope for that.

Be more entrepreneurial
Perhaps unsurprisingly, our long-term view concerning the European economy is that growth will continue to be slow and interest rates will remain at historically low levels, though slightly higher than at present. We do see inflation rising to the European Central Bank's 2% target, which differentiates us from others.
We are aware of the risks linked with the peculiar structure and the incomplete institutions of the euro-zone, however we do not foresee the collapse of the euro-zone or the European Union. We believe Europe can live through Brexit and other geopolitical events, and that the EU will still be there in 15 years' time.
Investors tend to overestimate the risk of a breakup of the EU, but we do consider such a scenario. The main problem with coming up with a strategy to deal with it is not just that we could not pull out of Europe completely, but also that it is very hard to foresee the implications. For a start, it is difficult to establish to what extent certain regions would suffer. As well as diversifying globally, we try to optimise our currency hedge.
The time of making easy investment returns from investing in European assets is definitely over. Historically, Dutch pension funds have been heavily invested in European government bonds, which was fine when they were yielding more than 5%. Europe is no longer a dynamic economy and we have had to branch out. ABP, our biggest client, has reduced its exposure to Europe from 58% of overall assets in 2013 to 47% in 2018.
That is a large drop, especially considering portfolio size. As total assets have increased, the amount invested in Europe is still larger than five years ago, but exposure to Asian and North American assets has increased. It is unlikely that we will carry on reducing our allocation to Europe at the same pace, but we will continue to diversify across the globe.
Diversifying geographically is one way to deal with lower returns in Europe. However, we are trying to be more entrepreneurial. We are gradually shifting to alternatives to seek higher returns.
Looking at specific trends in the European economy, we see the rift between regions growing. Increasingly, there are high-growth regions and low-growth regions. Large cities are also where most of the economic dynamism is, as their economies are more tilted towards the less cyclical service and technology sectors. That is an easy theme to play for an investor, as it should be possible to invest assets in real estate and infrastructure assets as well as tech companies operating in high-growth cities.
From a tech perspective, we are looking for opportunities to invest in private companies. Some tech companies can stay private and grow for a long time before they go public. However, it is easier to find these opportunities in Asia and the US relative to Europe.
Both diversifying and being more entrepreneurial require more work. We need to build local expertise and carry out deeper due diligence in order to meet our strict requirements in terms of risk, return, cost and sustainability.