In April this year, a textiles factory collapsed in Bangladesh, killing more than 1,000 people working on low-cost garments for Western fashion retailers. Around the same time, the UK food industry started finding horsemeat instead of beef in products whose ingredients were sourced far-and-wide across Europe. In October 2011, floods in Thailand played havoc with the supply chains of the world's biggest companies. Six months earlier, Japan's tsunami disaster rocked its vaunted 'just-in-time' inventory-management culture. Credit-starved companies now see well-stocked inventories as liabilities rather than assets, and struggle to access trade finance from deleveraging banks.
The last five years offered plenty of reasons to row-back against the long, complex supply chains that are the central pillar of globalisation. But natural disasters have always been a fact of life and global trading patterns started to change before the financial crisis, suggesting something structural rather than cyclical. Investors may need to re-think the global economic framework around their long-term portfolios.
Barriers
Figure 1 shows the evidence. Since 2006, the ratio of global imports to production has not moved: a product bought today uses the same proportion of domestic and foreign components as a product bought six years ago. The financial crisis is very visible, for sure, but the pattern was already in place. Moreover, figure 2 shows that China, which sailed through 2008-9, accounts for the steepest drop, starting as early as 2004.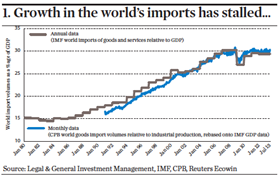 Data from Macquarie detailing the proportion of the US and Europe's containerised trade coming from Asia, shown in figure 3, tell a similar story. Growth in that share peaked in early 2007. Furthermore, the year-on-year change in how much of China's exports were made for non-Chinese manufacturers peaked way back in 2003-4 and has been collapsing ever since, leading Robert Joynson and his team in Macquarie Equities Research to conclude that "the peak of western outsourcing to China may have already passed".
James Carrick, an economist at Legal & General Investment Management, has come to the same conclusion. "The era of growing international trade since the 1940s probably peaked in about 2006," he says. "That was before the financial crisis, which might suggest that this is indeed structural rather than cyclical."
Henk Grootveld, head of equity trend investing at Robeco, agrees. "Something is certainly happening in international trade," he says, listing three reasons that have little to do with the financial crisis, the recession or the consequent protectionism low shale gas prices in the US, converging labour costs and the replacement of more and more human labour with robots, which cost the same anywhere in the world.
For others, it's even simpler: we've enjoyed half a century of markets opening up to the world economy, culminating in China's accession to the WTO in 2001. The levels of manufacturing tariffs illustrated in figure 4 suggest that the benefits of these one-off hits are simply past us.
"We have been shifting towards a new equilibrium where China is in the WTO," argues Carrick. "To get the same growth in import penetration that we saw between 2000 and 2006, we'd need another economy the size of China to enter the WTO."
Investors need a framework within which to understand the main causes, symptoms, risks and opportunities associated with this transition, the sort of trend that thematic investor Sarasin & Partners collectively calls 'glocalisation'.
"The world thinks of global supply chains predicated upon cheap emerging-market labour as part of the DNA of the world's economy," as Sarasin's chief economist Subitha Subramaniam puts it. "Our 'glocalisation' theme doesn't contradict that, but it does acknowledge that the trends of globalisation are shifting."
Value chain
One of those shifts is very well-known. China is allowing wage inflation to rebalance its economy towards domestic consumption. Its manufacturers are moving up the value chain, reducing and changing both its exports and imports.
The biggest decline in China's imports since 2006 has been imports for the 'processing trade', (stuff that goes into export products). Similarly, exports have fallen overall, but exports of processed goods most markedly.
"China used to make phones by importing US, Korean, Japanese and Taiwanese components and assembling them," says Carrick. "Now the parts get manufactured in China and more of the finished products stay there, too. A decade ago if you were Chinese and you wanted a German car it would have to be imported. Now, after so many joint ventures between Western and Chinese car manufacturers, it does not."
This all makes China a less competitive source of low-cost labour for US and European manufacturers. We see that in the levelling-off of Asia's share of US and European containerised imports since 2007.
Where is that labour being sourced from instead? The overwhelming assumption is that it is moving to cheaper Asian production centres such as the Chinese interior or places like Bangladesh, Vietnam and Burma.
"Burma is a new frontier for low-cost manufacturing," says Richard Carlyle, an investment specialist at Capital International, echoing most of his peers. "We are a long way from running out of cheap pools of labour."
But that idea may not be supported by Macquarie's data. During the decade in which China's share of the US's containerised imports rose and peaked at around 40%, the share of the ASEAN group that includes the most often-cited low-cost producers stuck at 7-8%. For the whole of Asia ex-China the share similarly bounces around 22%.
Made in America….
Is some of this stuff now being made in the US itself? The potential is there. While China's wages have been rising, the US's have stagnated. Places like Mississippi and Tennessee have started to look particularly competitive. Research from consultant The Hackett Group indicates that the total cost-gap threshold necessary to trigger a shift of manufacturing from a low-cost market to a developed domestic market averages around 16%, which just happened to be the average 2010 manufacturing cost-saving differential between China and the US calculated by the Boston Consulting Group in its 2011 report, 'Made in America, Again'.
"We've seen a combination of rising EM currencies, rising energy, input, social-security and labour costs," suggests Sarasin's CIO, Guy Monson. "When you feed all of that back into the models, the outsourcing proposition probably looks much less compelling."
Monson is particularly bullish about the transformative potential of the US's shale oil and gas supply, which he thinks could effectively cap domestic energy prices.
"We are seeing some manufacturing returning to the US for a number of reasons, chief of which is probably the energy renaissance," agrees Russ Koesterich, chief investment strategist at BlackRock.
Anecdotal evidence of this is abundant, from Apple's investment in homegrown Mac production, Google's plan to make digital spectacles in Silicon Valley and Walmart's commitment to buying more US products, to less high-profile moves such as Oracle and Ford re-shoring from Spain and Mexico, K'Nex bringing toy production home from China and GE and Caterpillar opening new plants in Kentucky and Texas.
"But the plural of 'anecdote' is not 'information'," as Northern Trust's chief economist Carl Tannenbaum puts it. "The Boston Consulting Group seems to come up with a new report on US re-shoring every other week, but the data isn't there, yet."
Jean-Pierre Couture, who works on macroeconomic research in emerging markets at Hexavest, makes the same point. "FDI data from the US manufacturing sector don't seem to indicate this 're-industrialisation' trend," he insists. "But something has changed: when we ask US companies where they want to invest over the next five years, it's not China anymore, but Mexico or Brazil."
…. o hecho en México?
Again, anecdotal evidence is abundant, especially in auto manufacturing. Mexico figures in the plans of big names like Audi, Honda, Nissan, Mazda and GM. But there is hard data, too. Figure 10 shows how Mexico's US import-market share was devastated when China joined the WTO in 2001, but how it has fought back since 2010.
"Mexico suffered a 'lost decade', really," says Subramaniam. "That has been reversed slightly – it's one place where you can see really clear evidence of a change in trading patterns."
Figure 9 clearly shows why: China's labour now looks just as expensive as Mexico's in the eyes of a US manufacturer. But there may be more to it than that. Proximity improves logistics costs, market responsiveness and quality control. Max Burns, a global equity analyst at Sarasin, notes that when he visited United Technologies' carrier facility in Monterey, the company praised the productivity of their workforce but also its stability relative to China's high turnover. A good-value currency and business-friendly government reforms, including a $300bn-plus six-year infrastructure investment programme, also help.
"Some of this change in supply chains is driven by rising fuel and labour costs, but not all of it," says Burns. "Manufacturers have realised that some R&D and production benefits from being closer to the customer."
He singles-out 3M, whose slogan, 'global capability, local execution', reflects its move, over the past 15 years, from predominately US-based R&D to having just two labs in the US and 32 in the rest of the world.
Carrick at LGIM runs through the main reasons cited by US manufacturers for making supply chains shorter, and they agree with Burns's view. As the lifecycle of electronic goods (like iPhones) gets shorter and the specifications are kept secret for longer, manufacturers whose products respond to or rely on those goods need to turn them out fast. Control over the quality of those designs is easier if manufacturers share a timezone with designers, and control over the intellectual property is tighter, too. Finally, companies responses to changes in consumer sentiment and demand can be much faster.
"There has been an important change in the retail industry towards much shorter product cycles that demand shorter geographical supply chains to cut the risk of delayed responsiveness," notes Peter Hensman, global strategist at Newton Investment Management.
Fashion retailers like Inditex and Benetton, that source initial orders from Asia but turn to local producers in Turkey or Spain for the all-important top-up orders, have greatly reduced cut-price sales with their ability to adjust stock quickly to consumer tastes.
The fact that these are both European companies makes the point that we are talking about near-shoring here, rather than simple re-shoring – getting closer to customers and suppliers, wherever they may be. But it also shows that this is about more than Mexico.
"This is an enormous opportunity for Mexico," says Koesterich. "But many emerging countries that are adjacent to developed markets, in North America or Europe, are potential beneficiaries of these trends."
Burns agrees: "I have focused on Mexico, but we would certainly not discount Turkey or Poland – which, incidentally, has a rather large basin of unconventional gas."
But while Poland and Mexico are the locations most commonly-cited as beneficiaries of the changing trends in manufacturing and trade, the important thing to remember is that we are really describing a broader move away from the simple outsourcing solutions of the globalisation era towards the more complex, product and company-specific solutions of the near-shoring era.
In other words, Mexico is not necessarily perfect for every US manufacturer. United Technologies' Monterey carrier facility is so successful because it can source 97% of its inputs from within a 150-mile radius, says Burns, but its lifts business, Otis, re-shored to South Carolina partly because the logistics for its supply chain in Nogales were inadequate. Ford is re-shoring its large truck production from Mexico to Ohio even as it invests in sedan production in Hermosillo.
Trains, planes and automobiles
This is why, at region and country level, even Asia is not completely losing out. For example, while it adds capacity in Mexico to meet US demand, Nissan is also investing in Asian production of Datsuns for the Indian market.
In Asia, the likeliest losers are those countries, like Thailand or Malaysia, that rode the wave of outsourcing of commoditised manufacturing but failed to move up the value chain. The 'middle-income trap' now threatens as that work moves to Mexico. Contrast Singapore or Korea, which has developed its own globally-recognised brands.
"That story is really told in the difference between a Gold Star VCR from the 1980s and an LG TV, a Samsung phone or a Hyundai car today," says Michael Hood of JP Morgan Asset Management's Institutional Market Strategy Group.
Of course, this has always been Japan's role in Asia and 'Abenomics' is its attempt to maintain it. The weaker yen has already doubled margins for cars made in Japan, says Carlyle at Capital International, but rising wages in China also create new opportunities for its precision machine tool suppliers.
"We have tried to play this idea with companies like Fanuc Robotics and SMC that grew-up servicing the Japanese car industry and expanded into Europe, but now target low-automation Chinese manufacturing," he explains. "You can find companies with strong market positions in often quite niche areas – one that we like produces the guides on which these machines move along the production line. Japan is closer than Germany, and the yen is improving competitiveness."
At sector level, a clear winner is the railways industry – perhaps recognised by Warren Buffett in his 2005-09 acquisition of BNSF, which owns more than 30,000 miles of track throughout the US Midwest and west coast.
Macquarie notes that, after tracking each other closely for years, since 2010 'intermodal' US container volume has grown 17 percentage points more than seaport container volume: stuff moving around the US on trains is growing much faster than the stuff coming in on ships, probably thanks to Mexico's growing share of US imports.
"There are eight car plants in Mexico and at least four more coming online over the next two years, and Kansas City Southern's railroad network, extending from the Upper Midwest down through both coasts of Mexico, is a great beneficiary, hauling finished cars into the US and auto parts into Mexico to feed production," says Burns at Sarasin. "Over the past five years Kansas City Southern has grown revenues 1.5-times faster than its peers, on average, driven in large part by autos-related haulage."
Marcus Svedberg, chief economist at East Capital, makes a similar case for Eurasia's railways and pipelines, arguing that it could soon become cheaper to take Chinese goods to St Petersburg via Vladivostok and the Trans-Siberian Railway, for an onward sea journey to Hamburg or Stockholm, rather than taking the Suez Canal.
"We've invested in logistics companies like Fesco Transportation Group that control many different parts of the value chain of trucks, ships, trains and ports," he says.
By the same token we might expect the shipping sector, already struggling with over-supply issues, to suffer as industrial commodities are traded less frequently and supply chains shorten. The researchers at Macquarie note that we are already halfway through what they have described as a "lost decade" for the important Asia-Europe and Transpacific shipping routes, but that investors still "underestimate the potential implications" of near-shoring for the industry. Long-haul air freight faces a similar squeeze: FedEx has been fortunate that its cutbacks in flights from China have been somewhat offset by its domestic packages business, which is booming thanks to the near-shoring trend.
"A smarter and more efficient world with more tailored supply chains has already put pressure on commodity markets – copper has the most uninterrupted supply chain ever and yet stocks are running at 13-year highs," says Monson at Sarasin. "Heavy commodities businesses will suffer, and, to some extent, companies involved in longer-distance shipping."
At company level, a dividing line might be drawn between those flexible enough to adopt tailored, shorter supply chains, and those so wedded to the outsourcing model that they are now simply stuck with spiraling labour costs. And because localised supply chains require local suppliers there are opportunities for the likes of the US auto parts manufacturers suddenly benefitting from the railway links to Mexico's factories.
"The large-caps took most advantage of globalisation, but more localised supply chains might play into the hands of smaller parts manufacturers and small-caps in general," suggests Hood. "That theme is a bit expensive to buy today, but it's a medium-term trend worth following."
The picture begins to take shape: favour those companies flexible enough to adopt shorter supply chains, those countries in the right locations to host those supply chains while retaining a little cost advantage, and the smaller manufacturers and logistics companies that complete those supply chains. That way, your portfolio may cope better with the way trade patterns are changing.
The caveat is that these changes probably won't happen overnight. Nikos Nomikos, professor of shipping risk management at Cass Business School's Costas Grammenos Centre for Shipping, Trade and Finance, reminds us that the level of seaborne trade has surpassed that of 2008.
"Shipping is still the most economically-efficient way of moving things around the globe," he says. "If you want to move containers from the east to the west coast of the US it might make sense to use rail or road. But in other parts of the world the infrastructure isn't as developed. To move containers from Shanghai to Europe you have two meaningful choices – sea or air freight. The third possibility, the Trans-Siberian Railway, is not really viable."
But if our position along the route is a matter of debate, the direction of travel seems clear.
"A few years ago you needed to explain why you didn't have a BRICS strategy and why you weren't teaching your kids Chinese," as Svedberg at East Capital puts it. "The decision to manufacture in the emerging world may still make sense, but it's no longer a given. Because of labour costs, because of logistics costs, because of ESG, the argument has to be made more persuasively, now."