The fall in commodity prices since 2011 has depressed economic growth in commodity-exporting countries but boosted growth in manufacturing economies, writes Ayse Ferliel Barounos
Commodity prices have slumped since 2011, after rising steadily for several years. The boom in commodity prices that began in 2000 – characterised by some as a 'super-cycle' – was mainly attributed to demand from emerging economies bolstering prices.
At a glance
• Commodity prices have fallen back sharply since 2011.
• The slump has hit commodity-exporting countries.
• India is widely seen as a beneficiary of lower raw material prices.
• For Brazil, Nigeria and Russia the fall poses problems.
China and India grew at an annual rate of 10.3% and 7.4% respectively, while emerging markets as a whole grew by 6% a year from 2002 to 2012, according to a World Bank report. China's metal consumption growth alone accounted for nearly all of the net increase in global consumption in 2000-14, whereas India only accounted for 5% of the global increase, the same report shows. As a result, China's share of world metals consumption more than tripled from 13% in 2000 to 47% in 2014, according to the World Bank.
China's share in the base metals market was also highlighted by the International Monetary Fund (IMF) which suggested in its latest World Economic Outlook (WEO) that the increased consumption not only relates to the country's role as a manufacturing hub, "but it also reflects the infrastructure investment and construction boom in 2009-13 after the global financial crisis".
Both the IMF and the World Bank point out that China's transition away from investment-led growth toward an economic structure focusing on consumer-driven expansion has been instrumental in weakening base metal prices. This trend is expected to continue.
The downswing in commodity prices was sharp in 2015, particularly following the financial volatility that started mid-August, after China's shock devaluation of the renminbi – with investors fretting about the country's slowing economy. China registered a 6.9% gross domestic product (GDP) growth rate in the third quarter, down from 7% in the second quarter, the weakest rate since the 6.2% expansion recorded in the first quarter of 2009 at the height of the global recession, according to China's National Bureau of Statistics.
The plunge in commodity prices was accompanied by a sharp slowdown in economic growth among commodity-exporting emerging market and developing economies. IMF data shows real GDP growth in this group of countries decreased to 4.6% in 2014 from 6.3% in 2011, but the picture was mixed, as the commodity prices shifts have created winners and losers in this volatile asset class.
In fact, emerging markets have become increasingly divergent, particularly from a growth perspective, reflecting different exposures to global commodity markets and other country-specific factors.
For example, Brazil, a commodity-exporting country, saw its GDP growth fall to 0.1% in 2014 from 2.7% in 2013. The IMF predicts that Brazil's output will contract by 3% in 2015 and 1% in 2016. Meanwhile, Mexico, a manufacturing exporter – which benefited from a lower oil bill and the recovery of the US, its largest trading partner – saw its economic growth strengthen. Mexico's real GDP rose to 2.1% in 2014 from 1.4% in 2013, and is forecast to increase to 2.8% in 2016 from a projected 2.3% in 2015.
"There is a clear dividing line between manufacturing exporters and commodity exporters," says Alexander Wolf, emerging markets economist at Standard Life Investments. "There is a dual track where manufacturing exporters are more resilient to commodity price shifts. This [split] is also seen within emerging market currencies where currencies of commodity exporting countries have collapsed since 2014."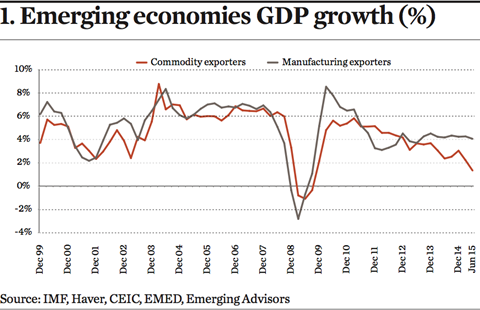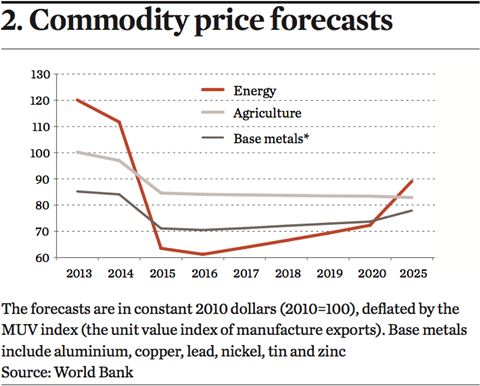 Indeed, some countries, including Thailand and Malaysia, have suffered falls of 25% or more in the value of their currency this year; Malaysia's ringgit approached a two-decade low against the dollar in August. Compounding the effects of lower oil prices on the country's exports was the political turmoil surrounding corruption allegations against prime minister Najib Razak.
Economies for which lower commodity prices represent a challenge include Russia, Brazil and Nigeria, according to Ross Teverson, head of strategy, global emerging markets, at Jupiter Asset Management. "Lower commodity prices are having significant repercussions for Brazil and for two of its largest companies, Petrobras and Vale. Lower oil and iron ore prices are calling into question the viability of new projects and the sustainability of balance sheets, just as Brazil has entered a political storm that has Petrobras-related bribery and corruption charges at its centre," he says.
Teverson also notes that Russia and Nigeria appear to be faring somewhat better than Brazil, thanks to lower production costs of their energy companies. He adds that oil companies in both countries are still generating strong cash flows.
"In the case of Nigeria, it appears that banks have learnt from previous periods of oil price weakness and have tightened lending practices and risk management in a such a way that we are not seeing low oil prices result in the kind of asset quality deterioration that many would have expected. We also see an improvement in Nigerian political risk, with recently elected president [Muhammadu] Buhari taking steps to tackle the threat from Boko Haram to reduce corruption in the country."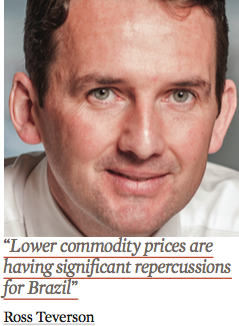 India is a substantial beneficiary from weaker commodity prices. Lower oil prices have helped improve its current account deficit, moderate inflation and provide breathing room for further re-regulation of fuel prices, according to Teverson.
Indeed, India is seen as a bright spot by most emerging markets investors, thanks to the government's efforts to transform the country into a major global manufacturing centre following the launch of Prime Minister Narendra Modi's ambitious 'Make in India' programme in September 2014, pledging to promote foreign investment. Manufacturing represents only 16% of India's GDP and 1.8% of world output.
In its twelfth five-year plan (2012-17) the Indian government stated that it will increase the share of manufacturing to 25% of overall GDP by 2025. Some argue that the country's youthful demographic could prove beneficial for such ambitions. "One positive for India in regard to its manufacturing ambitions is its youthful demographic; the median age in India is 27, compared with 36.8 in China and 37.8 in the United States," Mark Mobius, executive chairman of Franklin Templeton Investments' Emerging Markets Group says in a recent blog post. Mobius emphasises that India is expected to have a higher growth trajectory than both China and the US in 2015 and 2016.
Similarly, Alexander Wolf of Standard Life Investments says India will continue to be a bright spot next year, unless there is a sharp rise in the price of oil. Commodity prices – most of which continued their slide in the third quarter of 2015 as a result of ample supplies and weak demand, especially for industrial commodities – are expected to remain low and only a modest recovery is forecast for 2016, according to the World Bank's fourth quarter Commodity Markets Outlook.
A prolonged period of low commodity prices is also expected to affect developed markets where modest growth in the US and a meager recovery in the euro-zone have failed to offset falling output in emerging markets. In its WEO, the IMF warns of a rising risk of a global recession, while downgrading again its growth outlook – it cut its projections for global growth to 3.1% this year from its previous forecast of 3.3%, while its forecast for emerging markets was cut to 4% this year, down 0.2 of a percentage point from its July 2015 WEO update. The IMF expects a global growth rate of 3.6% for 2016, compared with a 4.5% growth in emerging market and developing economies.
"Six years after the world economy emerged from its broadest and deepest postwar recession, a return to robust and synchronised global expansion remains elusive," Maurice Obstfeld, the IMF's economic counsellor and director of its research department, says in the foreword to the fund's WEO. "In countries outside of the advanced economies, the sources of slower growth are diverse, ranging from commodity price declines (which are also affecting a few advanced economies adversely), to overhangs from past rapid growth to political turmoil," Obstfeld adds.
Outlook 2016: Time to take stock
1

2

3

Currently reading

Outlook 2016: Commodities - Winners and losers of slump

4

5

6

7