Heavily dependent on external trade, the euro-zone's growth prospects are particularly linked to the fortunes of China, finds David Turner
Try asking economists and strategists about the outlook for the euro-zone. They are as likely to talk about the state of the Chinese consumer, manufacturer and banker as they are the internal deliberations within the European Central Bank's plush new offices in Frankfurt or the fiscal policies of the Berlin Chancellery.
At a glance
• The euro-zone's manufacturing sector is heavily dependent on external demand.
• The region's sources of domestic demand are weak.
• Finding sufficient yield remains a challenge for pension funds.
• Despite the region's low growth prospects, asset managers still see opportunities in equities.
"If you're going to have an outlook for the euro-zone for 2016, the first thing you have to consider is your view on China," says Salman Ahmed, global strategist at Lombard Odier Investment Managers in London. "There are structural internal issues for the euro-zone as well, but that is the key external risk."
The concentration on China largely reflects a downbeat view of the euro-zone's ability to generate its own growth. As a result, its manufacturing sector is highly dependent on external markets to bolster demand for its goods.
This is reflected in the comments of Keith Wade, chief economist at Schroders in London. Wade forecasts euro-zone GDP growth of 1.5% for 2015 – in line with consensus forecasts – and 1.7% next year. This rate is low by comparison with most parts of the world. However, it is at the upper end of the range for most economists and strategists, who talk of growth next year of between about 1.4% and Wade's figure. "Rates like this are pretty much what the euro-zone can sustain," says Wade. He sees the euro-zone's underlying growth rate at only 1.4% or 1.5% – with only 1% for Germany, although long-term rates are as high as 3% for higher-growth economies such as Spain. Wade ascribes the low overall rate largely to the euro-zone's "poor demographics" – the currency union's population is ageing.
Euro-zone economies can also find little support, over the coming year or so, from fiscal policy. Governments are reluctant to loosen it by much, for fear of provoking the wrath of financial markets. At the height of the euro-zone debt crisis in 2012, 'bond vigilantes', as they came to be known, punished governments by offloading or even shorting the debt of member states that did not appear to have a credible plan for making their debts sustainable.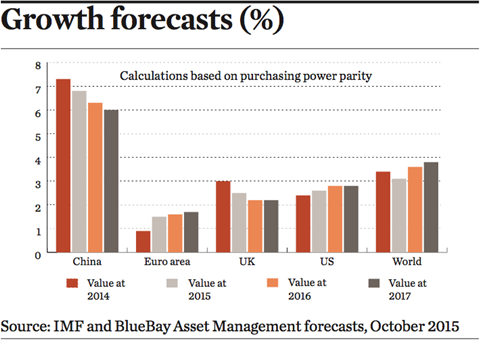 The euro-zone's extremely loose monetary policy should, in theory, give a firm fillip to its economy. "It's very difficult to envisage the ECB [European Central Bank] raising interest rates before the latter half of 2017, or even 2018," says David Riley, head of credit strategy at BlueBay Asset Management in London, whose thinking broadly chimes with that of most strategists. Many economists argue, moreover, that there is a high chance that the ECB will continue its quantitative easing programme beyond September 2016, its provisional end.
However, economists argue that injecting into the economy huge amounts of money at extremely low interest rates is ineffective because of the difficulty of finding businesses and consumers sufficiently confident about the future to borrow, even at low rates.
Quantitative easing has, at least, helped to keep the euro low. Valued at $1.14 in mid-October, it was down from a March 2014 peak of $1.40. This weakness has, however, failed to prevent recent declines in exports. Economists blame August's sharp fall in German exports – down 5.2% on July, the fastest drop in six years – largely on declining Chinese demand.
Economists see China's economic outlook as murky, largely because they do not trust the statistics. Having reached a high of 13.6% in 2007, Chinese GDP growth has officially declined to a current annual rate of about 7%, according to China's government, but most independent economists regard the true figure as somewhat lower.
However, most economists and strategists at European asset managers say China will avoid the hard landing that feared by some. "China will go through a prolonged slowdown, but not a financial meltdown," says Ahmed of Lombard Odier. "It will be a steady headwind for the euro-zone, rather than a strong headwind that hits it over a short period of time."
Ahmed concludes that with sources of domestic growth also weak: "My overarching macro view for Europe is Japanisation rather than a sustained recovery. That means low growth and very low inflation for a long period." Inflation looks set to be kept down not just by limited growth but also by cheap commodities.
Low growth and low inflation also mean low yields, since the ECB has no reason to raise rates soon, and every reason to keep them down to combat deflation. This keeps alive the long-established conundrum for pension funds and other institutional investors that need to maintain portfolios based on fixed income – how to earn enough yield.
"Bond yields will stay very low for a long time, but we'll also see more frequent episodes of volatility," says Riley of BlueBay. "That makes highly rated, core European government bonds unattractive; the yields are so low that they don't provide you with any cushion against volatility."
Riley's answer is to invest in higher-yielding euro-zone credit, including high-yield bonds and loans. "If pension funds, sovereign wealth funds and endowments are willing to lock up funds for three years-plus, then private direct lending for mid-sized euro-zone businesses offers attractive returns," he says. "Investors take some credit risk, but they also get illiquidity premiums." He estimates that direct lending can produce returns of between 7% and 14%.
Despite the euro-zone's low growth prospects, asset managers still see opportunities in equities. Wade of Schroders forecasts euro-zone corporate earnings growth of 9% or 10% in 2015, the highest rate in several years. He credits the improvement in the euro-zone economy and the "translation effects" of the euro on exporters' earnings. Exporters that repatriate foreign earnings into euros receive more euros for every dollar or pound earned during periods when the euro is weaker against those currencies.
Wade also credits the low cost faced by companies when expanding after a recession, because there is a considerable amount of surplus capacity and labour within each company that can be used without increasing costs by much. This means that rises in turnover are converted easily into rises in profits.
Sandra Crowl, a member of the investment committee at Carmignac, the Paris-based asset manager, says that low interest rates are also creating opportunities for cheaply funded mergers and acquisitions in the euro-zone – boosting parts of the equity market.
Sceptics note that however attractive euro-zone equities look on a theoretical basis, they have been battered in the past by political events. Some observers fear that left-wing parties could come to power and fragment the euro-zone by following radical policies that force an exit from the currency union.
However, most strategists downplay these issues. "The market will learn to take with a pinch of salt the rise of these leftist parties," says Ahmed of Lombard Odier. "When they get into power, these parties see the cliff and move towards the centre."
But if the euro-zone equity markets do get spooked by an adverse political or economic event, strategists note that it is not hard for a bout of selling to turn into a headlong rush for the exit. "The appetite for downside risk has diminished a lot since 2008," says Yoram Lustig, head of multi-asset investments UK at AXA Investment Managers in London. "Nowadays, if there's a 10% drop in the equity market, people start to sell, and this selling makes negative momentum even worse. The world is somewhat fragile."
Outlook 2016: Time to take stock
1

2

3

4

Currently reading

Outlook 2016: Euro-Zone Prospects - Trading block to growth

5

6

7